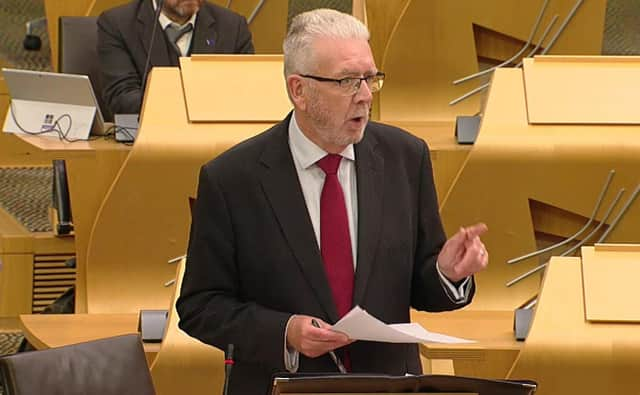 Constitution secretary Mike Russell had urged MSPs to "stand up and defend devolution"
In yet another day of fierce constitutional wrangling, Holyrood voted against the Bill, which Scottish Government ministers had branded a "power grab".
Speaking ahead of the vote, Scottish constitution secretary Mike Russell had urged MSPs to "stand up and defend devolution" and insisted the Brexit Bill "broke international law".
He said: "Every power this Parliament has can be second guessed now as a result of this Bill.
"This is deeply wrong, this goes well beyond what should be happening.
"This is a major attack on devolution, it is illegal, and if it is supported by the Tories they are aiding and abetting a hostile Westminster government in undermining this Parliament."
Labour's Claudia Beamish MSP also spoke out against the Bill, accusing the "UK Tory Government" of not listening.
She said: "The only option is to say a clear and resounding no.
"We will not be be forced in a race to the bottom here in Scotland."
The UK Government had rejected the accusations, with Scottish secretary Alister Jack insisting it "respects and strengthens devolution", as well as seeing powers transferred from Brussels "straight to Holyrood".
Conservative MSP Maurice Golden called for the SNP to reconsider, adding: "I would urge the SNP to at least keep their mind open to co-operation, even if their natural instinct is not to.
"They oppose the UK, even when that puts at risks thousands of Scottish jobs".
Despite their protestations, MSPs have now voted against granting legislative consent by 90 to 28 - a move that will not stop the UK Government pressing ahead with it.
The Bill has already been passed by the House of Commons and is now facing scrutiny in the House of Lords.
It has been received disastrously in Brussels, where EU officials are now considering legal action against the UK Government.
The EU claim the Internal Market Bill "flagrantly" violates the Protocol on Ireland/Northern Ireland as it allows UK authorities to disregard the legal effect of the Protocol's substantive provisions under the Withdrawal Agreement.