Scottish Parliament bosses announce crackdown after protesters disrupt Humza Yousaf's debut FMQs
Holyrood bosses have announced a crackdown on protesters after Humza Yousaf's debut First Minister's Questions was suspended five times as a result of disruption from the public gallery.
Presiding Officer Alison Johnstone ordered the removal of members of the public from the Scottish Parliament's chamber after climate activists repeatedly interrupting proceedings by shouting demands for action on fossil fuels.
The unprecedented move follows weeks of similar disruption, with mobile phones now banned from the gallery in a bid to deter stunts.
In an email to MSPs, Ms Johnstone said those who disrupted business would be issued with a six-month ban from the chamber. She said the Scottish Parliamentary Corporate Body "was also clear that we must be in the strongest position possible to prevent further disruptions to business".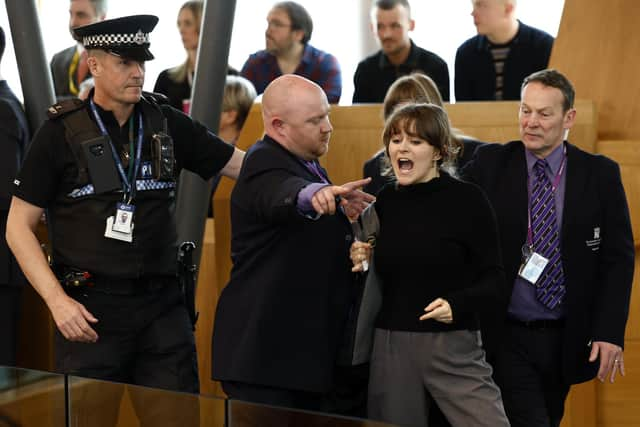 She added: "With that in mind we will introduce, at the earliest opportunity, more stringent measures to identify those who disrupt our proceedings. We will also amend our visitor access policy to explicitly state that anyone who wilfully disrupts business will be excluded from our public galleries. This is in addition to the measures we already agreed on mobile devices being stored before accessing the chamber.
"Excluding individuals is not a step we take lightly – indeed this is the first time such action has been necessary in this way. Over the last 25 years, this Parliament has prided itself on its openness to the public and that is an ethos that we want to retain.
"However, the individuals who disrupted the Parliament today did not attend to observe parliamentary democracy, but to disrupt. The Parliament must consider the impact on the welfare of others in the gallery where such action may result in alarm and distress. In such circumstances we must act."
Activists shouted as Scottish Conservative leader Douglas Ross challenged Mr Yousaf over his choice of Cabinet and ministerial appointments. Ms Johnstone was forced to suspend proceedings three times in the opening minutes. Shouts were heard before Mr Ross could even ask his first question.
Following the fifth interruption, Ms Johnstone announced the public would have to leave. "Regrettably we are going to have to clear the gallery," she said. "I am very, very sorry. We require to clear the gallery at this point."
School children who had been visiting Holyrood were allowed to stay. Ms Johnstone said: "Far too regularly, disruption is causing members to lose the opportunity to ask questions."
She added: "I am extremely sorry to the overwhelming majority of those who have travelled to the Parliament today to watch their elected representatives at work."
Ms Johnstone continued: "We will see what we can do in terms of targeting any response. But for today I think given we had had five disruptions, it is essential we do all we can to protect the wellbeing and safety of those who expect to come to this Parliament and quietly watch the Parliament at its work."
Mr Yousaf told the Presiding Officer he agreed with the action taken, adding he was "delighted" the school children had been permitted to remain. He said: "Can I commend the young people for behaving much better than some of the adults that were in the public gallery."
Speaking to journalists later, he said: "I've already spoken to the Presiding Officer about it. It was a matter of discussion, I'm sure she wouldn't mind me saying, in the very first meeting she and I had. There are a number of initiatives they are looking at. I won't give you the detail of those, because it's only right that the Presiding Officer updates the press.
"But I know they are pro-actively, the Parliament are pro-actively looking at it. I understand why people want to demonstrate about very important issues of the day, but this disruption is stopping members of the Scottish Parliament keeping me under scrutiny."
Mr Ross criticised the protesters during FMQs. He said: "This shower have been doing this week after week, and the image of genuine constituents being forced out of our Parliament is one we will all regret and one none of us want to see repeated."
He said he was grateful school pupils had been permitted to remain, but added: "We must do something to stop this going forward."
The Tory leader apologised earlier this month after his microphone caught him saying "f*** sake" when a previous FMQs session was interrupted by protesters. The public gallery in Westminster has a security screen to prevent objects being thrown, but there is no similar barrier in Holyrood.
Comments
 0 comments
Want to join the conversation? Please or to comment on this article.