Scottish ministers meet to rule on fate of deposit return scheme after UK knock back
Humza Yousaf's cabinet is meeting on Tuesday
First Minister Humza Yousaf has been told there is nothing to stop him from introducing a deposit return scheme in Scotland, as UK ministers knocked back his demand for glass to be included in the programme.
The future of the deposit return scheme (DRS) now looks in doubt, with Mr Yousaf's cabinet meeting to discussing its fate on Tuesday.
UK ministers wrote to Mr Yousaf on Monday to tell him they would not allow glass to be included in the scheme to ensure "simplicity and interoperability".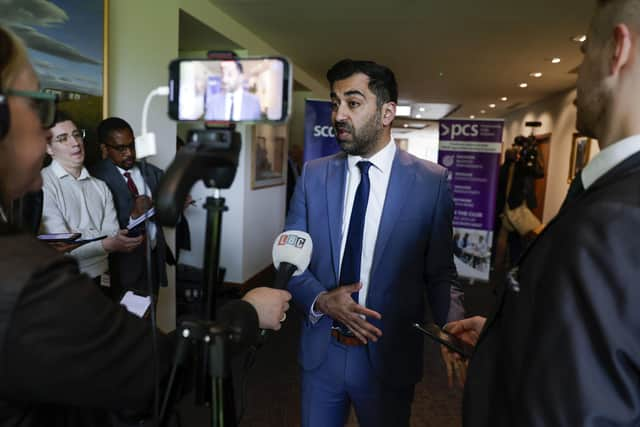 Mr Yousaf had told Prime Minister Rishi Sunak that failure to revoke the conditions set out by Westminster when they allowed a partial exemption to the Internal Market Act – which meant glass was not allowed in Scotland – would put the DRS in "grave danger".
But in the letter last night, Michael Gove, Alister Jack, and Therese Coffey said the limited exemption granted provided a "practical solution to proceed with the Scottish Government's scheme, balanced with the need to uphold the UK's internal market (UKIM), ensuring a level playing field for all British businesses and consumers as we maximise the benefits of aligned schemes across the UK in the future".
The three UK Government ministers told Mr Yousaf on Monday that the "exclusion of glass also ensures consumer choice is not restricted in Scotland", and that there was a risk some producers would have chosen not to sell their products north of the border.
The ministers told him: "As we have granted UKIM exclusion, there is nothing to prevent you from proceeding with your own scheme next March, on the basis that it would form part of a UK-wide solution to protect our shared market and increase recycling from 2025."
In England, Wales and Northern Ireland, schemes are expected to be rolled out from 2025, but in Scotland it was set to start in March next year.
If it goes ahead as planned in 2024, Scotland's DRS would see a 20p charge placed on drinks containers which would be refunded to consumers upon their return in a bid to increase recycling levels.
But earlier on Monday Mr Yousaf said it was "extremely difficult" to see the Scottish scheme going ahead without glass.
"It's extremely difficult because not only do you look at whether or not CSL (Circularity Scotland Ltd) are able to get the drawdown of funding, we have to look at what the impact is going to be on Scottish businesses, on their jobs, on their investment, on the price of their product," he said.
Comments
 0 comments
Want to join the conversation? Please or to comment on this article.