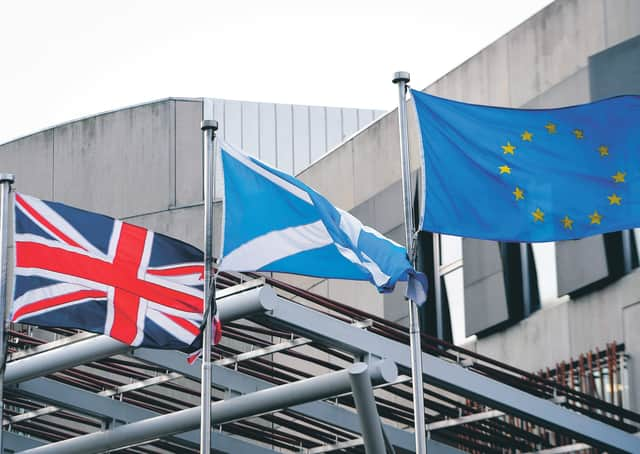 I ask this question after following what happened in the EU last week and what has been happening here in Scotland.
EU leaders have been hailing the agreement of the new six-year budget as a success, but it is anything but – taking it from original estimates of €1.1 trillion to €1.8tn – at a time when European economies are moving into the mother of all recessions and the second largest net contributor, the United Kingdom, has left and shall not be paying after December.
For the Republic of Ireland, it is especially a disaster – with the country, often being compared with Scotland, becoming the fifth largest contributor and facing a bill of €15.7 billion. Rather than having untold influence in the corridors of power, the country has (once again) been walked all over by the EU.
The good citizens of the Republic will see their government hand over €3,201 for each Irish man, woman and child – compared with only €1,660 in Germany and just €780 in France. In far larger Italy the money will flow not out but into the country at €989 a person, and to Spain at €1,751 per head.
These figures are important because they have relevance to what Scotland (and Scottish taxpayers) would have had to cough up were we still in the EU – whether we were in the UK or not. As the EU expanded, so its dispersal of recycled monies (taking from governments and giving it back to them with an EU flag stuck on) changed and recipients such as Scotland and the north of England became net contributors. In 2016, when the EU referendum was held, Scotland's share of the UK contribution, less the grants received for regional development or agricultural subsidies, was £506 million a year. German estimates for the UK's contribution – were we still members – to the new EU Covid relief plan has been put at €80bn, to be added to at least €70bn for the general budget. Scotland's share would be in the region of £13bn.
Fortunately for Scotland, being a member of the UK means costs are shared irrespective of how well any part of the country is doing; economic shocks such as large unexpected bills such as this one from the EU, or when the oil price collapsed or we face the economic costs of facing the Covid-19 pandemic, can be more easily absorbed because they are pooled. It also helps immensely having our own central bank with the clout of the Bank of England and a currency of our own.
Jumping back into bed with the EU would be costly for the UK, but for an independent Scotland it would, frankly, be unaffordable.
It would come on top of having to face the shortfall in public sector funding of around £10bn a year, and had we voted for independence it would have meant finding the £11bn and rising that Scotland has received from the UK Chancellor (thanks, Rishi Sunak).
Put together the deficit, the pandemic costs and remaining in the EU and an independent Scotland would have been looking to find about £23bn additional funding this year.
Simply increasing taxes that deliver capital and business flight to England (or ironically Ireland) and disappearing revenues is not an answer.
Real austerity – unlike the British type where public spending continued to rise – would become the norm. Or call it hyper-austerity or austerity max – like the Greek or Irish type – which would mean real cuts in public expenditure for schools and hospitals, and most definitely reductions in salaries for those teachers, nurses and first responders able to keep their jobs.
The SNP appears to have trouble with numbers and it starts from the top. The Scottish Government has been corrected by the UK Statistics Authority for a statement on antibody testing without evidence to stand it up.
First Minister Nicola Sturgeon then claimed the prevalence of Covid-19 is five times lower in Scotland than in England – a statement that undoubtedly fed into the ugly and shaming scenes of bigotry and xenophobia from saltire-waving SNP supporters on the A1 outside Berwick.
It only added to her dog whistle about quarantining travellers from England remaining on the table. When asked by Ian Murray MP, the independent researchers of the House of Commons library could not find any evidence to back up Ms Sturgeon's claim.
When it comes to the Covid-19 economic relief, the hapless Finance Secretary, Kate Forbes, claimed the Scottish Government was only receiving £21m from the UK Chancellor's recent Summer Statement; the Conservatives argued it was actually £800m – then along came the independent Institute of Fiscal Studies which put the figure as reaching £900m additional funding for Scotland. Playing with words doesn't change the real numbers, it just hides them – but the SNP doesn't want politics brought into the pandemic response. Aye, right.
Would that be the same SNP that is marketing sloganised Saltire face-masks to raise party funds at £8-£14 a pop – on the back of a virulent contagious disease that has killed 4193 people in Scotland?
Number troubles obviously feed into diary-keeping; Matt Hancock decided (belatedly) on 15 April that testing of hospital patients being transferred to care homes should be compulsory, Jeane Freeman's same announcement had to wait until 21 April. When numbers become difficult the SNP appears to forget they ever existed. Covid-19 testing in care homes – the numbers are no longer available. All primary class sizes below 18 – remember that, Mike Russell? Literacy and numeracy rates falling? Just stop making them available.
What next, will the word numeracy become a non-word, expunged from dictionaries and textbooks? George Orwell's 1984 was meant to be a warning – not a guide to best practice under nationalism.
Is the number problem the reason there is still no plan for a Scottish currency or central bank? What currency would the furlough funds have been paid in?
Once other Scottish financial companies such as NatWest (the new name for RBS) joins Scottish Widows and register in England, how will mortgages and other financial commitments be paid?
Maybe Ms Sturgeon and her SNP ministers are not so bad with numbers – maybe they just can't tell the truth – or maybe they just can't face it when they see the numbers. You decide.