Collected by YouGov at the end of November – immediately before and after the Supreme Court decision on the Scottish Parliament's ability to hold another independence referendum – the poll showed a statistical tie in levels of support for Yes and No, with the former narrowly ahead.
Other polls taken around the same time also showed an uptick for Yes, confirming the pro-indy side had received a boost and pulled in front. This was widely attributed to news of the Supreme Court judgement and associated Scottish Government arguments about democratic legitimacy.
However, our data suggested the change had more to do with months of abject political chaos at Westminster than procedural roadblocks to indyref2. There was no apparent shift in support for independence in the two days after the story broke. But net UK Government approval had fallen sharply compared to our prior survey in August, from an already-abysmal -57 to -71. The Scottish Government, meanwhile, managed to improve its standing, climbing from -6 to +2.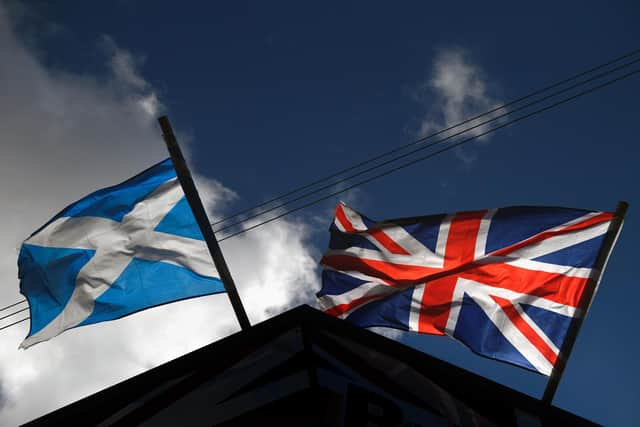 As with the last time Yes led in mid-2020 at the height of Covid, the electorate seems to tilt in favour of indy when the Westminster administration is perceived to perform particularly badly compared to the devolved one.
Different outlets put contradictory spins on our Scoop poll, with some claiming we had "burst the bubble" of Scottish nationalists as others emphasised the miniscule Yes lead. These diverging narratives are revealing of the dynamics surrounding public opinion on the constitution – small polling shifts and obscure legalistic developments seem monumental and are reported as such.
This is because the rather boring truth is that support for independence has been virtually static for years. And given the current political landscape, public opinion is likely to remain very evenly split on the matter throughout 2023 and 2024.
Firstly, the Scottish Government has exhausted all of its options to hold another independence ballot legitimately, and there is little appetite to pursue a Catalan-style unofficial vote. With no cards left to play and the "de-facto referendum" UK general election at least 18 months away, supporters of Scottish independence will struggle to keep the topic on the agenda throughout a fourth and fifth consecutive year of UK-wide social crisis.
Furthermore, the new-est UK Government has managed to restore a degree of political calm, even if the parlous state of Britain's public services and the cost of living look set to finally eject the Tories from Number 10 in 2024. And regardless of who is in charge at Westminster, neither they nor Labour are in the mood to indulge the SNP the way David Cameron did.
But the intransigence of pro-union elites on indyref2 may come back to haunt them. While it makes sense from the perspective of short-term party strategy, reluctance to call Nicola Sturgeon's bluff now could be a decision UK elites ultimately come to regret.
Why might this be? Looking at the big picture, it's clear the 45 per cent achieved by the Yes side at the polls in 2014 is now the low watermark for indy support. Looking past the kind of short-term fluctuations we would expect, voter backing for ending the three-century-old union has shown at worst no signs of retreating and has indeed (very) steadily crept up. If a referendum were held tomorrow, we would expect the result to be extremely close – much moreso than 2014.
This very gradual tilt to Yes is explained by a combination of persuasion and generational replacement. Around one in five of those who voted in the original referendum have since switched sides, and Yes has a slight edge in these transfers.
It is also the case that, as much as older and younger groups voted differently in 2014, the generations have since become even more polarised on the question. Independence commands about two thirds support among Millennials and Gen Z (Zoomers), but is backed by fewer than one third of their grandparents.
Moreover, the youngest and oldest voters are going in opposite directions as they age, which only reinforces the demographic edge held by the pro-indy camp. The UK-wide social conditions which have driven these cohorts apart – the chronic housing shortage, wage stagnation, the state pension triple lock – are unlikely to change soon.
In slightly better news for anti-independence Scots, previous Scottish Election Study data showed Yes support is somewhat "softer" than No support, with those backing the union more entrenched in their constitutional views. In any future referendum, it seems highly unlikely the pro-indy side will be able to repeat the trick Yes Scotland pulled in 2014. Scottish independence is now an established mainstream policy position that most Scots have clearly defined attitudes on.
As such, we probably won't have a much better idea about where the constitutional issue is headed until Labour replace the Conservatives at Westminster. Although the SNP have been in government at Holyrood for nearly 16 years, they only overlapped with a Labour UK administration for the first three, the increasing unpopularity of the fag-end New Labour project at both parliaments helping the nationalists into power. Labour have never been in government at Westminster while Scottish independence has been a realistic prospect.
It is therefore difficult to predict what might happen to public opinion in the event that Starmer wins a majority in late 2024. While Scottish public attitudes are not radically different to those in England, the Conservative party's radioactivity north of the border and poor performance in office are at least partly to blame for the durability of pro-indy sentiment, particularly among younger Scots.
The independence cause is overwhelmingly a left-liberal one, with its supporters sharing a high degree of alignment on both overall ideology and views on EU membership. This leaves the project vulnerable to UK-level changes in this direction. Labour are not terribly disliked by most independence supporters, and a Starmer government at Westminster would at least stand a chance of shoring up support for the union.
If this does happen, it will probably have much less to do with the limitless ink spilled on technocratic alternatives to the current constitutional arrangements than concrete improvements to working-age people's lives.
The SNP may also finally begin to start paying what political scientists call the "cost of governing" – the apparently inevitable tendency for incumbent parties to lose support over time – with their own failures in office coming into sharper focus. Without a flailing Conservative administration to point the finger at, the Scottish Government's Teflon performance evaluations among pro-indy voters could finally suffer.
However, the damage successive Westminster governments have done to the union may be terminal. While it is hard to imagine any majority Labour or Conservative administration acceding to SNP demands in the coming years and gambling on a fresh indyref, the risk for the anti-independence camp is their last chance to win young hearts and minds has already passed them by.
- Dr Fraser McMillan is a researcher with the Scottish Election Survey, and from the School of Social & Political Sciences at the University of Glasgow.