The survey of more than 2,000 adults also found Scots rejected Nicola Sturgeon's plan to treat the next general election as a de-facto referendum and opposed her controversial gender reforms.
Previous polls by Lord Ashcroft have found a four-point lead for Yes in August 2019, and a 51-49 lead for No in April 2021.
Writing in Holyrood magazine, which published his latest findings, Lord Ashcroft said: "To the four prime ministers who have quit Downing Street since Nicola Sturgeon took up residence at Bute House, the First Minister must have seemed enviably immune to the laws of political gravity. If those laws now seem to be reasserting themselves, my latest poll of over 2,000 Scots helps explain.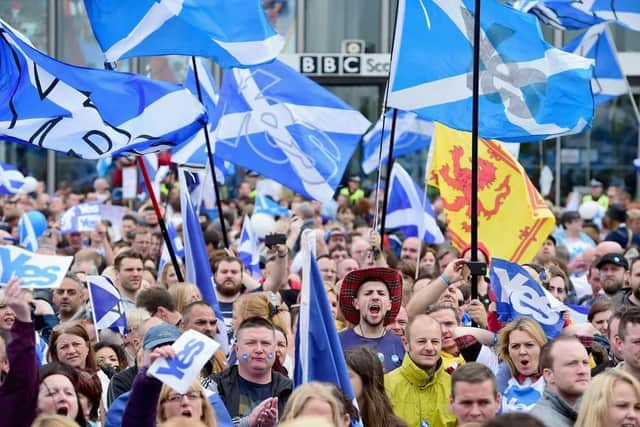 "If we see an overall theme here, could it be that a party claiming to be uniquely in tune with Scottish people is losing touch? If gravity is finally doing what it does, Sturgeon and the SNP seem to be giving it a helping hand."
In a referendum tomorrow, Scots said they would vote No to independence by 56 per cent to 44 per cent, excluding don't knows and those who would not vote.
A total of 22 per cent said they supported the Gender Recognition Reform Bill and the UK Government was wrong to block it. However, almost twice as many (43 per cent) said they opposed the legislation and the UK Government was right to block it.
Overall, 29 per cent said they supported the Bill, with 54 per cent opposed. Meanwhile, 50 per cent said the UK Government was right or within its rights to block the Bill, and 33 per cent disagreed.
Only 21 per cent, including 44 per cent of 2019 SNP voters, agreed that every vote for the SNP and the Greens should be taken as a vote for independence, so the next general election should be treated as a de-facto referendum.
A total of 67 per cent agreed that people vote at elections for lots of different reasons, so SNP and Green votes should not be assumed to be votes for independence. Lord Ashcroft polled 2,105 Scots aged 16 or over between January 26 and February 3.
Pamela Nash, chief executive of pro-UK campaign group Scotland in Union, said: "This poll shows Scots do not want to break up the UK and they overwhelmingly oppose Nicola Sturgeon's tactics for doing so. It's yet another poll showing support for Scotland's place at the heart of the UK, and a firm rejection of the SNP's obsession to break it apart."
Scottish Conservative chairman Craig Hoy said the public had delivered "a damning verdict on Nicola Sturgeon's arrogant and irresponsible plans to treat the next general election as a de-facto referendum on independence".
He said: "They are overwhelmingly opposed to her plan and have made it clear to the First Minister that they will vote on a range of issues in next year's general election and are not prepared to pander to her independence obsession. Even SNP voters who voted for them at the last general election are sceptical and their concerns are also shared by senior figures within the party.
"Nicola Sturgeon is not only losing her grip within her own party, but she is vastly out-of-touch with the public when it comes to a de-facto referendum.
"Voters have also confirmed that trying to break up the United Kingdom is simply not one of their priorities right now, even if they can resoundingly see it is the obsession of Nicola Sturgeon's Government."
SNP MSP Paul McLennan said: "At the Scottish Parliament elections, people voted overwhelmingly for a majority of MSPs offering them a chance to choose a better future as an independent country and that must be respected. It is utterly outrageous that Westminster party leaders continue to stand in the way of Scottish democracy.
"Be it under the Tories or Labour, Westminster control means people across Scotland are condemned to a bleak Brexit future. Scotland deserves far better, and the only way to build that better future is to become an independent country."