Scottish independence: Rishi Sunak says it's 'not appropriate to hijack elections' over de-facto referendum plan
Rishi Sunak has claimed it is "not appropriate to hijack elections" over a single issue after being confronted over Scottish independence.
The Prime Minister was challenged on the UK Government's stance on a second vote by the SNP's Angus MacNeil during a heated exchange before the liaison committee on Tuesday. Nicola Sturgeon had been considering a de-facto referendum for independence, only for the idea to be scrapped when she resigned.
Mr Sunak claimed the people of Scotland wanted the two administrations "working together" and said he was looking forward to working with new First Minister Humza Yousaf.
Asked if he had already rejected the new First Minister's call for a section 30 order allowing a second independence referendum, Mr Sunak told MPs: "I have not had the opportunity to talk to the new First Minister yet, so I look forward to doing that."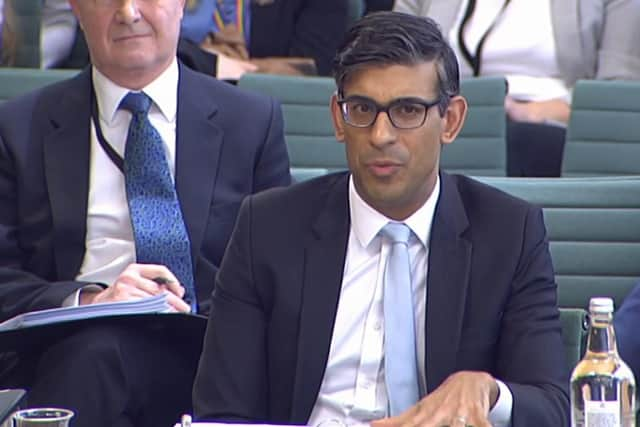 In response to questions from the SNP's Mr MacNeil, the Prime Minister said: "I look forward to having that conversation with him." Mr MacNeil then asked: "If you don't grant that section 30, would it be that you don't want Scotland to have a referendum? In that case, why would you prefer Scotland to go down the election route for independence rather than the referendum route?".
Responding, Mr Sunak insisted the people of Scotland wanted the two government's to work together.
He said: "I'm looking forward to having a dialogue with the new First Minister, and as I've always said, I think actually what people in Scotland want is to see their two governments working together to deliver for them.
"I was pleased that one of the last things I was able to do with the previous first minister was announce two new freeports in Scotland, which she welcomed rightly, as a good example of that co-operation, delivering jobs and opportunities."
The pair then clashed over whether a vote in an election would represent enough for independence.
The Na h-Eileanan an Iar MP said: "If the people of Scotland speak at the ballot box, do you think it's incumbent on us all to respect that voice of the people at the ballot box?".
Mr Sunak replied: "I think in elections people vote on all sorts of different things, and I don't think it's appropriate to try and hijack a general election. I think that's what the previous first minister was trying to do, but I think actually the people of Scotland will vote the various issues that are important to them.
"We were told it was a once-in-a-generation referendum. The people of Scotland had a chance to express their view and I did, so I don't think anyone can deny they were given that chance. We've also delivered on all the commitments that were made to devolve greater power to Scotland, which is now, I think, the most powerful devolved assembly anywhere in the world."
It came as Mr Sunak's spokesman insisted both Scottish and British people as a whole wanted politicians who would "focus on the issues that matter most to them – reducing inflation, dealing with the cost-of-living crisis and reducing waiting time in the public health system".
Comments
 0 comments
Want to join the conversation? Please or to comment on this article.