Scottish independence: Points-based immigration system could be introduced in independent Scotland, say ministers
An independent Scotland could introduce its own points-based immigration system as part of efforts to significantly grow its population after leaving the UK.
The plan is included in the latest Scottish Government series of papers about how the country would function in the event of a vote in favour of independence.
The document, published on Friday, said the prospect of a declining population is one of Scotland's "biggest policy challenges" and argued independence could be the solution.
It said Scotland's immigration rules would be redrawn after independence, allowing for the creation of a "Live in Scotland" visa, under which people would have to meet certain criteria.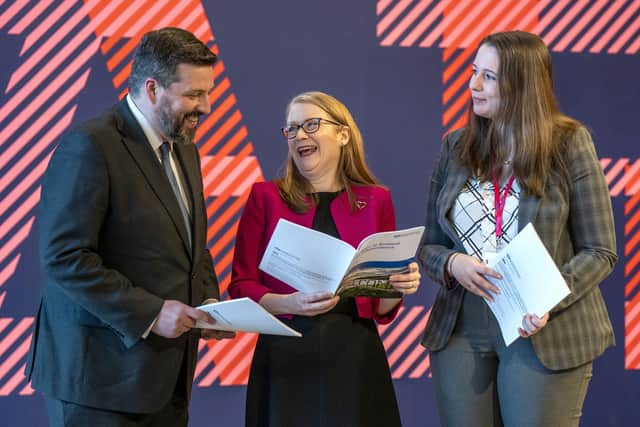 People could earn "credit" to successfully earn such a visa by meeting characteristics such as age, education, skills and work experience, their earning potential and language abilities.
The paper was launched during an event at the V&A in Dundee attended by social justice secretary Shirley-Anne Somerville and independence minister Jamie Hepburn.
Asked if this was effectively a "points-based system" similar to the one launched by the UK Government following Brexit, Mr Hepburn said it could be, but the detail of the proposal would require "further discussion".
Ms Somerville said the criteria for the visa would "undoubtedly change over time" depending on the skills that Scotland needed, driven by input from businesses and wider changes in demand.
The paper also dealt with the asylum system, stating asylum seekers would be given the right to work, pay taxes and claim benefits while they waited for a decision.
It also committed to the closure of the Dungavel immigration removal centre and said all asylum processing would take place in Scotland, with no "offshoring" to other countries.
The paper said the Scottish Government's intention was that people seeking asylum would be "housed in the community" rather than detained in specialist centres as is the case in the UK, an approach that has frequently been criticised as inhumane.
It acknowledged it would be "inevitable" that some people would be refused asylum, with "a need in some cases for mandatory removal".
The document also argued there was a good economic case for growing Scotland's population, citing modelling from 2018 that examined what would happen if there was an increase in net overseas migration of 5 per cent, 10 per cent and 20 per cent.
This found the resulting growth of the working-age population could lead to a long-term increase in GDP of 0.4 per cent (£500 million), 0.8 per cent (£900m) or 1.6 per cent (1.8 billion) respectively.
The paper is the sixth in the Scottish Government's series on independence, a project started by Nicola Sturgeon before the Supreme Court ruled Holyrood could not hold a referendum on the subject without Westminster's permission.
With no sign of a referendum on the horizon, Scotland's pro-Union parties criticised Humza Yousaf's decision to press ahead with the series.
"The SNP need to stop wasting everyone's time," said Liberal Democrat MSP Willie Rennie.
Comments
 0 comments
Want to join the conversation? Please or to comment on this article.