Scottish independence: People living in Scotland after independence will be able to 'opt out' of Scottish citizenship
First Minister Humza Yousaf said his plans would offer people a choice
People living in Scotland after independence will be able to "opt out" of becoming a Scottish citizen in favour of retaining a solely British identity, Humza Yousaf has said.
The First Minister said he would personally renounce his British citizenship, but his plans would give people the option to either hold dual nationality or choose one or the other.
It came as he published the latest in a series of papers setting out the updated case for independence.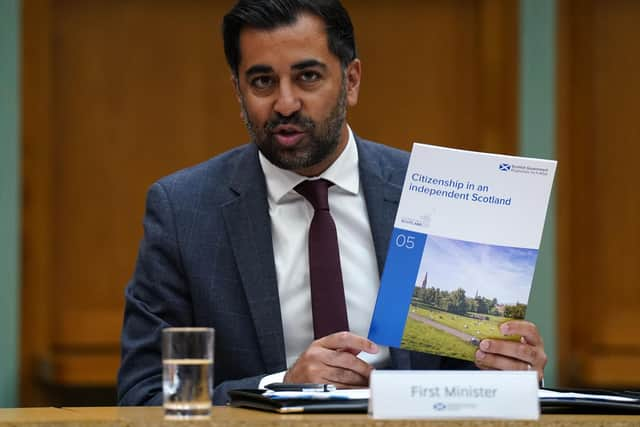 "Most Scottish people right now are British citizens," the new document says. "UK law allows British citizens to hold multiple nationalities. We propose that, after independence, the law in Scotland would allow Scottish citizens to do the same – so people can hold both Scottish and British citizenship if they want, or only one or the other."
The new paper says passports in an independent Scotland would follow EU recommendations and be burgundy red in colour. British passports were changed from burgundy to blue after Brexit. The paper reiterates the Scottish Government's desire to re-join the EU.
Speaking to journalists, Mr Yousaf said: "I think it's important to recognise that some people feel strongly about retaining their British citizenship. We should give them the option to do so. Being a dual national is the norm in many, many countries across the world. Of course, you can have dual citizenship currently in the UK.
"And for some people, they may not want Scottish citizenship. I would hope it would be a minority of people, but there may be people who, for whatever reason, feel strongly about that. And therefore, given the unique context in which we're having this discussion, post-independence, I think we should give people that option to opt out."
Asked if he would want to retain his British citizenship, Mr Yousaf said: "I've not thought that much about it, but I probably wouldn't, no. I'd probably just have my Scottish citizenship."
The First Minister said an "opt-out mechanism" would be created, but no details of this have been published.
The new paper proposes Scotland follows the Irish citizenship model, with those born outwith the country after independence automatically entitled to Scottish citizenship if at least one of their parents is a Scottish citizen. It outlines the rights of British citizens to claim dual nationality at the point of independence and sets out proposals to make it easier for those from overseas to apply for Scottish citizenship.
It says Scotland would continue to be part of the Common Travel Area (CTA), which includes the UK, Ireland, the Channel Islands and the Isle of Man. It argues these arrangements would mean there would be no new passport or immigration checks at any of an independent Scotland's land, sea or air border points with the UK and Ireland, and British, Irish and Scottish citizens would have the right to move freely within the CTA.
The paper says holding a Scottish passport would be a right available to Scottish citizens from the first day of independence. "Any currently valid UK passports would continue to be recognised in Scotland until their expiry date," it says. "It would not be a requirement of Scottish citizenship that you hold a Scottish passport."
The document adds: "The EU sets a number of standards for passports, visas and national identity cards. These combine common technical requirements for document security with optional recommendations on design and size. Under our proposals, planning for new Scottish passports would follow EU standards and technical requirements.
"Scottish passports would also follow the EU recommended layout, size and colour. They would be available in lengths of five years for children and ten years for adults and would be burgundy red."
Mr Yousaf said an independent Scotland would not introduce citizenship tests similar to those carried out in the UK and the US.
Asked if there would be anything to stop someone moving to Scotland during the transition period following a Yes vote with the aim of becoming an EU citizen, he said: "No – I would welcome it, in fact. We have demographic challenges, we have vacancies in a number of important sectors, private and public. We're already working on trying to attract more people from the UK to Scotland.
"I think we'd welcome that, in that transition period in the run up to Scotland becoming an independent nation. When I was health secretary, we had a very deliberate campaign to encourage GPs from the rest of the UK to come and work here in Scotland, particularly in remote, rural and island Scotland. So that's something I'd welcome wholeheartedly."
Conservative MSP Donald Cameron said: "People across Scotland will be appalled that Humza Yousaf is focusing on yet another self-indulgent paper touting independence. It is the wrong priority at the worst possible time. This paper is not only a blatant misuse of public money and resources by the SNP, but it also demonstrates how out of touch they are with the public.
"Rather than wasting taxpayers' money and civil servants' time on pushing a divisive, party political agenda, a strong First Minister would be concentrating on Scots' real priorities – cost-of-living difficulties, unacceptable NHS waiting times and the ferries crisis.
"We know the SNP want to make the next election another referendum on independence, but separation would mean a new hard border between Scotland and England, which would devastate the economy. The SNP don't seem to have even thought about this huge issue, while choosing to dwell on citizenship instead."
Labour MSP Neil Bibby said "Our NHS is in chaos and people are struggling to make ends meet during the worst cost-of-living crisis in decades, but as always the SNP-Green Government is distracted by its constitutional obsession.
"Humza Yousaf is completely out of touch with Scotland's priorities and bereft of new ideas. After years of division and decline under the SNP and the Tories, only Labour is focused on the issues that really matter and only Labour can deliver the change Scotland urgently needs."
Comments
 0 comments
Want to join the conversation? Please or to comment on this article.