Scottish independence offers a major opportunity for Scots business – Angus Robertson
At its heart the European Union is a peace project. As we look around the world today with so many heart-breaking stories, we can see just how precious and hard-won this example of successful peace-building has been.
As we look around the world today with so many heart-breaking stories, we can see just how precious and hard-won this example of successful peace-building has been.
As a Scot growing up in Edinburgh, and speaking German as well as English thanks to my mother, I have always valued the idea of European co-operation and solidarity.
Tomorrow [FRIDAY], the Scottish Government will set out our proposals for how Scotland could regain the benefits of EU membership with independence.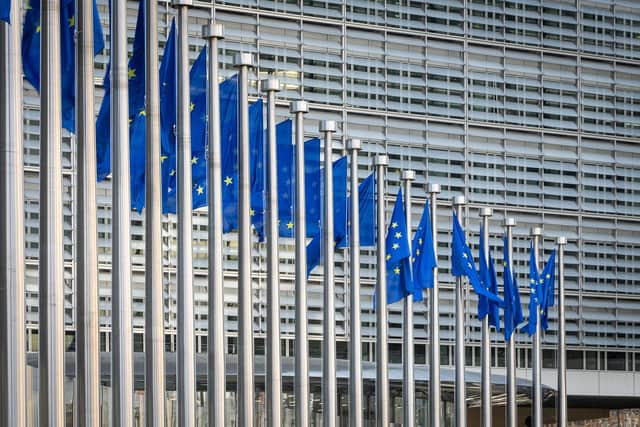 In fact Scotland would not just be regaining what we lost through Brexit, but for the very first time we would have direct representation in our own right at the top table of European decision-making.
People in Scotland voted overwhelmingly to remain in the EU. For many it is the idea of that solidarity and shared values that led them to reject Brexit. But for many others it will be the economic and business benefits that matter most.
These benefits are considerable – open access to the world's largest single market, which now accounts for almost 450 million consumers and 16.2 per cent of global trade.
The EU single market is seven times the size of the UK, so EU membership would mean companies here could trade freely with more businesses and sell to more customers.
Producers and proprietors across Scotland might also remember a time with free movement of goods, services, capital and people, as they grapple with the current labour shortages faced by key sectors like agriculture, academia and hospitality, not to mention our NHS, as a result of Brexit cutting that freedom of movement.
Reversing that cut would provide more and better opportunities for training and employment for people in Scotland. It will be easier to attract and retain people from across the EU to sustain our businesses, world-leading universities and public services.
Put simply, re-joining the EU would provide opportunities for our economy to grow. It would mean quicker and cheaper trading, with no tariffs or duties for goods, and significantly lower levels of non-tariff barriers in comparison to the current EU trade deal negotiated by the UK Government.
Scotland could also take advantage of the many highly competitive free trade deals the EU already has with countries around the world.
It is noticeable that the EU secured much better terms for its businesses in its trade deal with New Zealand than the UK did through its own agreement.
As an EU member state, an independent Scotland would have the opportunity to influence future EU regulatory requirements and standards in ways that reflect the interests of Scottish businesses and representation by the collective weight of the EU on market access issues and food production standards in international negotiations and disputes.
Or course there will be issues to work through in relation to trading with the rest of the UK, which will remain our closest friend and partner. And we will set out on Friday how these can be managed.
But there is a fundamental question to be asked here: independent EU member states that are like Scotland are both wealthier and fairer than the UK. They have higher productivity and lower inequality. So with all our resources and talents, why not Scotland?
And will we better off as part of the world's biggest single market, or by continuing with Westminster's Brexit-based economic policy-making?
Analysis published by the Scottish Government in June this year on the impact of Brexit found 44% of businesses in Scotland naming Brexit as the main cause of difficulties trading overseas.
Staff shortages have been reported by 45% of tourism businesses in the Highlands and Islands as a result of the loss of freedom of movement, and some shellfish exporters have faced additional estimated costs of up to £600 per consignment as a result of Brexit-induced trade barriers.
The Scottish Government's view is that the damage of Brexit to our economy is not as good as it gets for our businesses, or the people they support, including the many thousands of EU citizens who have chosen to make their home in our communities.
The fact remains that the only way to meaningfully reverse this damage and restore the benefits we previously enjoyed, is for an independent Scotland to re-join the EU, giving Scottish businesses a level playing field.
This would also enable Scotland to play a fuller role in the EU's energy transition through the research links we've maintained with European institutions and our strengths in renewables like hydrogen and off-shore wind.
With our continued regulatory alignment and having been part of the EU for over 47 years, Scotland is well placed to re-join the EU and I look forward to setting out our proposals for how this could work on Friday.
- Angus Robertson is Scotland's constitution and external affairs secretary
Comments
 0 comments
Want to join the conversation? Please or to comment on this article.