Scottish independence: New Survation poll finds majority of Scots would vote Yes
The majority of Scots would vote Yes in an independence referendum, according to a new poll.
The survey, by Survation, shows 53 percent backed the idea with 47 percent voting No *.
It is the latest in a series of surveys since the beginning of the coronavirus pandemic showing a majority of Scots in favour of independence – including one by Panelbase which held support at 55% last month.
Survation conducted the online poll of 1,018 people aged 16 and over living in Scotland between September 2 and 7. The poll asked: "Should Scotland be an independent country?"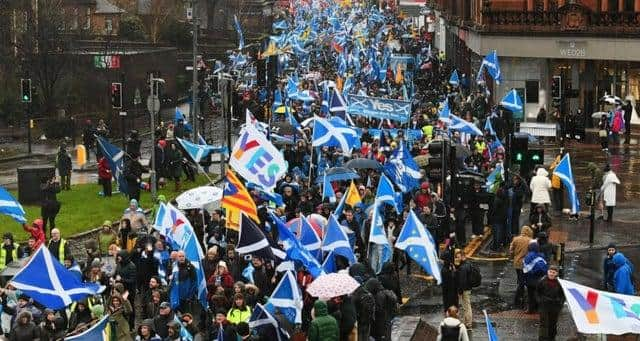 The data gathered in the referendum poll is spread across people from different age groups, regions of Scotland and different levels of household income and education level.
It showed that, of those aged 16-24 in the survey, about 60.5 percent would vote Yes and just under 12 percent No, with nearly 27 percent undecided. In the 25-34 age group, 59 percent would vote Yes and 21 percent No with nearly 19 percent undecided.
Only in the categories of respondents aged 55 and above does the No vote begin to outweigh the Yes vote, according to this poll. In the oldest category – those aged 65 and above - just under 31 percent said they would vote Yes with 60.7 percent voting No and 8.4 percent of people undecided.
Regional data from the survey showed the majority favoured Yes in the Highlands and Islands, North East Scotland, Lothian, Glasgow, Central Scotland and West Scotland.
However, it should be noted that the percentage of people still undecided in Glasgow and Central Scotland was still 23 percent and 21 percent respectively, and that in West Scotland, there is only a 0.21 percent difference between the Yes and No vote and that 14 percent were still undecided there.
A No vote outweighed a Yes vote in Mid Scotland and Fife and South Scotland.
A survey taken by the polling company before the pandemic in January found a 50/50 split for independence and remaining in the union.
Another poll done at the same time also predicts a "commanding lead" for the SNP at next year's Holyrood election and the next general election.
It showed 53 percent of likely voters would choose the SNP candidate for their constituency in a Scottish election, marking a two-point increase on their previous poll in January.
The Scottish Conservatives were predicted at 20% (-3) and Scottish Labour on 18% (+1).
Their UK general election polling indicated the SNP would win around half the vote in Scotland.
The survey comes after First Minister Nicola Sturgeon announced that a new draft Bill paving the way for a possible second Scottish independence referendum will be published before next May's Holyrood elections.
Pro-independence group Yes tweeted: "Surge in support for @YesScot continues to grow, as more and more people move from No to Yes."It's the 7th majority poll in a row since June."
A Scottish Conservative spokesman said: "Douglas Ross and the Scottish Conservatives have a positive vision to move Scotland on from the division of the past.
"The SNP only want to drag Scotland back to the arguments of 2014."
*We are happy to clarify that the poll referenced above did not reflect the 15% of respondents who were undecided. With the 'don't know' respondents included in the results, 45% of Scots would vote Yes in an independence referendum and 39% would vote No.