Scottish independence: Humza Yousaf seems unconvinced by his own indy prospectus
The First Minister was in Glasgow to reveal the latest Scottish Government independence paper.
And even in Glasgow on Monday, the SNP leader admitted there would be no chance of pro-independence activists "posting an almost 50-page document through people's letterboxes".
The First Minister went on to say it would be the job of the party to turn the papers into a digestible, doorstep friendly format. But there is a distinct sense this is a half-hearted effort, one centred around necessity rather than true belief that citing constitutional case law will change anyone's mind.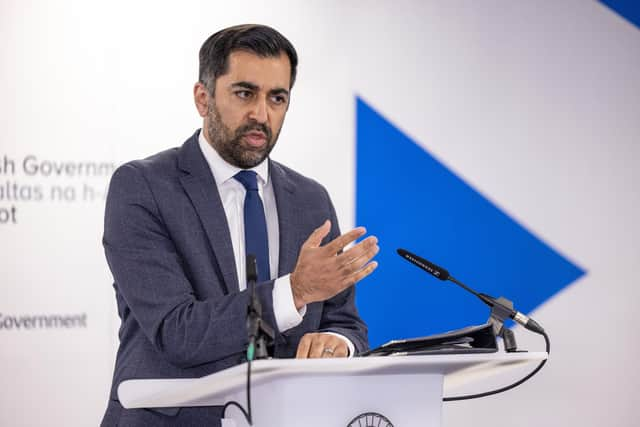 The timing of the announcement was also curious. It coincided with Labour's simultaneous energy announcement in Edinburgh, and with the content as pointy-headed and hypothetical as it was, there is a question about whether it was intended to be intentionally buried.
It is also the first paper for around eight months, coming just five days before the SNP meet to discuss independence strategy, fuelling accusations this is for their own activists rather than any serious attempt to change public opinion.
Mr Yousaf, despite recent reports, appears keen to stick the mantra that only growing independence support to 60 per cent will deliver independence and that work on that must start now.
The offering, however, must answer more questions than the papers to date have done and tackle the difficult issues the Government continue to avoid such as currency and EU membership for any minds to seriously change either way.
These papers feel Sturgeonite in nature, inherently cautious, designed to not spook the troops. But arguments are not won on caution.
Compared to Labour in Edinburgh, these proposals scream student politicians discussing how to end world hunger, so buried are they in layers of obstacles before the questions become relevant.
Labour's attack lines against the SNP are becoming more targeted and better defined. They sense they can sell the idea of change under a Labour government in Westminster better than the SNP can sell continued opposition to the status quo.
By labelling the constitutional wish list a "pipe-dream", Labour want voters to remember and internalise how far away a referendum on independence feels, and is. Mr Yousaf appears to know that a pipe-dream is exactly what he is trying to sell.
Comments
 0 comments
Want to join the conversation? Please or to comment on this article.