Scottish independence: Could the crisis engulfing the SNP lead to a new breakaway party?
It has been the dominant electoral force in Scottish politics for the best part of a generation, but in the wake of a fractious leadership contest, rapidly declining membership and an ongoing Police Scotland investigation into its finances, the SNP is facing a crisis unprecedented in post-devolution Scotland.
There is growing speculation the tensions within the party that were exposed and intensified during the often bitter fight to replace Nicola Sturgeon could ultimately lead to the formation of another pro-independence party.
Ideological disputes between those who supported First Minister Humza Yousaf, and those who rallied behind the socially conservative former finance minister Kate Forbes, have been playing out for weeks. Geographical fissures – widened by contentious policies such as highly protected marine areas – have also led to debate about whether those members in rural Scotland are best served by a party that has long been synonymous with the nationalist cause.
The former SNP adviser, Alex Bell, has been among those to raise the issue of a new party separate to the SNP. The former head of policy to Alex Salmond said such a party – one committed to a second independence referendum, but "able to separate the constitution from policy delivery" – would spark a "healthier political debate", and give voters an opportunity to leverage things they actually want.
But is such an outcome likely? As things stand, the rumours and speculation are, unsurprisingly, largely reserved to social media, and the Electoral Commission's record of party registration applications do not show any moves to set up a new pro-independence party. Some of Scotland's most esteemed political observers do not expect that to change – at least, not for now.
"For the move to a new party to be at all effective, and even then it might not work, you would need to have a large number of elected parliamentarians willing to move to the new party and, as a result, seriously challenge what's left of the SNP," Sir John Curtice, professor of politics at the University of Strathclyde, told Scotland on Sunday.
"The other reason for caution is that the great advantage the nationalist movement has in Scotland, or has had so far, at least, is that it's politically united behind the SNP. In contrast, unionism is fragmented, and whatever difficulties the SNP have, there is no alternative administration in sight at Holyrood."
James Mitchell, professor of public policy at Edinburgh University, said he believed the prospect of SNP MPs and MSPs quitting the party largely depended on developments to come. "I think the SNP is resilient enough to get through a major crisis, but getting through a crisis is different from getting through it intact without significant loss of support," he said.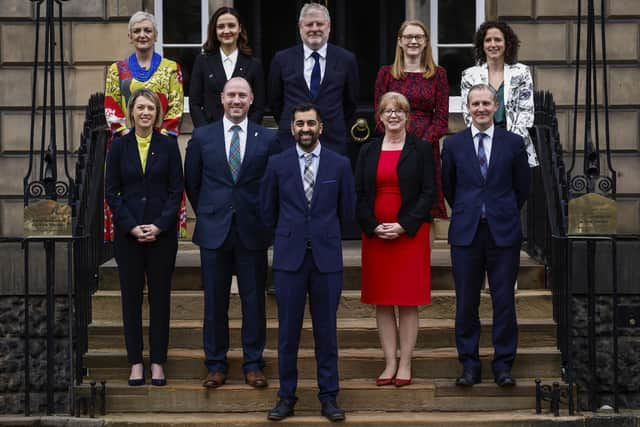 "The key issue is how it reacts. As a first step it needs to acknowledge the crisis – it has not done this so far – and then address its weaknesses. A first step would be to adopt recommendations in the SNP governance review group."
The muttering around a new party is not just borne from fundamental ideological disagreements between the respective camps of Mr Yousaf and Ms Forbes. Geography is also a factor. In the wake of the leadership contest, one of the party's veteran parliamentarians said he felt momentum was growing for the emergence of a new pro-independence party serving the north of Scotland.
Angus MacDonald, the SNP MSP for Falkirk East for a decade until his retirement in 2021, said he believed Scotland had "got a good bit closer to seeing the formation of an independence supporting Highlands and Islands party". The 59-year-old Hebridean, who supported Ms Forbes, quit last week as a member of the SNP after 35 years, criticising the planned introduction of highly protected marine areas. He declined to comment further when asked by Scotland on Sunday about the prospect of a new party forming.
There is a precedent, albeit an inexact one, for such calls. In the late 1990s, the Highlands and Islands Alliance was formed to field candidates at Holyrood in response to a perceived disconnect between the Parliament and Scotland's rural swathes. However, it was non-partisan, and did not even come close to winning a seat.
Could a new Highland party, this time one that advocates independence, fare better? Sir John is unconvinced, pointing out it is a part of the country where voters tend to favour individuals as opposed to parties, and the Liberal Democrats still enjoy healthy support.
"We shouldn't underestimate the spirit of independence – that's with with a small 'i' - of voters in the Highlands and Islands," he said. "Turning that into a coherent political movement that has sufficient clout to make a difference is quite a challenge."
What if no new party emerges? After all, the SNP has already lost a handful of its disaffected politicians to Alba. Only last week, Chris McEleny, that party's general secretary, suggested a number of SNP parliamentarians may soon "quickly stop seeing Alba as just good friends, but as a new political home". He claimed the party had been in regular discussions with around eight SNP MSPs and six MPs.
Prof Mitchell, however, is sceptical about any defections. "I doubt that would happen," he said. "It is more likely the SNP will reform itself and attract members back from Alba. But I'm not sure that either looks likely at the moment."
Sir John, meanwhile, said the tensions in the SNP were also evident by the parliamentarians it had lost to Alba – those who "basically didn't share Nicola Sturgeon's socially liberal view". But he is unconvinced Mr Salmond's electoral vehicle will prosper.
"The problem is that it's led by someone who's deeply unpopular," he said. "Frankly, the party so far has got nowhere, its two MPs are on a hiding to nothing, and but for the fact that Alex Salmond is a former minister, he wouldn't be getting airtime."
Comments
 0 comments
Want to join the conversation? Please or to comment on this article.