Ash Regan has called for a cross-party independence convention to be established in light of "reported divisions" in the Yes movement.
The former SNP leadership candidate insisted the move was "not only imperative" but urgent, as she argued independence was "more important than ever". But Jamie Hepburn, the new SNP minister for independence, insisted there was already a "real sense of unity of purpose" in the wider movement.
Ms Regan, who came third in the leadership race behind Kate Forbes and Humza Yousaf, used a question in Holyrood on Wednesday to ask the Scottish Government "what plans it has to review its prospectus for an independent Scotland, in light of reported divisions within the independence movement".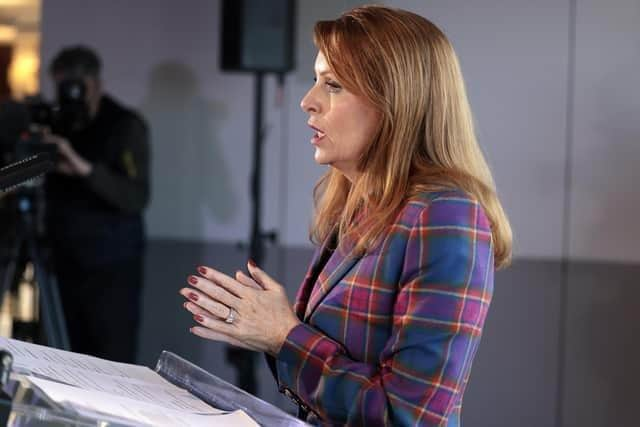 She pointed to rising household bills and other problems facing the UK, adding: "Many people in Scotland, I think, at the moment, will be considering and concluding, indeed, that an independent Scotland is more important than ever. Now, with that in mind, I think a cohesive, a vibrant, creative, cross-party wider movement is important in that way.
"It's important for designing a successful campaign. It's important for presenting that united front, and then going on to win majority public support. So would the minister agree with me that establishing an independence convention is not only imperative right now, it is also urgent?"
Mr Hepburn said he agreed the requirement for independence was urgent. He said: "My task, of course, is to make the Government's case through the series of prospectus papers that we will lay out. There are three already published – there will be more to come. That's the activity that I will undertake.
"That will be laid out before the people, and I think that will be a key part of making the case to the wider public. And when I take the temperature of the independence movement at this moment in time, I see a real sense of unity of purpose – a determination to work collaboratively towards that end, and I intend to play my part in that regard."
Elsewhere, Mr Hepburn confirmed only one civil servant – his private secretary – was reporting directly to him in his new role. Scottish Conservative MSP Donald Cameron said independence was "clearly not a priority" for people in Scotland.
Liberal Democrat MSP Willie Rennie asked Mr Hepburn if he would be seeking advice from former first minister Alex Salmond when crafting his new independence prospectus.
Mr Hepburn replied: "I'll be working with dedicated civil servants to craft the prospectus papers." Mr Yousaf was elected the new First Minister and SNP leader at the end of March following a bitter six-week contest.