Scottish Government warned against raising taxes to plug £1bn black hole
The Scottish Government should adopt "a more frugal approach" to public spending to plug a fiscal black hole instead of raising taxes, a trade body has said.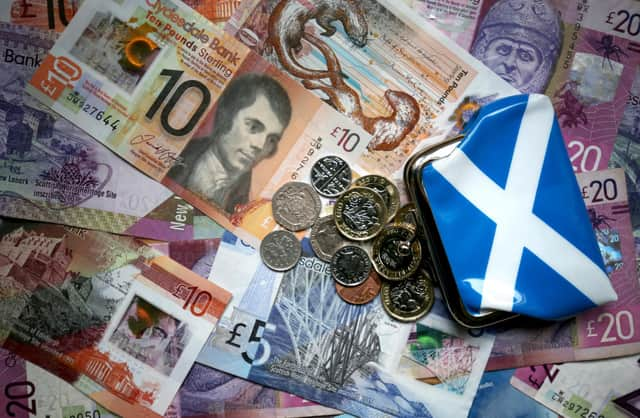 In its submission to the Finance and Public Administration Committee, the Scottish Retail Consortium (SRC) called for a multi-year plan to tackle the forecast £1 billion spending gap next year.
That figure is due to double by 2027-28.
In its submission, the SRC said: "We note the Scottish Government faces a forecast £1 billion spending gap in the coming financial year and that this is set to widen in subsequent years.
"A timely spurt in economic growth would help but seems unlikely in the immediate term.
"Therefore a multi-year plan is needed to eliminate the gap and put government finances on a sustainable path. Tax will presumably form
But the SRC added that "extra tax alone, however, is unlikely to be enough to plug the shortfall" and there should be a "candid review of spending and new thinking about how services are provided".
The body continued: "Instead, a more frugal approach to devolved public spending and a reduction in the cost of government should form the bulk of the necessary budgetary action.
"This would help militate against the need for tax rises which could stymie economic recovery.
"Business recognises there are few palatable options for our politicians.
"However, government needs to think differently about how and which services they deliver, and how they deploy their resources efficiently."
A failure to take action on public spending would mean "the pressure for even higher taxes on households and firms in subsequent years will grow", the SRC said in its submission.
It added: "Untrammelled tax increases could dampen consumer demand and economic activity and reduce prospects for growth, which is the only path to sustainably strong public finances.
"Business wants to be confident that government has a plan to get on top of the public finances."
A spokesman for the Scottish Government said: "We continue to face one of the most challenging financial situations since devolution, with the Covid pandemic, the war in Ukraine, and high inflation putting significant pressure on households, the economy and public finances.
"As we set out in this medium-term financial strategy, we will do all we can within our powers to ensure public finances are on a sustainable path.
"We will achieve this through our three key pillars: taking tough decisions to prioritise our spending; ensuring a strategic approach to tax; and supporting sustainable, inclusive economic growth to generate tax revenues."
On Wednesday the annual Government Expenditure and Revenue Scotland (GERS) report was published showing the public spending deficit in Scotland fell to £19.1 billion, largely driven by record North Sea oil and gas revenues.
Comments
 0 comments
Want to join the conversation? Please or to comment on this article.