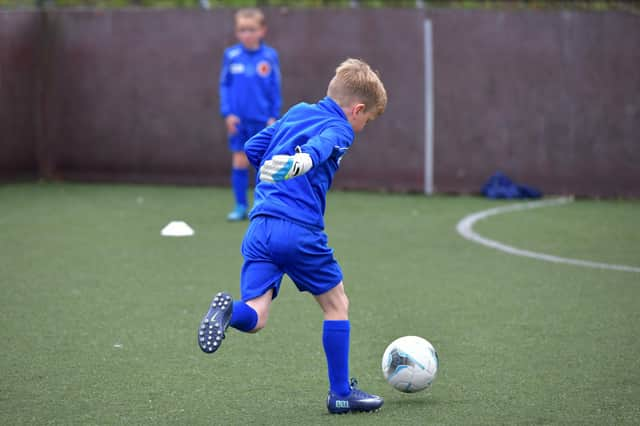 Demands are growing for children's sport to be exempt from travel restrictions.
Parents and sports organisations are urging the First Minister to follow in the footsteps of Wales and make an exemption for children so they can train and take part in competitions.
A petition, which has gained almost 5,000 signatures in less than a fortnight, says the restrictions across the Central Belt have "unfairly punished" children by limiting their opportunities to take part in sport with a "severe and immediate consequence" on their mental health and social interaction.
The document also claims there has been "no evidence" that shows preventing children from travelling would stop the spread of coronavirus.
Former youth coach Scott Willox, who launched the petition, said the boundaries were "crazy" and didn't take into account how sport, particularly youth football, was organised.
"I live in South Queensferry and my kids could travel 25 miles to Musselburgh to play because that's all in the NHS Lothian area, but we couldn't cross the bridge to Rosyth for a game, which is just five miles away," he said.
"And a player who lives in Fife, and there are lots of those who play for Spartans in Edinburgh for instance, can't come the other way to play for their team. It's crazy.
"What this is doing is forcing children who play for teams – which could be 15 minutes away by car – to sit at home because they're crossing some kind of artificial boundary.
"They're missing out on playing, on training, and being part of their team.
"Kids have been hit very hard by coronavirus over the last few months, taking sport away – especially from those for whom it might be their only outlet – is unfair.
"If cafes are open so older people can socialise and not feel isolated, then kids should be able to play football and benefit from the social aspects too.
"It feels like kids are far down the list of priorities and it's not good enough."
Similar restrictions were lifted in Wales earlier this month after the Welsh First Minister Mark Drakeford said organised sporting events would be exempt.
A petition there garnered 8,000 signatures.
Youth Football Scotland (YFS), a social enterprise organisation, has written to the Scottish Government urging it to do the same, amid fears the restrictions might result in many teenagers quitting the game permanently.
Robbie Forsyth of YFS said: "Football teams and players criss-cross these boundaries all the time.
"Players can live a stone's throw from their training ground, but be in a different health board area, so they can't play.
"The restrictions have thrown youth football into chaos. There needs to be some form of exemption for these children, or indeed for kids sport as a whole.
"Football is very organised, it has strict procedures in place to deal with coronavirus, so there's really no need to keep children away from training and matches just because they live in the wrong place.
"The longer-term worry too is that, for teenagers especially, there is a danger if these restrictions stay in place indefinitely they'll just drop out of the game completely.
"We've been told that the government will not move on this, but they really need to rethink and look at the damage that is being done to some kids.
"This is not about some five-a-side game, but registered players playing for registered clubs."
Asked about the issue at her daily coronavirus briefing, First Minister Nicola Sturgeon said: "There are lots of aspects of this having an impact on all sorts of things and I deeply regret all of it, especially when it impacts on young people.
"Our general advice is for people within the five health board areas with the more severe restrictions is they shouldn't be travelling outside of their own health board area unless it's necessary and people should not travel into these areas unless it's necessary."
She was backed by Chief Nursing Officer, Fiona McQueen, who added: "We know how essential exercise and companionship is, but we're asking people not to travel unless it's for work or education, and by doing that we should get back to other people being able to travel as soon as possible."
However, Mr Willox said he would continue to push for the exemptions.
He said he believed that he would reach 10,000 signatures on his petition.
"I back the travel restrictions in general," he said. "But this one just doesn't make sense and is punishing kids unnecessarily."
A spokesman for the Scottish Government said there was already an exemption in place that allowed under-18s to continue to play contact sport in areas with increased restrictions, but that travel in or out of areas with restrictions was not permitted.
A message from the Editor:Thank you for reading this article. We're more reliant on your support than ever as the shift in consumer habits brought about by Coronavirus impacts our advertisers.
If you haven't already, please consider supporting our trusted, fact-checked journalism by taking out a digital subscription.