Scottish Government must outline details of cladding deal with housebuilders in Holyrood, demand Tories
The government has also been accused by Scottish Labour of seeking to "dodge scrutiny" around its cladding programme.
Residents suffering from living with unsafe cladding are one step closer to seeing the material removed by the companies which built their homes after the Scottish Government agreed an "in principle" agreement with developers.
Unsafe and flammable cladding on buildings received intense focus following the tragedy at Grenfell Tower in London where 72 people died in 2017.
The Scotsman can reveal ministers are yet to convince all of Scotland's ten largest house-builders to agree to the deal, but will now move to agree a legally binding contract with those that have.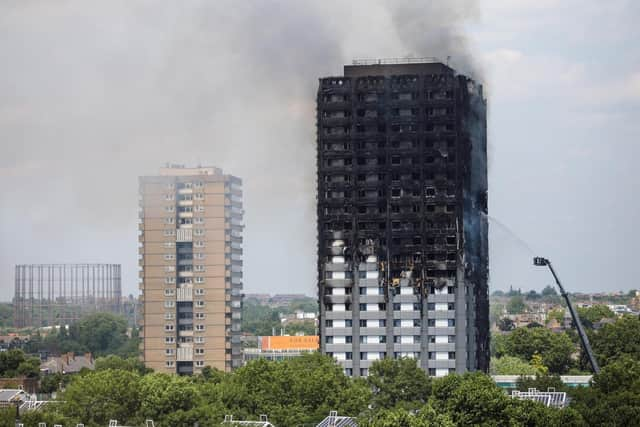 It comes a year after then-housing secretary Shona Robison announced the intention to agree a Scottish Safer Buildings Accord with developers.
However, critics demanded the housing minister Paul McLennan comes to Holyrood to provide a full update to MSPs after what the party called successive ministers having "dithered and delayed".
The Scottish Safer Buildings Accord was intended to see developers be responsible for funding work on properties they built which have unsafe cladding.
Work on assessments of individual buildings, funded by the Scottish Government to the tune of around £2 million, has been ongoing for around two years. However, there had been little public progress on the potential of an agreement with developers.
In an under-the-radar Government initiated written question, Mr McLennan stated that following work with industry body Homes for Scotland and the ten largest developers who work across the UK, the Government had agreed an "in-principle agreement" with industry.
Work will now turn to drafting a "long-form legally binding contract" that will "support the remediation of developer linked buildings with unsafe cladding".
It is not clear how many buildings are affected by the new agreement, how much work is required to make them safe, or when work will begin.
The minister also admits not all large developers are behind the plans, blaming "outstanding technical questions and open discussions with the smaller and medium-sized developers on their responsibilities".
Mr McLennan added: "We are continuing to explore legislative options to safeguard residents and homeowners."
The Government's first wave of work on tackling unsafe cladding came with the beginning of 'Single Building Assessments', established in March 2021 to determine which properties with cladding may have a fire-safety risk and how much it may cost to fix the issues.
That work has, to date, cost £1.8m, and covers 105 buildings across Scotland, including 62 in the Lothian region, 33 in Glasgow, four in North East Scotland and West Scotland, and two in South Scotland.
The vast majority of the money – well over half – has been spent in Glasgow, with £1.05m covering buildings in the city in the past financial year, with a further £114,000 the year before.
Around £285,000 has been spent in Aberdeen, £281,000 in Edinburgh, and £88,000 in Dundee during the same time period.
This spending has included more than £400,000 on a waking watch in Glasgow where security are posted 24/7 in affected buildings to stay alert for fires. More than £740,000 has been spent in March this year alone on cladding remediation, Government figures state.
Miles Briggs, Scottish Conservative housing spokesperson, welcomed the announcement of the contract, but said residents remained "hugely anxious" and demanded a ministerial statement on the issue.
He said: "While this is a step in the right direction, successive SNP ministers have dithered and delayed when it comes to removing unsafe cladding from homes across Scotland.
"Many residents living in these buildings are still hugely anxious about what the future holds. The engagement from the Government with Homes for Scotland and others is welcome, but there is an urgent need for action to be taken.
"The SNP Government have spent a pitifully low amount of money of the near £100m they have received from the UK Government to tackle this issue and that must change now.
"With the agreement of this accord, there is an onus on the SNP's new housing minister to come to Parliament and outline not only to MSPs, but to those affected what this agreement will mean.
"Protecting homeowners must be an absolute top priority for ministers and that is why I hope they bring forward a statement as soon as possible."
Scottish Labour also criticised the Scottish Government over secrecy around its cladding stakeholder group, which was set up to provide advice to ministers on the issue and included representatives from the housing sector, lenders, insurers and those affected by cladding.
The party said it was concerned at the lack of transparency around the minutes of the group's work after it emerged the Government would publish "sanitised" versions of the meetings.
This was after researchers were told information about the group's work was confidential, despite it being described as taking place under "Chatham House Rules" where information is allowed to be used, but the source of the information must stay secret.
Mark Griffin, Labour's housing spokesperson, said the SNP was doing "everything it can to dodge scrutiny of the mess they have made of this cladding programme". He said: "This is yet another sorry example of the corrosive culture of secrecy and cover-up at the heart of this failing SNP Government.
"Meanwhile too many Scots are living with dangerous cladding and being kept in the dark by a Government more concerned with protecting its reputation than protecting people. We need total transparency, so we can be sure that the SNP is going to start treating this with the urgency it deserves."
A Scottish Government spokesperson said: "We are determined to ensure that buildings in Scotland with potentially unsafe cladding are remediated and developers step up and meet their responsibilities.
"Our focus has been on negotiating a Safer Buildings Accord, and we are pleased to have reached an in-principle agreement with Homes for Scotland and a number of Scotland's largest developers. This is an important step in the process, and we will continue to engage with the remaining large developers and open discussions with the smaller and medium sized developers on their responsibilities.
"The Scottish Government will keep Parliament updated on progress." and will be doing so as part of Mr McLennan's upcoming appearance at the Local Government, Housing and Planning Committee.
"We will continue to explore legislative options to safeguard residents and homeowners."
Want to hear more from The Scotsman's politics team? Check out the latest episode of our political podcast, The Steamie.
Comments
 0 comments
Want to join the conversation? Please or to comment on this article.