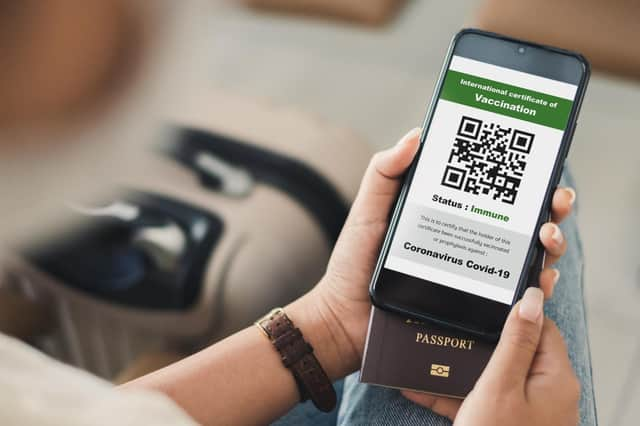 Digital vaccine passports are under consideration
Scotland's Health Secretary yesterday explained work was ongoing to develop the tools needed for digital vaccine certificates while keeping the ethical and equality questions under review.
Her comments came ahead of a Downing Street press conference yesterday evening where Boris Johnson said any policy in England would be first voted on by MPs.
Proposals were announced at the weekend for a "Covid status certification" scheme for mass gatherings south of the border, from sporting events to nightclubs.The UK Government has said the certificates could be a mobile phone app or a paper document and they are expected to show whether an individual has received the vaccine, has recently tested negative for the virus, or has "natural immunity" having tested positive in the previous six months.
Health Secretary Jeane Freeman yesterday confirmed vaccine passports were being considered by the Scottish Government
Ms Freeman said there were questions over how any such scheme would work but said she favoured a digital approach.
She said: "We're currently looking at what would be the digital infrastructure you would need for any form of certification, as we work through those ethical and equality and practical questions about how it might be used and in what circumstances.
"I don't want it to be paper – where it's possible I'd want it to be digitally done.
"I don't want to put an unnecessary burden on our health service – on our GP practices, for example – with everyone going to them to get the bit of paper that says 'Yes, I've been vaccinated'."
Scottish Labour leader Anas Sarwar has welcomed the idea of vaccine passports but warned the international aspect needs to be prioritised.
He said: "We need to separate the two parts around the vaccine passport discussion, one is what happens domestically and I think it would be good to have some kind of certification or card that recognises someone has had their first dose, recognises someone has had their second dose.
"It could also be used to promote it on social media to encourage uptake of the vaccine but I think there's a much more important conversation to be had about international travel.
"As people start to come to Scotland to do tourism, to do trade, to visit family, we may want them to have certification that proves they've had their vaccine, the exact same way when Scots go abroad either to holiday or to work or to build relationships in trade they might be asked by other countries to provide certification and evidence that they've had a vaccine so I think that international aspect needs to be really prioritised."
The policy has been fiercely opposed by the Liberal Democrats, with Scottish leader Willie Rennie claiming they would set up a "twin-track society".
He explained: "This is grossly unfair to the millions who have not been vaccinated yet and to those who have been advised not to take the vaccine.
"Just following Boris Johnson's lead is not a good enough excuse. This must not go ahead until the public has had a say."
The Prime Minister insisted yesterday there was "absolutely no question" of people having to show a vaccine passport to go to the pub or hairdresser when lockdown eases further in England next Monday.
He told a Downing Street briefing: "On Covid status certification, as we prefer to call it, the most important thing to say to everybody listening and watching is there's absolutely no question of people being asked to produce certification or a Covid status report when they go to the shops or to the pub garden or to their hairdressers or whatever on Monday.
"And indeed we are not planning that for stage three either, May 17 as you know we are hoping to go for the opening up of indoor hospitality and so on.
"We are not planning for anything of that kind at that stage."
The PM also dismissed children being required to have vaccine passports should they be implemented.
He explained: "We're a way off implementing or enacting anything of the kind for anybody, let alone children.
"I've spelt out the ways in which we might think of doing that but it's not for steps two or three in any event."
It came during a press conference that saw the PM insist there would be no deviation from his road map out of lockdown.
The UK Government set out the interim findings of its review into the domestic use of Covid status certificates yesterday, stating that ministers believe such a scheme could have an "important role to play both domestically and internationally, as a temporary measure".
Led by Cabinet Office Minister Michael Gove, the taskforce review, is looking at "what standards" should be required for the so-called vaccine passports if they are used domestically.
Due to be finalised in the summer, the review has initially found that vaccine passports could "potentially play a role in settings such as theatres, nightclubs, and mass events such as festivals or sports events to help manage risks where large numbers of people are brought together in close proximity".
According to a paper published by Downing Street, those who have tested positive for Covid-19 within the past 180 days would also qualify for access to venues requiring a Covid certificate.
It said: "The Government expects that Covid-status certification could be demonstrated by: an up-to-date vaccine status, a negative lateral flow or PCR test taken at a test site on the same day or the day before their admission to a venue, or by proof of natural immunity, such as through a previous positive PCR for a time limit of 180 days from the date of the positive test and following completion of the self-isolation period."
This will now be piloted at a series of mass events, including the World Snooker Championship at the Crucible Theatre in Sheffield and the FA Cup final at Wembley on May 15.
If you haven't already, please consider supporting our trusted, fact-checked journalism by taking out a digital subscription.