Scottish Government bans TikTok from work devices over cybersecurity fears
The Scottish Government has banned social media app TikTok from its mobile phones and other corporate devices following discussions with the UK Government.
The move comes after the UK Government banned the app on its phones amid fears of sensitive data being accessed by the Chinese government – though Beijing's embassy in the UK has hit out at the move.
Deputy First Minister John Swinney said on Thursday the ban will begin immediately.
He said: "Devices managed by the Scottish Government are configured in line with best practice from the National Cyber Security Centre, which helps us to manage any risk associated with the use of third-party applications.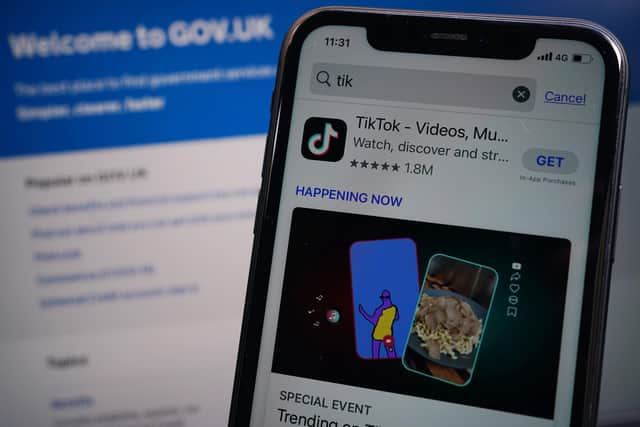 "Our decision to prohibit the use of TikTok follows engagement with the UK Government on the potential tracking and privacy risks from certain social media apps.
"Currently there is limited use of TikTok within Government and limited need for staff to use the app on work devices. This ban will be implemented immediately. It does not extend to personal devices used by staff or the general public."
Last week, Scottish parliamentary authorities "strongly advised" MSPs to remove TikTok from any of their devices, including personal phones.
In an email to all parliamentary staff and MSPs, a senior IT official at Holyrood said: "After discussions with the National Cyber Security Centre, we are strongly advising that all members, members' staff, Parliament staff and contractors' staff remove the TikTok app from any device currently used to access the Scottish Parliament's IT systems.
"This includes personal devices and Scottish Parliamentary Corporate Body-issued devices.
"We are giving this advice based on a precautionary approach and the best information available to us at this moment given the concerns around the information the TikTok application can collect from devices."
He said the advice is considered "proportionate and necessary given the situation as we currently understand it" and will be kept under review.
Meanwhile, the UK parliament is now blocking TikTok from its devices and networks as the latest ban spreads.
The commissions of both the House of Commons and the Lords cited security concerns as they decided to impose the ban across the Palace of Westminster.
A spokesman for Parliament said TikTok "will be blocked from all parliamentary devices and the wider parliamentary network".
"Cyber security is a top priority for Parliament, however we do not comment on specific details of our cyber or physical security controls, policies or incidents," the spokesman added.
Noted political TikTokers such as Energy Security Grant Shapps will be able to continue using the app on their phones' data but will be blocked from accessing it on parliamentary wifi.
Comments
 0 comments
Want to join the conversation? Please or to comment on this article.