One of the more notable impacts on, specifically drinks industries such as whisky, was shipping to the EU.
Greg Dillon, co-founder GreatDrams.com, has felt this keenly. He said: "GreatDrams.com had a thriving European business with great repeat customers and ambitions to grow.
"That all changed on Jan 1 2021. Shipping to the EU has been made monumentally harder – we used to ship with a specific courier and everything would be picked up from our office and be delivered two days later for around £24 with no duties or fees or any extra hassle and no customs paperwork. Now it is harder to send a bottle of whisky to Dublin or Germany than it is to America or China. And we still cannot ship to France at all – crazy."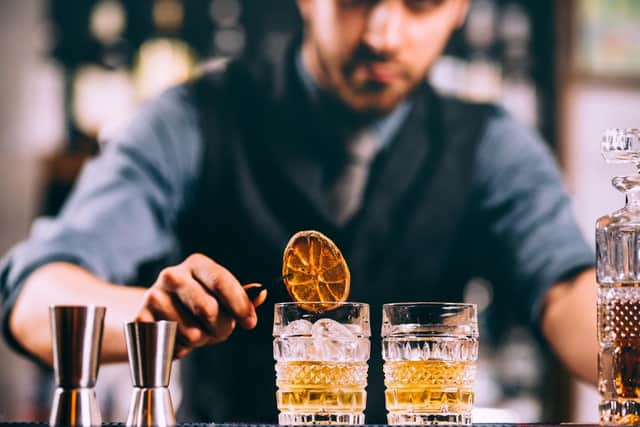 Mike Lord, owner of the Whisky Shop Dufftown, said his online business to EU countries has been "decimated". He said: "The extra costs and complexities for customers in the EU means it's no longer viable to buy from a UK business like mine. Not only that, but there are a number of EU countries that no longer allow individuals to buy alcohol from a UK company and have it shipped to them in their home country. This is not understood by individuals in those countries or by couriers. There seems to be an ever reducing number of countries I can deal with."
As well as selling whisky online, Mike's shop is located in Speyside, on what should be the thriving Malt Whisky Trail. He has seen a decline in whisky tourism after Brexit but what has hit his shop harder is the restriction on how much whisky people can now take back with them."
"My business relies very heavily on whisky tourism particularly from the EU," he said. "These EU customers can now take home, in effect, one bottle of whisky per person. This has a huge impact.
"As an example, I recently had a whisky group in my shop from an EU country. Previously, they had come to Scotland once a year and would visit my shop. They said that the last time they visited Scotland, between the five of them, they had taken over 100 bottles of whisky back with them. Now they could only take one bottle each.
"They were looking for that one special bottle, possibly a distillery exclusive and probably a hand-fill, so they would not be buying from me but they popped in to say hello."
This problem has also been echoed by distillery staff, with Iain Allan from Glen Moray saying: "Whisky clubs who'd come to us and the Speyside area used to be able to pick up multiple bottles of whisky. Now, they have to be aware that they've got an allocation that they can take back. So you almost have this collection of distilleries competing for space in people's suitcases."
Edinburgh bakery Twelve Triangles has seen consequences of Brexit, despite most of its ingredients coming from the UK. Rachel Morgan, co-founder said: "At Twelve Triangles we have always had traceability and high welfare as a core value when sourcing ingredients. Even before Brexit, we sourced as much of our raw ingredients as we could from within the UK.
"Our suppliers have found Brexit increasingly challenging given the combination of increased costs, fewer subsidies and loss of a labour market, which is something that everyone is feeling across the hospitality, farming and trades sector. So, even though our supply chain has not directly been hindered, the consequences for us, the growers, farmers, millers and producers that we work with has been enormous."
Peter Crawford, owner of Sip Champagne based in Fife, explained how challenging Brexit has been for them as a small start-up. He said: "it's hard to overstate how challenging Brexit has proven to be.
"Our supply chain broke five times in our first year, largely as a result of partners in France withdrawing from the UK market due to costs and complications. Costs for every element from customs to transport to the products themselves continue to rise and it seems like not a month goes by when there is not a new layer of bureaucratic complexity to navigate."
​How have Scottish businesses adapted to mitigate Brexit problems?
As selling to the EU has become harder, these businesses are having to adapt, with many focusing on selling more to other countries, as Greg Dillon has. He said: "We have had to grow our whisky exporting business in Asia primarily and focus further afield versus countries where we have great links and contacts which has caused a lot more cost, uncertainty and paperwork. We are only now getting towards our first couple of export deals in the EU – and they are much smaller than the volume we used to ship there."
Peter Crawford said that he has had to rely on larger logistics partners, saying: "We had to rework and strengthen our logistics, relying on larger and more established logistics partners to ensure smoother flow of stock to the UK. We have also hedged our risks against the instability in the UK market by setting up a French subsidiary which will allow us to ship directly from France to other territories, cutting out the challenges and costs of UK customs."What does the future look like, if nothing changes?
As we continue under the current government, not much looks to be changing with the path Brexit is on. Even Labour, as the opposition, aren't taking a strong stance in changing or revising it. With this in mind, what does the future look like?
Mike Lord simply said that it is very bleak, while Greg Dillon said: "Small businesses will not be able to survive and thrive as we once did if free trade is not in place with our closest neighbours, who understand and get the concept and the ethos of the limited edition award-winning whiskies we produce best.
"We are self-funded and a family business with no debt so we are able to adapt swiftly and effectively but costs are extraordinarily higher than they used to be and the prospect of customers paying local duty charges on top of already applied UK duty charges if they are buying only a few bottles is very prohibitive."
Peter Crawford added: "In short, ever fewer options and ever higher prices for the UK consumer, as challenges and costs to import goods gradually become too great for businesses to bear. Among the many businesses that are struggling, we are actually fortunate that the UK market for Champagne is quite mature and that consumers of prestige products are generally less sensitive to price rises."
​What do business owners want to see from the government? If change was to come from the government, what would it need to look like to help the challenges facing these businesses?
Greg Dillon said: "Get a free trade deal that eliminates red tape and needless time wasting on commercial invoices and paperwork that takes away time that could be spent on building our business which, in turn, grows the UK economy through taxes. And get France to accept us shipping bottles of whisky please!"
Mike Lord added: "The government should admit they misled the electorate over Brexit. There is going to be a speech today (Friday 27 January) from the chancellor which apparently will highlight the opportunities of Brexit. There are none for my business and when I speak to other businesses in other areas I hear the same. There needs to be a far reaching trade agreement with the EU as soon as possible."
Peter Crawford wants some vision and coordinated strategy. He said: "There are ever-more layers of seemingly arbitrary bureaucracy that block and slow the import chain, while adding needless costs along the way."