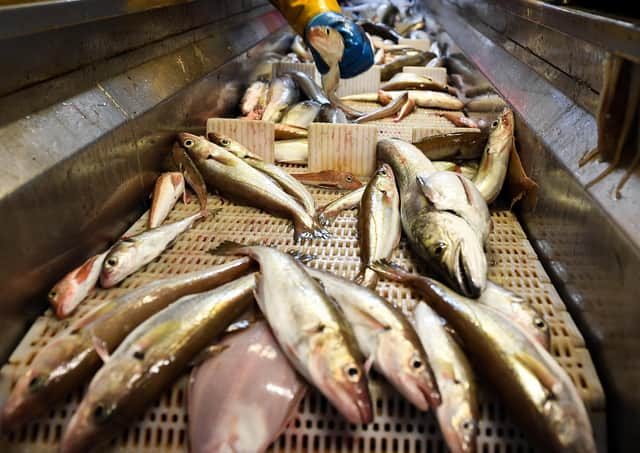 Fish caught out of the North Sea. Picture: J Mitchell/Getty Images
Elspeth Macdonald, the chief executive officer of the Scottish Fishermen's Federation (SFF), told MSPs any extension to the end of the transition period on 31 December will harm negotiations on catches next year.
She told Holyrood's Culture, Tourism, Europe and External Affairs Committee yesterday that her members do not want a request for an extension to be submitted before the deadline at the end of this month.
Ms Macdonald said: "From a fisheries perspective we certainly don't want to see an extension to the Brexit process."
An extension to the transition would leave the UK in the common fisheries policy (CFP), she said, a set of rules put in place to manage fishing stocks in EU member nations into 2021.
Responding to a question from Liberal Democrat MSP Beatrice Wishart, she said her group would like an agreement to be struck between the UK and the trading bloc to maintain UK sovereignty over fishing waters.
European countries would then be able to bargain for access and quotas in UK waters.
She said: "I think we've always been clear that we have never said that EU vessels should not have access to UK waters in future but that has to be the subject of annual negotiations.
"We're not seeking anything unusual, we are simply seeking the same sort of arrangement that the EU has with other neighbouring coastal states such as Norway."
The SFF has previously called for the deal with the EU to ensure the UK is considered an independent coastal state with total control over fishing waters.
Ms Macdonald also told MSPs some SFF members have concerns fishing will be used to bargain for other parts of the deal with the EU.
But she added members have been "reassured" by what she described as "clear messaging" that they do not look to trade the fishing sector.
Meanwhile, economic geography Professor Sarah Hall, of Nottingham University, told MSPs that there could be an extension agreed in the autumn but it will be harder than if a request is sent this month.
She said: "If the UK is seeking an extension it should ask for an extension.
"That being said, my reading of the situation is that where there's a will to implement an extension come the autumn, then usually a way could be found to do that but it's not as straightforward as in June."