Scottish Fire and Rescue Service: Fire fighting appliances unavailable more than 6,000 times last year
Vehicles designed for fire fighting were unavailable more than 6,000 times in Scotland last year, new figures show.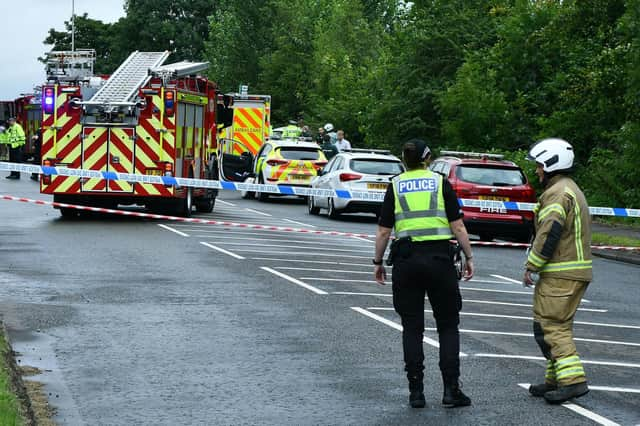 Scottish fire service appliances were unavailable last year more than 6,000 times, new figures show, as opposition politicians call for cuts to fire fighting to be reversed.
Data released via freedom of information request by the Scottish Fire and Rescue Service (SFRS) shows wholetime fire appliances were "off the run" 6,272 times in 2022 – a 138 per cent increase since 2019.
Meanwhile, Retained Duty System (RDS) appliances, available to on-call firefighters providing cover, were off the run 112,615 times, a rise of 23 per cent since 2018.
The figures come after Scottish Labour warned in a letter to the Scottish Government that firefighters were increasingly "fearful about the future sustainability of the entire service". As part of a £11m package of cuts, second or third appliances are being withdrawn from ten stations this month.
Katy Clark, Scottish Labour's spokesperson for community safety, the "dramatic statistics" are an example of "the deep impact that a decade of cuts has had" on the SFRS.
"Response times have worsened, stations are in disrepair and hundreds of jobs have been lost," said Ms Clark.
"Now, we are seeing vital appliances withdrawn across the country, even though the data suggests appliances are already being frequently unavailable whether it be due to mechanical defects or staffing issues. This is not sustainable.
"Staggeringly, the Scottish Government's Programme for Government does not even mention the massive challenges firefighters are facing, even in light of hundreds of them making their voices heard at a mass rally in Glasgow earlier this month.
"These cuts are having serious consequences and are making firefighters, who put their lives on the line, and the wider public less safe.
"This latest bombshell must be a wake-up call. Ministers must not ignore warnings and finally come forward with an emergency plan to save this lifeline service."
Ross Haggart, chief officer of the SFRS, said: "We continuously review our resources to ensure we can effectively deliver our frontline emergency service.
"Our appliances can be unavailable for a number of reasons, including staff turnover and training, or vehicle maintenance, and for variable periods of time.
"As a national Service we have the capacity to strategically place our network of resources and staff to where they may be required. We always attend every emergency."
Chief Officer Haggart added: "We have been clear that we remain committed to the modernisation of our service to do more for our communities and this requires investment."
The Scottish Government's community safety minister, Siobhian Brown, said: "The total of appliances, fire stations and crews has been largely maintained over the last decade, during which we have seen a large reduction in domestic fires.
"Scotland continues to have higher numbers of fire fighters than elsewhere in the UK, with 11 officers per 10,000 population in Scotland, compared to six in England and eight in Wales, protecting front line services.
"Since 2017-18 there have been substantial year on year increases in funding, with the equivalent annual budget for SFRS for 2023-24 being £55.3m higher than it was in 2017-18."
Comments
 0 comments
Want to join the conversation? Please or to comment on this article.