Scottish election 2021: What have SNP promised to do in the first 100 days if they win?
The SNP have published a plan outlining the steps they would take within the first 100 days if re-elected.
Entitled "First Steps", the document sets out key policies across the NHS, economic recovery and tackling the climate crisis.
Other areas include policies for young people and families, supporting communities and tackling the pandemic.
Launching the plan on Thursday, the First Minister claimed it showed the SNP were "serious" about government.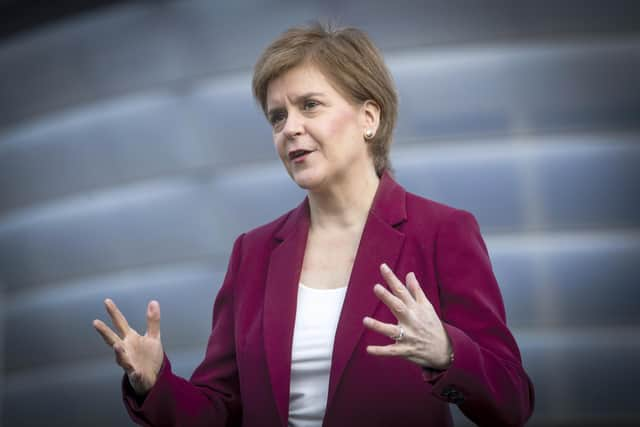 Nicola Sturgeon said: "We'll take urgent action to support children, families and young people – completing the roll-out of 1,140 hours of free childcare, expanding free school meals, paying the first instalment of the expanded £1 billion Scottish Attainment Fund and introducing the legal changes to extend free bus travel to everyone under 22 years old.
"We will also start work on longer-term challenges, establishing a new Council for Economic Transformation, taking the first steps toward establishing a National Care Service and beginning work on a Minimum Income Guarantee."
The party says it would bring in a 4 per cent pay rise for NHS workers, publish an NHS Recovery plan and open three fast track cancer centres.
It also pledges legislation to set up the National Care Service within the first year of parliament.
Dental charges for care leavers would be removed, free parking would be permanent at NHS PFI hospital car parks, and dental charges for care leavers would also be removed.
The SNP says all adults will be vaccinated, the country will move to level two on May 17, level one on June 7 and level zero in late June.
Ms Sturgeon's party have also pledged a cross-party steering group on the recovery, as well as setting up a Standing Committee on Pandemics.
The document also pledges to take the "necessary steps" to establish a Covid-19 public inquiry and to replace the existing coronavirus legislation.
The party has pledged to help businesses with a £10 million "Scotland Loves Local" programme, with Scotland Loves Local loyalty card schemes.
The SNP also plans to roll out a £25m tourism fund, including vouchers for days out and short breaks for carers, people with disabilities and families on low incomes.
It also promises to set up a new Council for Economic Transformation to develop a ten-year national strategy.
In addition, the party pledges an extra £25m to help small businesses benefit from digital technology.
The SNP calls for a £20m summer programme to help pupils, as well as an investment to boost teach numbers.
Committed to 3,500 additional teachers and assistants in the next parliament, this would include 1,000 and 500 new additions respectively in the first 100 days.
The party also promises to introduce free school lunches for Primary 4 children, and to deliver bikes to children who cannot afford them.
For young people trying to get jobs, the party promises around 5,000 more industry-focused courses to help people train for jobs in key industries, as well as a new Summer Student Support Hardship Fund of £20m for students unable to find work.
Insisting the climate emergency has "not gone away", the party would appoint a new Cabinet Secretary for net zero, energy and transport affairs, as well as a minister of just transition.
Other policies relate to COP26 in Glasgow, and include a national climate awareness campaign, appointing environmental champions and completing 12,000 hectares of new woodland by the end of 2021.
The climate response also extends to transport, with legal changes to extend free bus travel to those under 22, convening a Bus Decarbonisation Taskforce, and "starting the process" of bringing ScotRail back into public hands.
The party pledges to invite groups supporting a minimum income guarantee to plan how it can be delivered and establish a cross-party group on the issue.
They also promise to pay £100 to low-income families as part of the promised £520 in support.
People will also be reconnected with work beginning on a £10m five-year social isolation and loneliness plan, while carers will be given an extra £460.
The First Minister's party also promises a further £5m to support frontline organisations tackling domestic abuse and sexual violence.
On homes, the party promises a new "Rented Sector Strategy", a review of student accommodation and new cladding safety assessments.
If you haven't already, please consider supporting our trusted, fact-checked journalism by taking out a digital subscription.
Comments
 0 comments
Want to join the conversation? Please or to comment on this article.