There are also just three weeks left to go before polling day on May 6, and at this halfway point so far only two parties, the SNP and the Scottish Greens, have launched their manifestos.
The rest will be coming thick and fast over the next few days, giving the electorate a chance to see where the differences and similarities in policies lie, and crucially how the parties intend to pay for their pledges.
However, with two TV leaders' debates in the bag and a whole host of announcements being made on the Covid-restricted campaign trail, it's possible to see where the lines have been drawn in the race to Holyrood, but also on what issues – beyond the constitution – the battles will be fought over the next five years. Here we look at three key areas: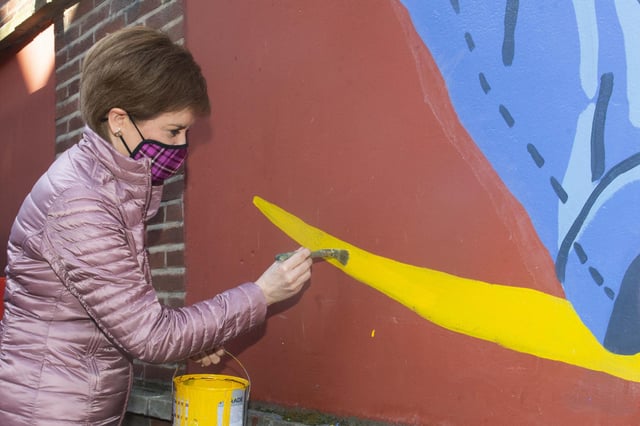 Nicola Sturgeon at the Barrowlands in Glasgow to see the Shuggie Bain Mural painted by artists Erin Bradley-Scott, Chelsea Frew and Kat Louden from the Cobalt Collective.
This is the where the vast majority of the Scottish Government's budget gets spent every year, and given a year of Covid pandemic and the strain it has placed on the Scottish NHS, it's not surprising that the parties are all focused on investing in its recovery.
In a speech kicking off the SNP campaign, Nicola Sturgeon said she would "deliver and implement a plan for the full-scale post-pandemic remobilisation of the NHS", which includes increasing in the first year of the new Parliament, inpatient, day-case and outpatient treatment activity by 10 per cent compared to pre-pandemic levels.
Scottish Conservative leader Douglas Ross on the election campaign trail.
She has also promised a "shift in the balance of care" between acute hospital settings to community and local services, and said half the total budget for frontline NHS services will be invested in community and primary care.
In their manifesto, the SNP has also pledged NHS dentistry charges would be abolished, free prescriptions maintained and an NHS National Pharmaceutical Agency created.
On top of that there's a pledge to "build new and maximise existing hospital capacity" with a vision that by 2025 an extra 1,500 staff would be recruited to work in eight new national elective and diagnostic treatment centres. There was also a pledge to "renew" the Edinburgh Eye Pavilion and a network of fast track cancer diagnostic centres. Community mental health services would also be expanded.
Overall the manifesto, launched on Thursday, promises frontline health spending of over £2.5 billion by the end of the next Parliament.
Scottish Labour leader Anas Sarwar launching the party's Ad Van Campaign at Dynamic Earth, Edinburgh.
Scottish Labour has also been campaigning heavily on health – it is an area where former health spokesman and now leader Anas Sarwar feels on solid ground. It also gives him an issue to talk about above the constitution, his mantra being this is where the focus of the next Parliament should be, rather than on a second independence referendum.
He has laid out his party's NHS Recovery Plan, which includes measures to tackle the "cancer emergency", to prioritise treatment and care of cancer patients.
Mr Sarwar has also said Labour would invest in mental health services with a mental health worker in every GP practice, create a national care service – something the SNP has also signed up to – and raise social carers' pay to £15 an hour, with an immediate rise to £12. He has also pledged more investment in medical research.
The Scottish Conservatives, meanwhile, have pledged £2bn extra for Scotland's NHS and an increase in the share of health funding spent on mental health services to 10 per cent by the end of the next Parliament, which would increase the mental health budget by at least £325m.
Scottish Liberal Democrat Leader Willie Rennie announces plans for mental health first aiders by playing a giant game of Connect 4.
Douglas Ross has said he wants to see a "permanent shift" towards community mental health services by expanding programmes such as cognitive behavioural therapy, social prescribing, exercise referral schemes and peer support.
Mental health has also been the focus of Willie Rennie leader of the Scottish Liberal Democrats, who has promised to double the number of people training on counselling courses, offer £5,000 grants to students undertaking counselling courses and add the counselling profession into NHS workforce planning systems.
His manifesto is expected to say they will embed more nurses, dieticians and physiotherapists with GPs so that people can get a wider range of diagnosis, treatment and follow-up care within the community.
Similarly, the Scottish Greens have said they would commit at least 11 per cent of health spending to general practice by the end of the next Parliament, and build the GP workforce so patients can receive a minimum of 15-minute appointments as standard. They also want to expand practice teams to include welfare rights officers and increase the number of mental health clinicians working in general practice.
On mental health they say everyone should be able to access mental health support at their local GP practice and 10 per cent of frontline health spending should go to mental health by 2026.
Scottish Greens co-leader Patrick Harvie at his election manifesto launch.
It's fair to say from the first day of the campaign, Mr Rennie has been talking about education and attempting to woo the teaching profession. He says his party has a "bounce back plan" for education, starting with a teacher job guarantee for August, so that "no teacher should be unemployed or feel underemployed".
He has also said his party would raise the starting age for formal schooling from five to seven, and while early years education would still be mandatory it would instead focus on "child development, social skills, outdoor learning, and physical and mental health". The controversial primary one tests would also be abolished.
The Lib Dems also want to extend Pupil Equity Funding (PEF) and make it a permanent feature of Scottish education, as well as providing multi-year PEF agreements so that schools can make long-term plans and investments for children.
Mr Sarwar too has a recovery plan for education – one that would see a plan for free meals for all school pupils during the summer holidays through the creation of summer catch-up clubs, with resources for national youth, arts and outdoors organisations, school trips to outdoor activity centres, and free access to sport, transport, outdoor activities and culture.
He's spoken of the need for a 'personal comeback plan' for every pupil in Scotland on a needs-based assessment, and a tutoring programme for all ages and all pupils, as well as a "resit guarantee" of a free place at college to take national qualifications should they want to. His plans also involve a guaranteed completion opportunity for probationary teachers and enhanced digital training for staff.
Mr Ross meanwhile has promised increased wrap-around care for children in primaries one to three and the recruitment of 3,000 more teachers. Then there's a pledge to invest £1m for early language support to address the 'word gap' between pupils from more deprived and more affluent areas at the nursery level, and a further £2m to help children transition from nursery into primary school.
He's also proposed the creation of a national tutoring scheme that would be open to supply teachers, student teachers and others who are suitably qualified, while schools would be able to access ring-fenced funding and have the freedom to choose approved tutors to give one-to-one and small group support.
John Swinney, who has been in charge of education for the past five years, recently unveiled SNP pledges to tackle the cost of the school day, increasing school uniform grants, and also offering laptops or devices for every pupil.
The party has also said music tuition should return to being free in schools – as have the Lib Dems – while Ms Sturgeon has promised a "revolution" in wrap-around childcare with early years education expanded to all one and two-year-olds.
The SNP has also vowed to recruit at least 3,500 additional teachers and classroom assistants.
The Scottish Greens meanwhile have also been talking about raising the school starting age to seven, recruiting 5,500 additional permanent teachers and reducing class sizes to a maximum of 20 pupils. They would also introduce income maximisation programmes, ensuring that every school has an assigned family income adviser, deliver free school meals all year round for all pupils and introduce universal breakfast clubs.
Economic recovery from the Covid pandemic in which many people have lost – and still could lose – their jobs has been high on the agenda for all parties.
Interestingly all parties are keen on talking up the idea of "green jobs" as a way of tackling climate change as well as economic growth.
So what are they offering? The Scottish Conservatives say they will expand funding for graduate apprenticeships, and will also ensure more women become apprentices, spending the UK apprenticeship levy "on what it's for". They would also remove the £15,000 support cap and guarantee 'off the job' training for those aged under 25.
Mr Ross has said tens of thousands of jobs could be created by spending £2.5bn over the next five years on making all buildings energy efficient and powered by low carbon heating systems. Renovation skills would then be a priority in his Retrain to Rebuild, Rapid Retraining Courses and 'unlimited' apprenticeships plan.
He said his part would offer further transition support for the North Sea oil and gas sector by making the Scottish Government a partner in the North Sea Transition Deal and establishing the first Job Security Council in Scotland to help workers retrain, acquire new skills and transition to renewables.
His proposals also include a Circular Economy Bill, which he said would create thousands of new jobs in recycling and the production of low emissions materials.
The Scottish Greens have been banging this particular economic drum for some time.
Their manifesto is specific on numbers. They say they would create 100,000 jobs – a £3.2bn investment in public transport would support 16,800 jobs, £3bn spending on warm and zero-carbon homes and buildings, would create over 75,000 jobs, a £450m spend on renewables would create a further 10,000 jobs and 6,000 more would come from £895m to restore Scotland's natural environment.
Mr Sarwar said Labour had "the largest economic stimulus plan in the history of devolution" when he revealed a plan to "save Scotland's high streets" with a £75 prepaid card for every adult to spend in non-food business, plus a "Great Scottish Staycation" scheme, which would see people being offered a third night free in accommodation when on holiday.
However, that was, he said, just one part of his £1.2bn jobs recovery plan, which includes a £500m 'jobs for recovery' guarantee, offering six months of employment and training to every person under 25 who does not have a job, everyone over 25 who has been long-term unemployed, and every disabled person who does not have a job.
He has also promised a new Scottish Skills Benefit, targeted training funds to recruit and train nurses, carers, teachers, health workers and engineers and extra funding for apprenticeships. Not one to ignore a trend, he also launched 'Green Labour' and said his climate recovery plan would create 7,500 green jobs through upgrading the energy efficiency of all homes.
Mr Rennie has also offered a Young Persons Job Guarantee for every 16–24-year-old to access a job or training, which would see an additional 2,000 graduate apprenticeships with small businesses. His party's manifesto is also expected to focus on green jobs with a home insulation strategy they estimate will create 34,000 new jobs in energy efficiency.
The SNP meanwhile has pledged to launch a National Challenge competition, which will provide £50m of funding to the project with the greatest potential to transform Scotland's economy.
The competition is part of a "new ten-year strategy for economic transformation that will set out actions to deliver a green economic recovery for Scotland", the party has said.
Similarly, the SNP has also said its Young Person's Guarantee would ensure everyone aged 16-24 gets the opportunity for work, education or training.
A message from the Editor:Thank you for reading this article. We're more reliant on your support than ever as the shift in consumer habits brought about by Coronavirus impacts our advertisers.