The party's election leaflets and posters bear Ms Davidson's image, while she also appeared with new leader Mr Ross at a high profile campaign event in Edinburgh on Thursday morning.
The popular former leader of the Scottish Conservatives is soon to take up a seat in the House of Lords and is standing down as MSP for Edinburgh Central after ten years in the Scottish Parliament.
Mr Ross said she would not be involved in the party's business in the next parliamentary term.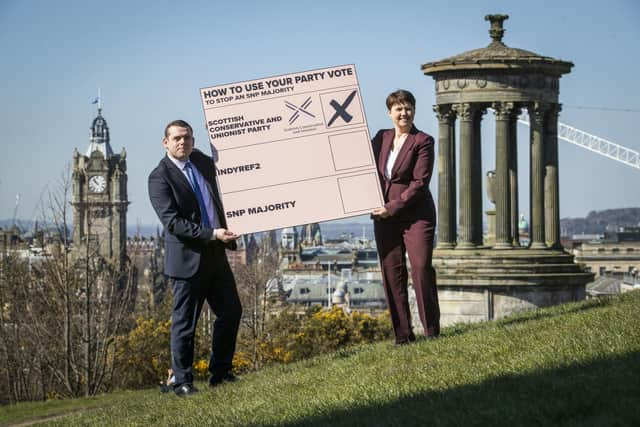 His comments come ahead of the party's manifesto launch on Monday, when he said the full taxation policy would be revealed, hinting only that he "would like to see parity in the tax system".
Mr Ross said: "When you've someone that has the appeal of Ruth Davidson someone who has fought through Scottish politics in the last decade, to ensure that full UK voice is heard here in Scotland, then you use them.
"You use an asset like Ruth in your campaign. I'm delighted that Ruth is out campaigning with me. She's been campaigning with our candidates here in Edinburgh since the election was called and she is fighting for every Scottish Conservative vote over the next few weeks, as I am and as all our candidates are and all our supporters are."
Mr Ross insisted that using Ms Davidson's popularity on election literature was not misleading to the public.
He said: "They are going to look at the leaflets and look at the poster campaign and they're going to look at the message from the Scottish Conservatives and they're going to see a party that has an ambitious manifesto to take Scotland forward and a party that realises the threat we're facing in this election campaign is another independence referendum if the SNP get another majority."
At the event in Edinburgh, Ms Davidson joined Mr Ross for a photo-call on the city's Calton Hill as they put a giant party list vote into a giant envelope.
She has rejected suggestions she would become a UK minister and has insisted that she has taken the seat in the House of Lords to spend more time with her partner and young son.
Mr Ross also defended comments he made writing in today's The Scotsman, where he branded Alex Salmond's party "flag-waving ultra-nationalists".
He said: "In terms of flag waving, I think there is a difference between what the Alba party have been using in their material for this election and the choice of their footage and the output they have put in their videos in comparison to UK government ministers, who when they appear on television, have a Union Jack behind them, in the same way as the First Minister, when she sometimes speaks from Bute House, has the Saltire behind her.
"Those are quite different principles to nationalists waving the flag thinking they own the Saltire and it helps them to garner votes from those who wish to separate Scotland from the rest of the United Kingdom."
A message from the Editor:
Thank you for reading this article. We're more reliant on your support than ever as the shift in consumer habits brought about by Coronavirus impacts our advertisers.
If you haven't already, please consider supporting our trusted, fact-checked journalism by taking out a digital subscription.