The Scottish Conservatives leader said every drug user who wants help should have access to the treatment they need and his party would "enshrine the right in law".
Mr Ross joined the addiction charity Faces and Voices of Recovery (Favor) Scotland to pledge a "right to rehab", which would also see national standards and referral guidance to increase the accessibility of rehabilitation programmes.
The right would also require dedicated government funding to "bypass the broken system" of Scotland's 31 Alcohol and Drug Partnerships, he said.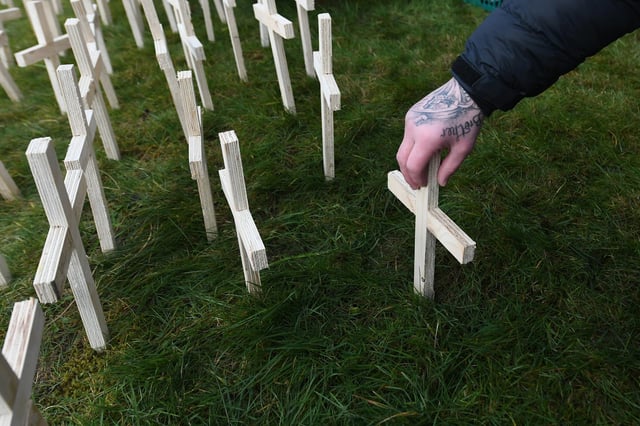 The Scottish Conservatives have pledged a "right to rehab" for drug users after record deaths in Scotland.
The number of drugs-related deaths in Scotland increased again in 2019, for the sixth year running, to more than 1,200 people – the highest number since records began. Scotland also has the highest rate of drug deaths of all EU countries and 3.5 times the rate of the UK as a whole.
Charities have said the deaths are preventable and unacceptable. During the latest TV leaders' debate, Nicola Sturgeon admitted she took her "eye off the ball" in tackling the problem.
Mr Ross said: "Tackling drug deaths has not been a priority and that has to change now. Too many lives have already been lost.
"We will seek to enshrine a right to rehab in law to make sure that everyone who wants help gets access to the treatment they need, accompanied by a central fund to bypass the broken system.
"We will keep campaigning and forcing the SNP to act for as long as it takes to improve access to treatment services and get people the help they need to get well."
The Scottish Tory leader announced the pledge alongside Favor Scotland chief executive Annemarie Ward who said: "The situation on the ground is getting worse. Drug death numbers undoubtedly will rise.
"This is yet another heart-breaking year for the recovery and treatment community. We are told funding is coming, but it is not reaching the frontline.
"The current system is broken.
"A postcode lottery has developed and unbelievably, it is people in the hardest hit areas – particularly in Glasgow – who are still being denied access to treatment."
She added: "It is not only a problem with residential rehabilitation.
"We have advocated for a young man in Edinburgh who has waited eight weeks for a methadone script. Who knows how long it will be before he is referred to rehabilitation.
"Denying access to a viable and successful treatment option, particularly when it is refused purely because someone has been prescribed a higher dose of methadone, is a cruel and short-sighted approach."
The charity has been calling for donations through their website to help pay for legal challenges in court for cases where addicts are denied access to rehabilitation or drug treatment.
Ms Ward said: "We have sought counsel and, if we can raise the necessary funds, we hope to mount legal challenges every time someone is denied access to rehabilitation services or delayed access to other substance use treatment.
"We have a problem in Scotland that is not being tackled and Favor will work with anyone and everyone to force change and save lives."
A message from the Editor:Thank you for reading this article. We're more reliant on your support than ever as the shift in consumer habits brought about by Coronavirus impacts our advertisers.
If you haven't already, please consider supporting our trusted, fact-checked journalism by taking out a digital subscription.