Mr Sarwar said the "flagship policy" would restore the free licence benefit for over-75s, which was scrapped by the UK Government last year for those who do not receive the pension credit benefit.
He said the Conservatives had "broken their promise to older Scots", but Scottish Labour would "use Holyrood's powers to protect a benefit which Labour is proud to have introduced".
Free TV licences were introduced under the last Labour government in 1999, but new rules linking the free licence to pension credit would see 300,000 over-75s in Scotland forced to pay for the licence again.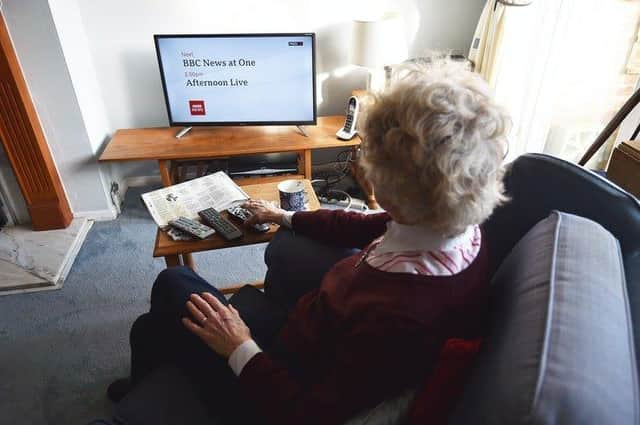 Mr Sarwar said his party would commit to establishing a 'Staying Connected' fund offering grants to every household with someone aged 75 and over, up to the current £159 value of the TV licence, which could go towards paying their licence fee or other digital connectivity bills such as broadband.
The "digital connection credit" would be available to all households in Scotland with someone who is aged 75 and over and claiming the State Pension, benefiting up to 460,000 older people.
Figures released earlier this month revealed Scotland has the highest rate of persistent pensioner poverty in the UK, with the number of older people struggling to make ends meet equivalent to the population of Dundee.
According to Labour's figures, offering grants to the value of the licence to every over 75 in receipt of the State Pension in Scotland would cost a maximum of £73.1m, but as the grant would be limited to one per household, and around 20 per cent of those eligible living with another individual also aged over 75, the cost would come down to £58.5m.
Mr Sarwar said around 82,000 people in Scotland still receive a free TV licence, but they would also be able to claim a "Stay Connected" grant as they are likely to be lower income households and could use it for broadband bills.
"Labour would help every person aged 75 and over in Scotland with the cost of their TV licence or help with their broadband bills," he said.
"Pensioner poverty in Scotland is a national scandal and it's not fair that hundreds of thousands of older people are facing a new bill for TV licences.
"The Tories have broken their promise to these Scots, but we can use Holyrood's powers to protect a benefit Labour is proud to have introduced."
Mr Sarwar added: "For many older people, TV is a lifeline against loneliness and isolation.
"While the pandemic separated us all in our homes, the way many of us came together was over online video calls like Zoom. As we emerge from the worst of the public health crisis, it is essential that older people are not left behind in our recovery.
"It's right that the Scottish Parliament delivers support to ease the cost of that. I am proud to present a positive vision for the vital years ahead in our manifesto, which focuses on delivering a national recovery to build a stronger and fairer Scotland."
A message from the Editor:Thank you for reading this article. We're more reliant on your support than ever as the shift in consumer habits brought about by Coronavirus impacts our advertisers.
If you haven't already, please consider supporting our trusted, fact-checked journalism by taking out a digital subscription.