Late on Friday, it had become clear Alba returns were barely registering in most of the ballot boxes in his natural North East stomping ground.
And last night the demise was complete as Mr Salmond's Alba Party failed to take a list seat in the region where he was standing, ending the former SNP leader's bid to return to Holyrood.
Alba received just 2.3 per cent of the list vote in the North East region and failed to win a seat anywhere in Scotland, capping off a dismal election performance.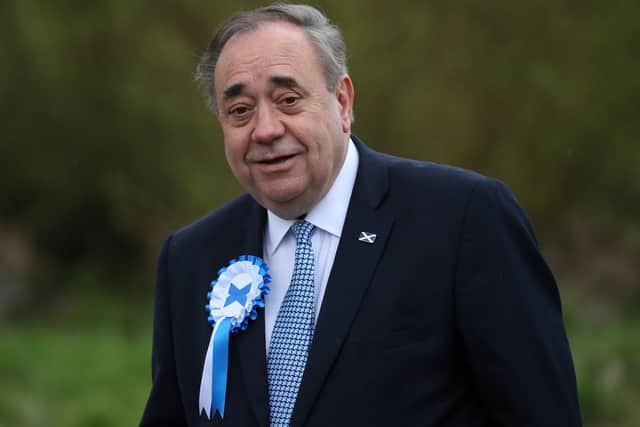 For most, walking into an arena full of foes and former colleagues would be enough to make you want a duvet day, but not Mr Salmond.
He faced out the count with an air of being the only man in the room, jotting down his numbers and returning to his little table of supporters to share the rather dismal news.
Was he not a bit nervous about facing his old allies? "Not at all," Mr Salmond claimed, almost taken aback at the notion. Not nervous, not tired, even at 66.
One of his former party colleagues was far more direct about having Mr Salmond in the room following the toxic breakdown in his relationship with First Minister Nicola Sturgeon and the painful inquiries that dogged Holyrood earlier this year.
Kevin Stewart MSP, who was appointed local government minister in 2018, was clear.
"It's a big hall so you don't have to speak to anyone you don't want to," he said. Did Mr Stewart say hello to Mr Salmond? No.
Hopes that Mr Salmond's appointment by television producer Laurie Flynn to lead the new Alba Party through the 2021 election would register a Farage-style woosh in popularity and profile painfully failed.
There are few faces of Scots better known than Mr Salmond, but his addition to the Alba team did very little to boost its public appeal. Perhaps, quite the reverse happened.
It will be interesting to see if Mr Salmond's promised book, which he is currently writing and which threatens to make some "volcanic" revelations about key SNP figures, will do better in the bestsellers' list than Alba did in the list vote.
On Friday, Mr Salmond said he was undecided whether he would stand for party leadership at the Alba conference, which is due to be held over the summer.
As he wonders whether to lead from the front, or direct from the back room on policy and strategy, it is clear that Mr Salmond's political life is not over.
Reports emerged early on Saturday of the impact his bid to get back to Holyrood was having on one of the women who gave evidence at his sexual harassment trial, which ended in him being acquitted of all charges.
Hours after the story appeared, Mr Salmond told the Through a Scottish Prism Podcast that he wanted to help Alba "bloom" and grow it into an "electoral force".
For now, the former first minister said he was thrashing out party policy and pushing on with the essential debates, the essential questions, that were critical for the next bid for Scottish independence. Pointedly, Mr Salmond said Alba was doing what the SNP should be.
He said: "I have had over the past six weeks the best time of recent times. I have enjoyed myself enormously because I am getting to do what I have always loved doing, which is arguing, debating and discussing the future of Scotland. That is what I love doing.
"Not because everyone agrees with me, as clearly that is not the case, but the debate is worth having and I just adore it. I have found the past six weeks fantastic."
With 5,000 members along with 20 councillors and two members of the Westminster Parliament – which were gained through defections – Mr Salmond said he believed Alba had parliamentary credibility and would be a significant player in Scottish politics.
What role he will play in the party going forward is not yet certain, but he said he was "extremely proud" of the policies pulled together in the six weeks since the party's inception.
Mr Salmond said: "The manifesto was exciting and radical in terms of what it offered people.
"We put forward the things that many people who support independence have been waiting to hear – how to address Europe, economic revival, currency. These are questions that you need to address now, you can't go back to 2014 – the world has changed and it has changed very substantially.
"I am not saying that Alba ideas are the only ideas you can have, but at least they are ideas, at least they are proposals. They are things that can be examined and improved upon and debated and to do that in six weeks was quite something."
Mr Salmond pointed to a paper on debt and assets by Dr Jim Walker, chief economist at Aletheia Capital, who returned to Scotland from Hong Kong to contest the election for Alba in Central Scotland.
Mr Salmond said: "Dr Jim Walker unfortunately won't be in the Scottish Parliamentbut his paper on debt and assets is the sort of quality of debate and analysis that we had in the White Paper in 2014 and which we need desperately now to give people the confidence that the nuts and bolts of independence are being addressed and worked through."
For Mr Salmond, an economist by trade, this is comfortable territory from where he can add pressure to SNP to deliver its planned route to independence to its expectant support.
Mr Salmond did not turn up for the final list result on Saturday night. It is not his style to go behind the scenes, but perhaps this is where he will retreat, for now at least.
A message from the Editor:
Thank you for reading this article. We're more reliant on your support than ever as the shift in consumer habits brought about by Coronavirus impacts our advertisers.
If you haven't already, please consider supporting our trusted, fact-checked journalism by taking out a digital subscription.