The SNP won 64 of Holyrood's 129 seats, 48 per cent of the constituency vote and 40 per cent of the list vote, in an election that also saw voter turnout rise by around ten percentage points.
While the SNP fell just one short of an overall majority, the results for the Scottish Greens saw eight candidates elected – up by two – giving pro-independence parties in Holyrood nearly 56 per cent of all seats.
As a result, Ms Sturgeon declared that "any Westminster politician who tries to stand in the way" of a second independence referendum was "not picking a fight with the SNP, but picking a fight with the democratic wishes of the people of Scotland".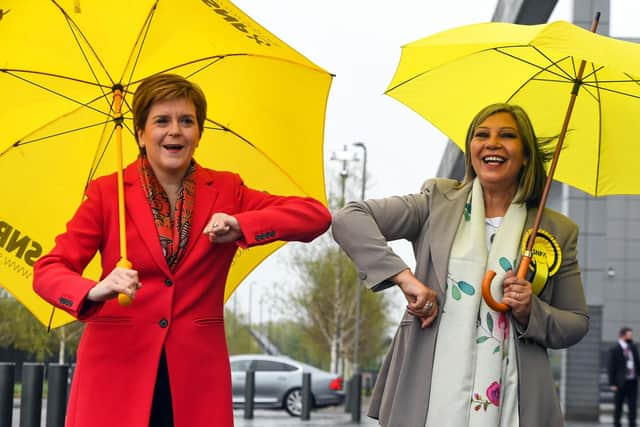 Describing the election results as "an extraordinary and historic achievement", Ms Sturgeon said when the SNP was first elected to government in 2007, "no-one would have predicted the sheer scale and record-breaking nature of our victory at this election".
The Scottish Conservatives won 31 seats, with five constituencies and 26 on regional lists – the same number as in 2016 – retaining their place as the second largest party and returning leader Douglas Ross to Holyrood on the Highlands and Islands list.
Scottish Labour returned 22 MSPs, a fall of two since the last election. However, Anas Sarwar, who was elected party leader just ten weeks ago, declared his "harshest critics" would accept his party was "back on the pitch".
The overall result was most devastating for the Scottish Liberal Democrats, which saw the party return just four MSPs, a loss of one. The result sees Willie Rennie's party lose its status as a "main party" in Holyrood and it will no longer have a place on the vital committee that decides parliament business.
Both Alex Salmond's new Alba Party and George Galloway's All for Unity party failed to return any MSPs. But a bullish Mr Salmond still took aim at Ms Sturgeon, claiming she had "lost her nerve on independence back in 2017 and has never recovered it" and predicting more defections to his party from the SNP.
The final result, which saw more women returned to Holyrood than ever before, as well as the first woman of colour in Kaukab Stewart for the SNP in Glasgow Kelvin and first wheelchair-user in Pam Duncan-Glancy for Scottish Labour on the Glasgow list, came after two days of counting.
Giving her victory speech, Ms Sturgeon said: "We have won 62 constituency seats – a record number and an incredible 85 per cent of the total. We haven't just held on to every constituency we won in 2016 – we've also gained seats from both Labour and the Tories.
"Indeed, we have won more votes and a higher share of the votes in the constituency ballot than any party in the history of devolution."
Ms Sturgeon said she "would be returning to work straight away to take the decisions that will guide our next steps back to normality, and onto recovery", but that opposition parties were "already, desperately trying to rewrite the basic rules of democracy and redefine what constitutes an election win and a mandate" for independence.
She added: "Let's be clear about what Scotland voted for on Thursday. The people of Scotland have voted to give pro-independence parties a majority in the Scottish Parliament – a majority larger in this parliament than in the last one.
"The SNP and Scottish Greens both stood on a clear commitment to an independence referendum within the next parliamentary term. And both of us said that the timing of a referendum should be decided by a simple majority of MSPs in the Scottish Parliament.
"So in no way is a referendum just demand of me or the SNP. It is a commitment made to the people by a majority of the MSPs who will take their seats in our national parliament next week."
The First Minister said "normal standards of democracy" meant there was "no democratic justification whatsoever for Boris Johnson or anyone else seeking to block the right of the people of Scotland to choose our future".
She added: "If there is such an attempt, it will demonstrate conclusively that the UK is not a partnership of equals and that – astonishingly – Westminster no longer sees the UK as a voluntary union of nations. That in itself would be a very powerful argument for independence."
While she said a referendum did not mean Scotland would "automatically become independent", it would "be a choice for the people of Scotland".
"The task for those of us who support independence is to patiently persuade our fellow citizens of the case, and that is what the SNP intends to do," she said.
Mr Johnson wrote: "We will all have our own perspectives and ideas and we will not always agree, but I am confident that by learning from each other we will be able to build back better in the interests of the people we serve."
His Scottish party leader, Mr Ross, said the Conservative result showed people were looking for MSPs to "work together".
"Predictably, Nicola Sturgeon is already stoking division," he said. "Within hours, she has broken her word to voters and is already demanding another referendum.
"Our promise was that a vote for the Scottish Conservatives would be a vote to stop an SNP majority – and in so doing stop indyref2 and get the focus back 100 per cent on the recovery from Covid."
Mr Sarwar said of Labour's result: "We are significantly ahead of where we were just ten weeks ago and I'm incredibly proud of everything our activists have achieved.
"Our campaign for a national recovery defined this election campaign and we will take that energy into the Scottish Parliament."
On the Lib Dems' performance, Mr Rennie said his party had achieved some "astonishing constituency results". But he added: "It is frustrating that we weren't able to move the dial in other constituencies and on the regional lists. Some were up, others down.
"We will take the four seats that we have been given into the next parliament."
Scottish Greens co-leader and newly elected Lothian list MSP Lorna Slater said her party had a "record result". She added: "It is clear that we need to start working on a new greener future for our country, and part of that must be a referendum on how Scotland is governed.
"Voters have delivered a pro-independence majority in the Scottish Parliament, with the Scottish Greens playing a vital part, and it is now incumbent on Boris Johnson to recognise that democratic mandate."
However Alister Jack, Secretary of State for Scotland, said dealing with the Covid recovery needed to be the "sole priority" of both Scottish and UK governments, and it was not a time to be "distracted".
The first meeting of the new Parliament, with MSPs being sworn in, will take place on Thursday.
A message from the Editor:
Thank you for reading this article. We're more reliant on your support than ever as the shift in consumer habits brought about by coronavirus impacts our advertisers.
If you haven't already, please consider supporting our trusted, fact-checked journalism by taking out a digital subscription.