Mr Salmond, speaking at the Aberdeen count, said he had agreed to act as interim leader during the election campaign, but that he had not yet committed to stand for election at the party conference, which is due to be held over the summer.
The former first minister said: "I was asked if I would lead the party through the election campaign. That is what I agreed to do.
"I am the interim leader of Alba In fact, all the office bearers are interim.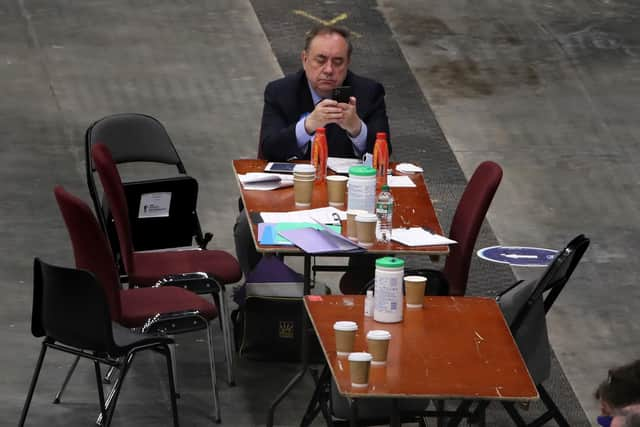 "The first Alba conference will be quite something for a range of reasons, but that conference will elect, one member one vote, the leadership of Alba."
One whether he would stand, Mr Salmond said: "I will decide that in the course of things. You don't take that sort of decision half way through an election."
The final regional list results in the North East won't be confirmed until Saturday evening, but indications from Aberdeen Donside and Buchan and Banffshire Coast indicate Alba will fall well short of the votes needed to secure a list seat.
Mr Salmond said Alba was formed "too quickly" and that it was "unlikely" the party would make a parliamentary breakthrough.
He said: "It's early days for Alba. We have just celebrated our sixth anniversary – today is the sixth week we have been in existence.
"We have 5,000 members, 20 councillors, two members of Westminster Parliament. I think you will find we will be a significant force in Scottish politics for some time to come."
He added: "The timescale is not always given to you and there was a lot to do in a little bit of time.
"We have 32 first class candidates, which I was proud to lead through this election. The manifesto was exciting and radical. We also put the independence case, which many people who support independence had been waiting to hear – how you address Europe, currency, economic revival.
"These are questions that need to be addressed now. We can't go back to 2014, the world has changed."
Mr Salmond cut a lonely figure at the count, but said he had been unfazed about coming to the P&J Live Arena to watch results come in.
He claimed to have spoken to six SNP activists at the Aberdeen count who said they had voted Alba.
Mr Salmond added: "I think among political activists we have done extraordinarily well. I have been speaking to SNP people here at the count who have been speaking to Alba, but getting the message across to political activists about the list and getting across to the general public is two different things."
He said Nicola Sturgeon now had a responsibility to deliver an Independence referendum.
"Nicola has won what looks like a very substantial victory," he said.
"But with victory comes responsibility. She has got the responsibility to deliver that referendum. Alba will be there urging her onwards."
Mr Salmond said he had a "fantastic" six weeks debating the future of Scotland within the Alba Party.
When asked whether there was still life in Mr Salmond, he said: "A fair bit".