Scottish Election 2021: Poll predicts pro-independence 'supermajority' as Sturgeon says Covid my have encouraged indyref support
Coronavirus may have had a positive impact on support for Scottish independence, Nicola Sturgeon has said, as a new poll gives the SNP a slim majority in the May election, and predicts Alex Salmond's new Alba Party would win six seats.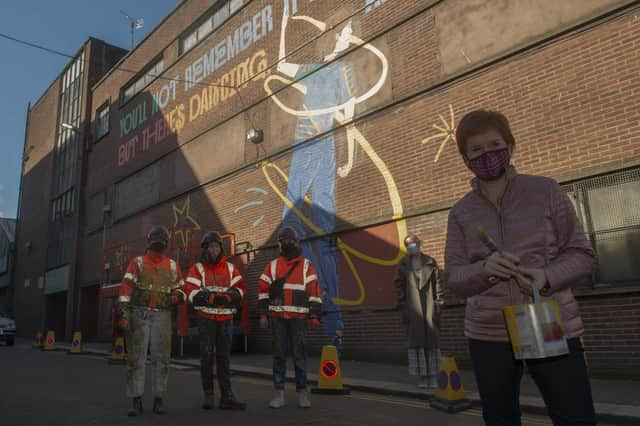 The First Minister said she believed the pandemic had "perhaps" made people think "about the benefit of self government", although she stressed there was "no upside" to the virus.
Her comments come days after she said a second independence referendum could be held during the "recover phase" from Covid, and as a new Panelbase poll revealed that the SNP would win a narrow outright majority with 65 seats, with the Scottish Greens forecast to take eight seats and the new Alba Party six seats. Combined, pro-independence parties would win 79 of the 129 seats in Holyrood.
The poll also put the Scottish Conservatives on 24 seats, Scottish Labour on 20 the Liberal Democrats on five, and predicted George Galloway could enter the Scottish Parliament as his pro-union Alliance for Unity group may take a single seat.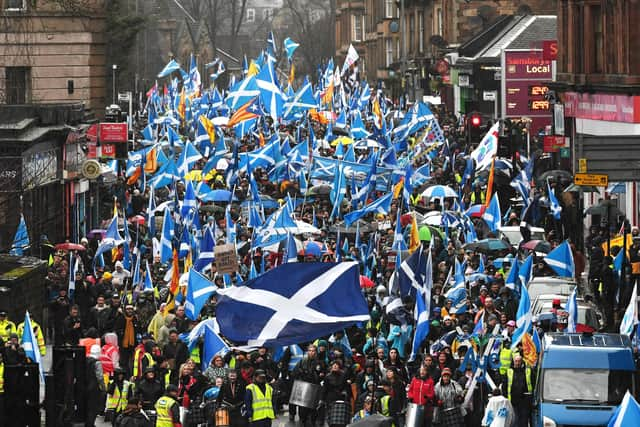 Polling expert Sir John Curtice said despite Nicola Sturgeon's call for "both votes SNP" in the election, nine per cent of those who back the SNP in the constituency vote indicated they would vote Alba on the list, while 10 per cent would opt for the Scottish Greens as their second vote.
"Alba is appealing to a section of the nationalist movement that wants a rapid timetable for indyref2 and which still admires Salmond," he said.
"As many as 70 per cent of Alba supporters want a referendum within 12 months compared with 48 per cent of SNP list voters and 35 per cent of Green voters.
"While 93 per cent of those who back Alba believe that Salmond is 'a fit person to stand for election', only 13 per cent of SNP supporters and 15 per cent of Green voters take the same view.
He added: "Although most of the seats the party could win with a six per cent tally look as though they would be secured at the expense of the unionist parties, our projection suggests that a couple might otherwise have been won by the SNP or the Greens.
"Even with an estimated 49 per cent of the constituency vote, that is not a possibility the SNP will regard with equanimity.
"Such a result in the constituencies could still leave the party a seat short of an overall majority and reliant on winning a vital list seat to achieve what has come to be regarded as a crucial target."
Alex Salmond welcomed the polling numbers and said his party had "only just begun" to make its case. "The reality that voting SNP on the list is the ultimate wasted vote is starting to cut through. And therefore Alba is gaining ground," he said.
"In a single week Alba has overtaken the Liberal Democrats, a party which has been around for 150 years, in both membership and poll ratings. A week is a long time in politics. And for the unionist parties, the next five weeks shall be a political eternity."
In a separate interview Ms Sturgeon said the polling numbers could result from the coronavirus forcing people to reflect on the constitutional situation.
Asked if the pandemic may have affected support for independence, Ms Sturgeon said: "I don't know the answer to that question, what I know is support for independence has grown over the past year, and is at a higher level now, and a higher, apparently sustainable level, than it's been ever before.
"What the reasons for that are, I guess is open to debate. I think Brexit still has a big part to play."
She continued: "If I could change things so we never had had Covid and that meant support for independence wasn't quite as high as it was, I would trade any day.
"But people have, at a time of crisis, looked to their own government here in Scotland to lead, and they won't have agreed with every decision we have taken at times, but at a time of crisis, I think what we have seen is that natural inclination of people to look to their own democratically elected government.
"And perhaps that has made people think about the benefit of self government, and it may well be that that is having some kind of impact in the polls."
The SNP leader said that "independence has never enjoyed the kind of reasonably long term, sustained, majority support it has in recent times".
And while she said there would be "fluctuations in that, I am sure" she added that the "baseline appears to be higher than it has been at any time ever".
Despite that support in the polls for independence, Ms Sturgeon has not welcomed the launch of the Alba party, which she has said could prove more of a "hindrance" than a help. She has also poured cold water on Mr Salmond's strategy for a pro-independence "supermajority" saying he could not "bulldoze" his way to independence.
Panelbase surveyed 1,009 adults in Scotland between March 30 and April 1 and is the second opinion poll to include Alba since the party was launched by the former first minister to contest the regional list seats.
In the constituency vote, the SNP was on 49 per cent, with the Tories on 22 per cent, Labour on 20 per cent and the Lib Dems on six per cent. For the regional list vote, the SNP was on 39 per cent, with the Conservatives on 21 per cent, Labour on 17 per cent, the Greens on eight per cent and the Lib Dems on five per cent.
The poll had Alba on six per cent for the regional list vote, with George Galloway's All for Unity on four per cent.
Scottish Conservative leader Douglas Ross criticised the implication that the pandemic had influences support for independence in "the week that we will most likely pass 10,000 deaths from Covid, every single one a tragedy".
"It's even more galling when the truth is that she didn't handle this pandemic any better than others. The SNP have built a false reputation based on spin," he added.
And Scottish Labour leader Anas Sarwar accused Nicola Sturgeon of a "blindspot when it comes to the constitution".
He added: "Holding a referendum during the recovery would be irresponsible. This election and the next parliament must be about our national recovery, not going back to the old arguments."
A message from the Editor:Thank you for reading this article. We're more reliant on your support than ever as the shift in consumer habits brought about by Coronavirus impacts our advertisers.
If you haven't already, please consider supporting our trusted, fact-checked journalism by taking out a digital subscription.
Comments
 0 comments
Want to join the conversation? Please or to comment on this article.