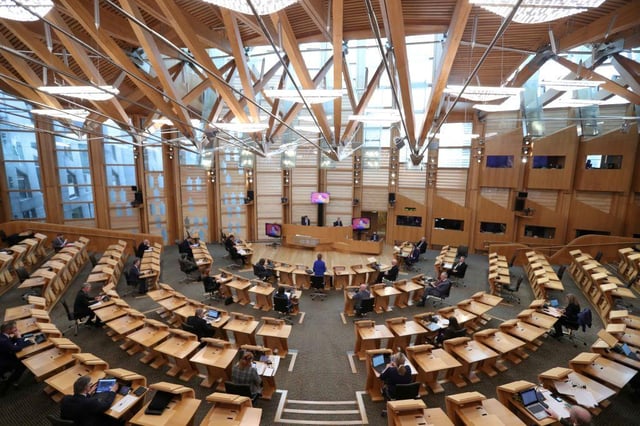 Scots will decide on the makeup of their new parliament on May 6 (Getty Images)
Nicola Sturgeon comfortably survived the vote but it remains unclear how the political storm will have impacted her party's chances at the upcoming vote.
The bookmakers can't be relied on to provide an accurate outcome of May's election, but they can give onlookers an idea of whether the winds are still blowing in favour of Sturgeon and her party.
Here's what they are saying in the build up to May 6.Who will win the most seats?
Current holders of power, the SNP are all but guaranteed to emerge as the party with the most seats.
They are rated by Paddy Power as massive favourites to claim the lion's share of the 129 seats on offer, with the bookmaker offering tiny odds of 1/100 to emerge on May 7 as the most popular party.
Who will be the second largest party?
The election of Anas Sarwar has seen Scottish Labour improve in the polls but they still fall behind the Scottish Conservatives in the race to emerge as the country's second most popular party.
The Scottish Conservatives, led by Douglas Ross, are rated at 33/1 to claim the most seats in the country.
Scottish Labour on the other hand have been slapped with odds of 50/1.
The Liberal Democrats are backed at 100/1 while the Scottish Greens and newcomers Reform UK are both rated at 200/1 to spring a shock and emerge as the most popular party on results day.
The Irish betting company do not have odds for the Alba Party, though BetFred offer odds of 250/1 for "any other party" to clinch the most seats.
The SNP and Nicola Sturgeon have weathered a political storm, with the party's leader surviving a vote of no confidence after the findings of two reports Alex Salmond sexual harassment complaints were published. Salmond has since launched his own party promising independence voters a "supermajority" if they back his party in list voting.
Prior to the headline dominating investigations and the emergence of the Alba Party looked all but guaranteed to claim a majority and the bookies still offer the SNP favourable odds to gain a majority of 65 seats or more.
Paddy Power rate the SNP's chances of claiming 65 or more seats at Evens, compared to odds of 4/5 to claims 64 seats or fewer.