The First Minister's comments come as opposition parties hit out at reports that she had ordered work to start on a new blueprint for breaking up Britain at the peak of the second wave of the Covid pandemic in Scotland.
Stories published in The Scottish Mail on Sunday claimed that officials have said that in February, they were told that work on the Independence Referendum Bill must 'commence immediately' – more than a month before the Scottish Government published the draft legislation.
On that date three months ago, the First Minister announced 69 more people had died in the pandemic, while schools remained shut, businesses were closed and the country remained in lockdown.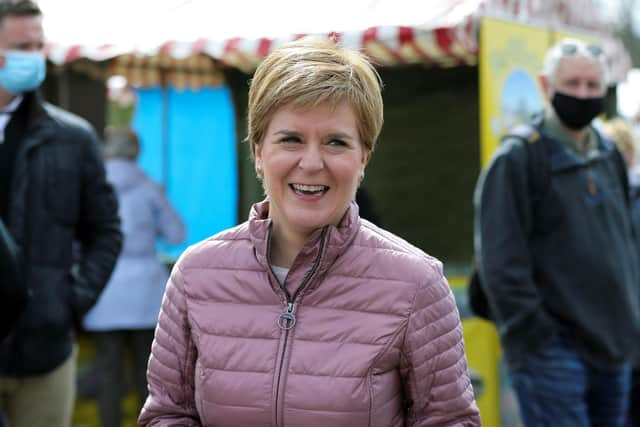 Dr Penny Curtis, deputy director of elections at the Scottish Government, in a memo to Ms Sturgeon and constitution secretary Mike Russell, wrote on February 2 to '"confirm that you are content that work on preparing the draft Bill should start now". She said that, for it to be published before the election, work "needs to commence imminently".
Speaking on the BBC's The Sunday Show, Ms Sturgeon said: "Opposition politicians can't have it both ways. They can say I should have spent the last year focusing on Covid, which I've done, and then say you should have spent the last year developing the plan for independence.
"Thursday is not an independence referendum, it's not asking people to vote yes or no. When we ask people to make that choice, just as we did in 2014, we will put forward a detailed perspective."
Ms Sturgeon refused to discuss the possibility of joining forces to work with Alex Salmond's party Alba if it won seats in the election, saying there were "hypothetical situations and then there's just completely absurd situations".
She said polls showed the SNP and the Scottish Greens – who are also pro-independence – would be likely to win enough seats for a pro-independence majority without Alba's involvement.
Ms Sturgeon admitted the pandemic has taken its toll on her personally, but vowed that she would continue in the role as First Minister for the next five years if her party is elected on Thursday.
She said: "I've had more sleepless nights in the last year than I've had in my entire life combined and it's been tough, but I've learned a lot."
Scottish Tory leader Douglas Ross warns Ms Sturgeon is a "clear and present threat to our recovery" from the Covid crisis.
He said: "It's a jaw-dropping disgrace that Nicola Sturgeon chose to kick-start her indyref2 Bill while Scotland was stuck in lockdown under the stay-at-home order. When hundreds of Scots were still losing their lives to Covid, the SNP started to ramp up efforts to hold another referendum.
"They only have one priority. They are fixated on independence at the expense of everything else. The first chance that the SNP get, they will wreck our recovery."
The UK Government and Prime Minister Boris Johnson have made it clear they oppose another Scottish referendum, sparking fears that if independence parties win a majority on Thursday, a "wildcat" referendum could be held.
Scottish Conservatives leader Douglas Ross claimed Ms Sturgeon's comments in Sunday's BBC interview were the clearest signal yet that indyref2 would happen during the Covid pandemic recovery period.
"The threat has never been more real," he said.
"Sturgeon is explicit. If she secures a Holyrood majority, she will hold a damaging and divisive referendum while Scotland is still reeling from the impact of Covid.
"This is beyond irresponsible. When our Scottish Parliament should be entirely focused on rebuilding and recovery, Sturgeon will plunge us into chaos and uncertainty.
"She talks about being in the driving seat – the problem is she wants to drive our economy off the edge of a cliff."
"If pro-UK voters lend the Scottish Conservatives their vote on the peach-coloured party list ballot paper, they can prevent an SNP majority and stop another referendum."
A message from the Editor:
Thank you for reading this article. We're more reliant on your support than ever as the shift in consumer habits brought about by Coronavirus impacts our advertisers.
If you haven't already, please consider supporting our trusted, fact-checked journalism by taking out a digital subscription.