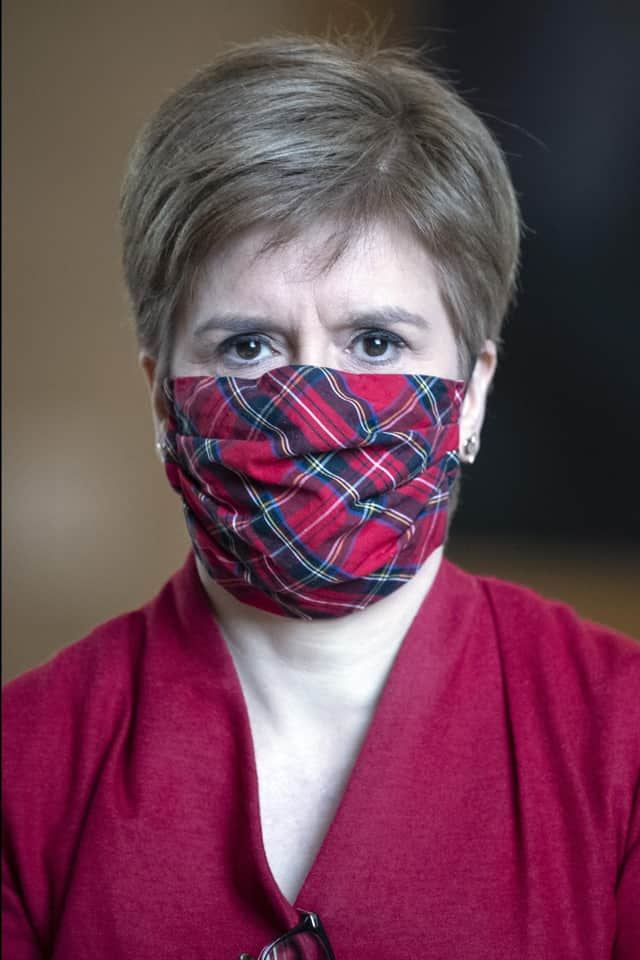 In the wake of opinion polls which have seen support for independence dip and predictions for a large SNP majority reduce to a narrow win, Ms Sturgeon said she planned to set out "bold plans to rebuild the country and put Scotland's future in Scotland's hands" ahead of the May election.
Ahead of a week of potentially fraught debates in the Scottish Parliament, including the Scottish budget and the controversial Hate Crime Bill, Ms Sturgeon's announcement also side-stepped the continued controversy around her government's handling of historical sexual harassment allegations against Alex Salmond.
With inquiries into the loss of the judicial review and whether Ms Sturgeon broke the ministerial code still ongoing, the First Minister said she would "get on with the crucial job of navigating a path through Covid and building Scotland's recovery."
However opposition party leaders said there could be no rebuilding if the SNP wanted to "divide the country" over the issue of independence.
With just three weeks of the current parliamentary term left, the First Minister said her government had been "laser-focused on keeping Scotland safe" but coming out the other side of the pandemic would need a "new national mission – to rebuild and revitalise Scotland."
She added: "And as we look to the future the fundamental question before people in Scotland is this – who has the right to decide the kind of country we should be? Should it be the people who live here or should it be the likes of Boris Johnson? I believe it is for the people of Scotland to decide.
"A Westminster government that we didn't vote for is taking Scotland in the wrong direction with a disastrous Brexit and a record of austerity that has damaged public services."
Ms Sturgeon accused "Westminster parties" of "hitting out as never before" including "taking powers from the Scottish Parliament, and drawing to themselves decisions on spending priorities that should be Scotland's to make".
She also said the SNP would "work in partnership with people across Scotland on the great rebuilding task ahead of us".
She added: "This week, we will ask Parliament to back a budget that invests in people, jobs and the NHS. We are making sure that vital cash is available to families who need it most through the Scottish Child Payment.
"Our Young Person's Guarantee aims to give every young person the opportunity to study, work, take up an apprenticeship or volunteer. And we intend to deliver a pay rise for our NHS workers – no matter what the Tories in Westminster say."Between now and the election we will set out how we will meet the ambitions we all share for Scotland."
However Scottish Conservative leader Douglas Ross said Scotland would not be rebuilt "by dividing our country all over again with another referendum, which the SNP want to take place as early as this year."
He added: "The Scottish Conservatives will campaign for a Scottish Parliament 100 per cent focused on recovering from this health crisis and tackling the looming jobs and economic crisis that faces us all. If the SNP were serious about rebuilding Scotland, they would drop their plans for indyref2."
And Mr Sarwar said: "The First Minister is right to say that our collective mission must be to rebuild Scotland following the pandemic. But that simply can't be achieved if she continues with her attempts to divide the people of Scotland by returning to the old arguments.
"We have the choice in Scotland to focus on what unites us and bring people together so that we can rebuild our country together – and that's what Scottish Labour will be prioritising in the forthcoming election."
Scottish Liberal Democrat leader Willie Rennie said: "Nicola Sturgeon and the SNP have been in charge of Scotland for 14 years but they have precious little to show for it. More children than ever are waiting over a year for mental health treatment and Scottish education has fallen down the international rankings.
"What the people want is a government focused on putting recovery first and tackling the challenges they face day in day out. With Nicola Sturgeon what they get is a First Minister who is more focused on breaking up the country and fighting with her own party.
"Scottish Liberal Democrats can stop the SNP from getting a majority and ensure that the government is one that is focused on jobs, education and mental health."
A message from the Editor:Thank you for reading this article. We're more reliant on your support than ever as the shift in consumer habits brought about by Coronavirus impacts our advertisers.
If you haven't already, please consider supporting our trusted, fact-checked journalism by taking out a digital subscription.