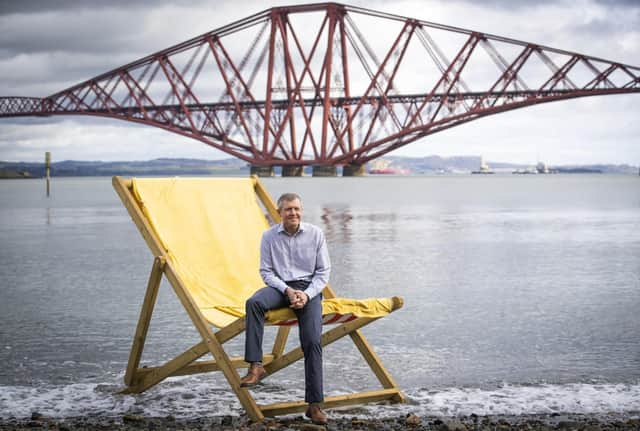 Liberal Democrat leader Willie Rennie relaxes in a deckchair at the launch of his party's campaign.
But while this year's candidates ramped up the quirk in a covid-era campaign where traditional door knocking and in-person hustings were largely off the menu, the Holyrood election also had its serious side.
Social media played a bigger part in this year's campaign than ever before, due to social distancing requirements and a campaign conducted predominantly in lockdown.
Even the TV debates, staged in as normal a manner as possible by Scotland's broadcasters, had a strange atmosphere due to the empty seats where the audience should have been. Meanwhile, media huddles, usually boisterous free-for-alls after photocalls, were hosted on Zoom, with awkward virtual hand raising and unreliable internet connections.
First Minister of Scotland and leader of the SNP Nicola Sturgeon meets the alpacas during a visit to LOVE Gorgie Farm in Edinburgh during campaigning for the Scottish Parliamentary election.
The campaign began as it often does, with a performance by king of the quirky photo shoot, Willie Rennie - poster slogan 'Win with Willie'. Mr Rennie kicked off the Liberal Democrat campaign with a giant deckchair on the beach at South Queensferry, where he sat, legs dangling like a toddler, to announce his plans for education. He soon followed up this stunt with a few games of giant chess and giant Connect Four, sparking comparisons to hit film Honey I Shrunk the Kids.
He was also pictured taking part in various sports, including shinty and karate, for which he came under fire for allegedly breaking social distancing rules in place at the time - as well as posing nose to nose with a baby badger on a visit to the Scottish SPCA in Alloa.
Scottish Labour also played heavily on new leader Anas Sarwar's human side - with the highlight possibly his impromptu decision to join in the Saltire Burlesque Academy's open-air dance class in the car park of Livingston FC's Tony Macaroni Arena. The 38-year-old father of three proved that he could strut his stuff as he performed with the group to Bruno Mars hit Uptown Funk.
Yet for Scottish Labour, the focus of the campaign was clear. Mr Sarwar, who took up his post just a few weeks before the election campaign began, wanted to reestablish the party as a credible opposition. His party, instead of publishing a manifesto, launched its "Recovery Plan", focusing heavily on rebuilding Scotland post-covid. He asserted himself as a strong voice working in harmony with – but independent of – Westminster Labour leader Keir Starmer.
Scottish Greens co-leader Patrick Harvie after casting his vote in the Scottish Parliamentary election at the Notre Dame Primary School in Glasgow.
"Keir knows I'm the boss", he told The Scotsman in an interview.
Scottish Conservative leader Douglas Ross, also relatively new in post, struggled more to establish himself as an autonomous voice distinct to the increasingly unpopular Tory party south of the border.
He came under fire for former leader Ruth Davidson's prominence in the party's campaign - she appeared beside him to drum up support in person on many occasions and was the poster girl of the Tories' campaign leaflets - yet is entirely stepping back from Scottish politics after the election.
He also faced uncomfortable questions when Prime Minister Boris Johnson, who had previously said "wild horses" wouldn't keep him away from the Scottish election campaign, but mysteriously did not show his face north of the border. However, Ross soldiered on, showing grit in the face of what must have been one of his party's most difficult ever Holyrood campaigns.
Scottish Conservative party leader Douglas Ross and Ruth Davidson on Calton Hill, Edinburgh during the election campaign.
He repeatedly made clear his intentions to work with other pro-union parties – and at one point was rumoured to be considering encouraging Tory voters to vote for other unionist parties in certain seats - but was knocked back by Mr Sarwar, who at the beginning of the campaign, admitted he had never had a conversation with Mr Ross.
All of the parties were keen to show their support for local businesses when lockdown restrictions eased. Party leaders rushed to promote photocalls at hairdressing salons across Scotland in April and ordered pints in outdoor beer gardens, despite less-than-balmy weather conditions.