Mr Harvie said there were people in the party who would be willing to consider talks with the SNP over a formal coalition, but categorically ruled out any group that involved Alba.
He also called for a second independence referendum in the next Parliament – but warned it should not take place until the Covid crisis was under control.
The Greens look set to see more MSPs than ever elected to Holyrood, with recent polling suggesting they could win ten seats. They currently have six MSPs at Holyrood.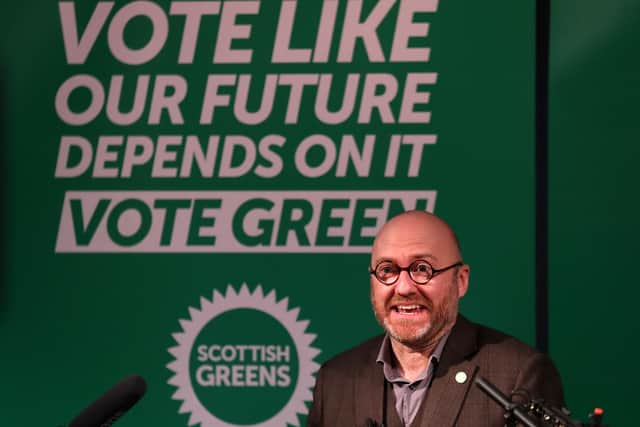 When asked if he would consider working in a coalition with Alba, Mr Harvie said: "No, we wouldn't, and I don't expect him to be in power anyway.
"We do aspire to, as a political party, as all political parties do, to take a role in government. It is for the people to decide what the election result is, and it will be for the biggest party to decide if they want to talk with others.
"Now if we were asked, I suspect there are a lot of people in the party who would be willing for us to have the conversation, but as you've heard there are really massive issues that I don't think the SNP are grappling with yet like the future transition away from fossil fuels, like the land reform agenda that they haven't taken forward.
"So I don't think it's worth speculating how our conversation would go after the election. Our job right now is to focus on inspiring people, for the vision that's in this document, and we'll carry on working, whatever the result of the election, as hard as we can to achieve as much as we can."
Party co-convenor Lorna Slater said: "We have such a track record of achievement that I am absolutely confident that our voters will vote for us. Independence is part of our vision for a fairer greener Scotland, but it's not the only part, and I don't see us losing votes to parties that don't have that kind of track record or experience."
She said the party would not push for an independence referendum near the beginning of the new parliamentary term, adding: "This is not a manifesto for independence, this is a manifesto for a green recovery.
"The question of independence is about whether the people of Scotland have the right to choose which governments are making the decisions about their recovery and we do commit in this manifesto to asking the question of the Scottish people in the next parliamentary term.
"For us, we would commit to not a shorter timescale because of the Covid crisis.
"We feel that during such a referendum campaign, it really worked for us to be able to campaign effectively, to consult with people. And that means a ground campaign knocking on doors and we can't do that until the Covid crisis is eliminated or under control."
Scottish Conservative leader Douglas Ross said: "Patrick Harvie admits he would back an SNP minority government at Holyrood, but his manifesto pledges lay bare the price ordinary Scots would be expected to pay for this nightmare alliance."
A message from the Editor:
Thank you for reading this article. We're more reliant on your support than ever as the shift in consumer habits brought about by Coronavirus impacts our advertisers.
If you haven't already, please consider supporting our trusted, fact-checked journalism by taking out a digital subscription.