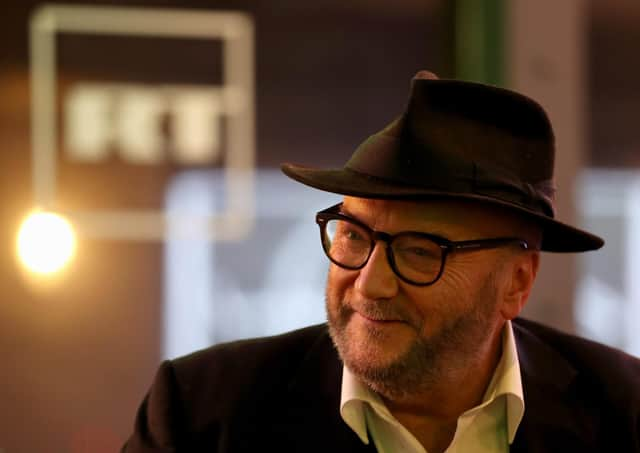 All for Unity, formerly Alliance for Unity, was not invited to take part in the debate hosted by the BBC last week and alongside Alex Salmond's new Alba Party, is yet to receive an invitation to any future debate.
In a statement, the former Labour MP and host on the radio station Sputnik, an arm of Russia's state-owned broadcasting network alongside RT (formerly Russia Today), said the party had instructed a legal team to launch "urgent legal action" this week.
Both broadcasters said they would cover the election in line with Ofcom guidance.
The next leaders' debate is set to be aired by STV on April 13.
Mr Galloway said: "We hope that the opinion polls will be evidence enough for the BBC and STV to admit us into the Leaders' Debates.
"But we reserve our rights to take legal action to compel them to do so, if necessary. We have instructed a legal team, who are currently working on this and ready to launch urgent legal action this week if the BBC and STV continue to refuse to engage with us.
"Our message to the BBC is this: Include us and we promise both TV gold and a big audience."
A recent Panelbase poll saw All for Unity poll at four per cent and Alba at six per cent.
The legal action threat from Mr Galloway follows a similar demand from Mr Salmond last week who said he would not rule out legal action against the broadcasters to force his way onto the leader panel.
The former first minister said he had written to Ofcom demanding intervention and a directive to allow him to appear as part of the debate to enable "fairness and parity of coverage".
Official guidance from the regulator states: "Due weight must be given to the coverage of parties and independent candidates during the election period.
"In determining the appropriate level of coverage to be given to parties and independent candidates, broadcasters must take into account evidence of past electoral support and/or current support.
"Broadcasters must also consider giving appropriate coverage to parties and independent candidates with significant views and perspectives."
Amid rising frustration from the leaders of the minor parties at their exclusion from the debates, solicitors for Mr Salmond's party wrote to the BBC demanding a place in the debates after the recent Panelbase poll.
He said: "The BBC are in danger of sending their viewers to sleep in this election. In what should be the most exciting election in the history of the Scottish Parliament the BBC is stuck in their well-trodden rut.
"The BBC is meant to be Scotland's public service broadcaster. ALBA meets the requirements for inclusion in election debates and reporting in terms of membership, elected representatives and candidates across the country. It is high time their coverage caught up with the emerging reality on the ground".
A spokesperson for the BBC said: "We are looking, as we always do at this stage in an election campaign, at our future plans for coverage in line with our guidelines and Ofcom's guidance."
Responding, a spokesperson for STV said: "STV will have wide ranging election coverage across news and current affairs, and we'll share more details with you shortly.
"Across the board, our coverage will be comprehensive and in line with Ofcom guidance."
A message from the Editor:
Thank you for reading this article. We're more reliant on your support than ever as the shift in consumer habits brought about by coronavirus impacts our advertisers.
If you haven't already, please consider supporting our trusted, fact-checked journalism by taking out a digital subscription.