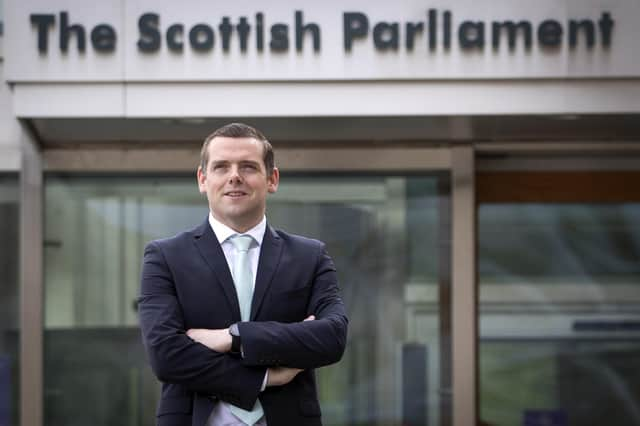 Douglas Ross outside the Scottish Parliament on Sunday
His campaign was labelled divisive and dull, and he spent the debates either apologising for his own historic remarks or having to defend the latest misstep of a Prime Minister seemingly determined to make his colleagues' job as hard as possible.
Ruth Davidson was all over the leaflets, we heard it wasn't even his campaign, and everyone questioned why the Tories went so hard on stopping independence, rather than focusing on their own domestic vision.
But it worked. Everyone was wrong and it worked. Like "Get Brexit done", this was another Tory campaign saved by three magic words: "Stop Indyref 2".
The Scottish Tories have matched their best ever election result, with Mr Ross claiming they even got 100,000 more votes.
While admittedly suffering two losses in the constituency vote, the list has seen them hold the line as voters from other parties supported them despite an apparent lack of shared domestic sensibilities.
One Tory source put the result down to "message discipline", while others praised Mr Ross's "toughness" as well as the team around him.
Rather than promise gradual change or pretend they were the next Government, the Scottish Tories made stopping another referendum the focal point, tackling the SNP head on.
Other unionist parties opposed a referendum, but it was never the key message. The Liberal Democrat leader Willie Rennie repeatedly tried to talk about things, rather than get "bogged down" in constitutional matters. His party returned 4 MSPs.
A senior Tory source added: "They were all terrified of Nicola Sturgeon's poll ratings, and we weren't."
Mr Ross operated with a Prime Minister who delivered Brexit, finds himself constantly mired in sleaze accusations and is considered a driving factor for independence.
However, like those voting SNP in spite of the party's record on drugs, education, or care homes, voters still supported Tories because of a message with clear cut through. Vote Conservative, stop Indyref 2.
It's not becoming the Government, and pales in comparison to the SNP's soon to be 20 years in powers. But with a campaign focused on one message, they might just have done it.
If you haven't already, please consider supporting our trusted, fact-checked journalism by taking out a digital subscription.