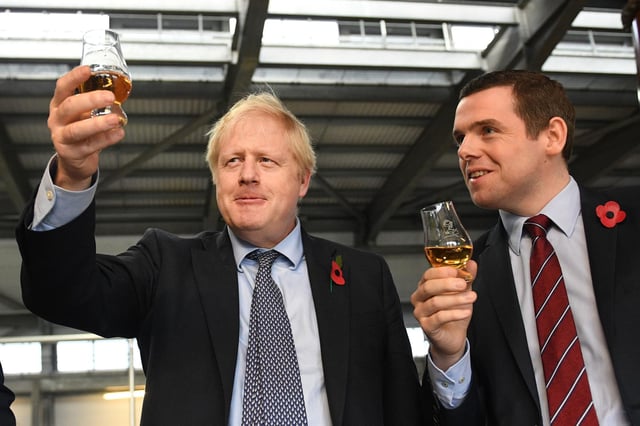 Prime Minister Boris Johnson with Douglas Ross during the General Election campaign. Mr Ross says there is no definite plan for Mr Johnson to be in Scotland for the Holyrood election campaign.
The Scottish Conservative leader, who had said in March that Mr Johnson would be in Scotland before the May 6 vote, has now said a number of UK government ministers, including the Chancellor, may be "heard from" over the next month but that nothing had been confirmed.
He stressed he was more concerned that the "positives from our membership of the UK" were at the heart of the campaign he was leading.
"We can't determine in this campaign when or if senior members of the government, at a UK level, are going to be able to come up to Scotland to campaign," he said.
"But they will play a part in this campaign whether it's virtual, whether it's commentary, whether its explaining the outstanding roll-out of the vaccine process here in Scotland and across the UK whether it's, you know, articulating the message of business support protecting people's jobs – that will all happen. The way that happens, as we've seen through this campaign is going to be really unpredictable.
"I don't know how it's going to work out because this election campaign is entirely different to any other held in Scotland before. Visits are far more constrained. We've just got to see how the campaign rolls out, whether he [Boris Johnson] is here, virtually physically making comments."
He added: "Clearly the message from the UK Government is a positive one in terms of the number of jobs that have been protected and the massive additional support here in Scotland throughout the last 12 months which has allowed us to tackle this pandemic, despite the SNP originally being very against the UK Government's approach with vaccine procurement and the roll-out."
Asked about SNP criticism of his leadership, in which they claimed was on the "subs bench", he added: "The SNP would criticise me if Boris Johnson came up to Scotland and it sounds like they're criticising me if he doesn't come so if the SNP are criticising me and saying I've got it wrong then I've probably got it right."
He also rejected suggestions he was being overshadowed by former Scots Tory leader Ruth Davidson, who is reportedly set to take on a bigger role in the campaign, despite standing down from Holyrood.
"I am delighted to work with her as the current Scottish Conservative leader with strong backing of a former Scottish Conservative leader. I think that's something that people would expect.
"Ruth was always a key part of this campaign. She agreed to come back to front-line Scottish politics when I became leader to lead the Holyrood group and lead First Minister's Questions. I've got no problem working with, and continuing to have the support of, the former leader of my party."
Earlier SNP Depute Leader Keith Brown said Douglas Ross had been sidelined by the return of Ruth Davidson.
"It is desperation from the Tories that the only option they have left is to wheel out Baroness Davidson before she skulks off to her £300-a-day job in the unelected House of Lords," he said.
A message from the Editor:Thank you for reading this article. We're more reliant on your support than ever as the shift in consumer habits brought about by Coronavirus impacts our advertisers.
If you haven't already, please consider supporting our trusted, fact-checked journalism by taking out a digital subscription.