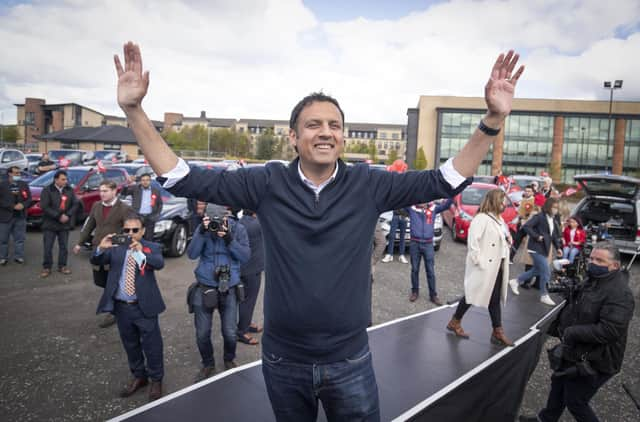 Scottish Labour leader Anas Sarwar on stage at a drive-in rally in Glasgow during campaigning for the Scottish Parliamentary election.
Mr Sarwar said that the Labour party south of the border needs to learn lessons from Scottish Labour as leader Sir Keir Starmer prepares to reshuffle Labour's frontbench team following the party's poor performance in English local elections. He has already sacked his deputy Angela Rayner as Labour's chair and campaigns co-ordinator.
He also pledged he will work with any other party in Holyrood to ensure Scotland's recovery from coronavirus.
Mr Sarwar said: "The plea I will make to the UK Labour Party is, actually there are lessons that you can learn from the Scottish Labour party. Don't repeat the mistakes that we made after the referendum result, don't think you look insular, don't think you start fighting with each other, don't think that you talk about the past. You have to present a positive alternative for the future. You do it with honesty, and you do it with energy. There is no quick fix to a constitutional question that has a binary choice, so you can't try and find some political ways to fix that. We've got to be authentic in what we're trying to do.
"It's like I'm trying to do in Scotland, I'm on a journey, I accept that there's a long way to go in that journey. I want to advocate something different about how we pull our country together. That's what the UK Labour Party needs to do as well."
He added: "There is a risk if we do not take urgent action, that we will continue to decline. I think he [Starmer] recognises that, and that's why they've got to have a distinct and fresh position, it can't just be reacting to what the results happen. Yes, people will point to Hartlepool, but we can actually take comfort from what happened in Liverpool and Manchester, London, and what happened in Wales. I hope people can take some comfort from the fact that we might not have an ideal result in Scotland, but there is a hope and optimism around the Labour Party again, and also amongst Labour supporters again, and we're on that journey, you've got to build upon it, rather than going backwards."
He said that he would work with any Holyrood party on issues such as the NHS and the education attainment gap.
Mr Sarwar said: "We all promised during this election campaign that we're going to focus on recovery first and I'm going to hold people to that promise. So I'll work with any other party on individual issues, so we can come out of with this as a stronger and fairer nation.
"Over the last number of years, it seemed as if we were making a virtue out of disagreeing and finding those areas of disagreement, and that is blocking us from making the progress we need to make as a country. I'm not willing to do that coming out of this pandemic, and I'm not going to do that coming through this election. So yes, we will have big disagreements, where we disagree, we will robustly disagree, but that will not stop me working together on issues we agree on."
A message from the Editor:
Thank you for reading this article. We're more reliant on your support than ever as the shift in consumer habits brought about by Coronavirus impacts our advertisers.
If you haven't already, please consider supporting our trusted, fact-checked journalism by taking out a digital subscription.