The former first minister admitted his party was not competing "to become a government", but that he would "push a government further than it would otherwise go".
Recent polls have put Alba which is just standing on the regional lists, at between 3 per cent and 6 per cent.
And in a swipe at the SNP and Nicola Sturgeon, his party manifesto claims Alba MSPs would be the "voice of the independent movement" in Parliament to "ensure no more cans are kicked down the road".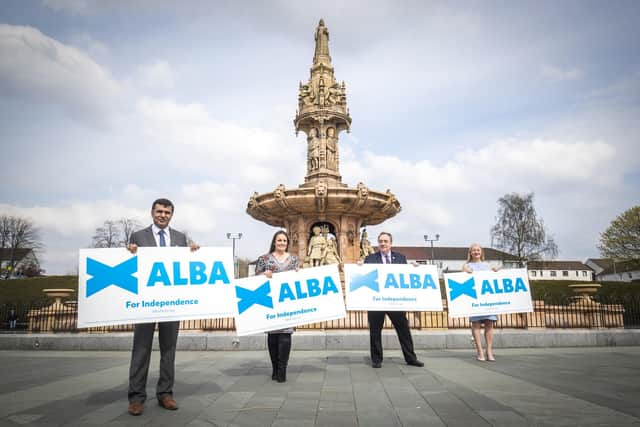 The manifesto claims the approach to gaining independence has been too "timid" and Alba would be more "gallus" about the constitutional issue, including laying a motion in Parliament, as soon as the new Scottish Government is formed, calling for independence negotiations to begin with the UK Government.
It also proposes a National Commission on Independence to "build a robust plan" for dissolving the union, which would report to a special parliamentary committee and, a "standing Convention" of all Scottish parliamentarians, meeting in the old Royal High School – the Edinburgh building many believe should have been the site of the Parliament when it was established after the devolution referendum.
The Alba Party plan for independence also includes pressing for a section 30 order to hold a referendum and if it is denied by Boris Johnson, to make plans for a "wildcat vote", by passing a referendum bill and forcing the UK Government to contest it in the courts.
Further it says that a new framework of institutional bodies needs to be created, including a Scottish Central Bank and "a new currency for Scotland", although it states that "a dual currency" with sterling would be required "over a period".
At the virtual launch – where no questions were taken – Mr Salmond said: "Alba was established to bring urgency into the timetable for delivering independence for Scotland, by maximising the list vote to build a pro-independence super-majority at Holyrood and to use our place as part of that super-majority to make absolutely sure there is no more backsliding on timetables.
"And we will do that every day we are in Parliament – pressing a pro-independence Scottish Government to get a move on and holding it to account if it doesn't."
Mr Salmond stressed the new party was not "single issue" and also offered an economic recovery plan and a programme that is "social democratic, promoting prosperity with social equality and environmental responsibility".
"We make no claim that it is all-encompassing, but it is bursting with fresh ideas and illustrates the Scotland we seek," he said.
"We believe it contains the most ambitious and profound economic recovery agenda revealed by a political party in Scotland so far, and it certainly represents the strongest commitment to women's rights."
Mr Salmond, who is hoping to be elected on the North East list, added: "It is the one manifesto which is taking Scottish independence seriously, with a proper plan on how to deliver independence for Scotland through a referendum, or another agreed democratic test, ready to fight that referendum, but also how to be properly prepared to build the Scotland its people deserve, when we win such a referendum."
A message from the Editor:Thank you for reading this article. We're more reliant on your support than ever as the shift in consumer habits brought about by Coronavirus impacts our advertisers.
If you haven't already, please consider supporting our trusted, fact-checked journalism by taking out a digital subscription.