Scottish election 2021: 'Absurd and offensive': Patrick Harvie hits back at 'HarvieHatesWomen' hashtag
The co-leader of the Scottish Greens has hit back at those posting the hashtag 'HarvieHatesWomen', labelling suggestions he and his party are anti-women as "absurd".
Patrick Harvie speaking exclusively to The Scotsman on a campaign stop in Edinburgh, said it was time for all political parties to call out the misrepresentation of trans people and how their rights would affect women in Scotland.
The Scottish Greens are one of the parties that is committed to reforming the Gender Recognition Act to make it easier for trans people to be recognised as their gender.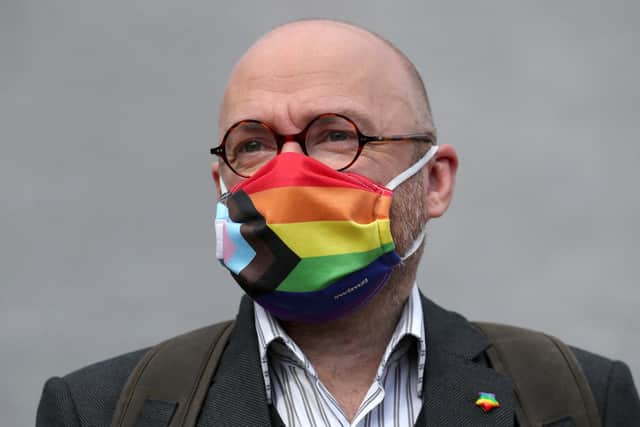 This would be brought about by introducing 'self identification' whereby individuals are able to identify as the gender of their choice and change their birth certificates without a medical diagnosis.
Asked about the hashtag 'HarvieHatesWomen', which briefly trended on Twitter this week, the veteran Green politician labelled it "absurd" and "offensive".
He said: "It is completely ignoring the fact that the large majority of Scotland's women's and feminist movements is trans-inclusive, has been for many years, not because they didn't think about the issues, but because they did sit down and work through the issues with Scotland's LGBT+ community.
"That is very much the way we have approached these issues in the Scottish Greens.
"We have debated it openly and repeatedly in branches and our national conference. We have had that work led by the Scottish Green party's women's network and the Rainbow Greens, the LGBT+ network.
"Like most countries that have made progress on inequality, we recognise that progress doesn't happen by magic and it doesn't happen by pitting marginalised groups against one another, it happens through solidarity.
"It happens when marginalised groups work together and if there are tensions or conflicts, find constructive ways to resolve them."
The SNP has been torn apart by disagreements on the issue, with high-profile opponents of self-identification including MP Joanna Cherry.
However, the Scottish Greens was also impacted by the debate when one of its most high-profile MSPs, Andy Wightman, quit the party due to what he stated was an "alienating and provocative" stance on trans rights.
Mr Harvie said he believed groups behind the attacks on trans rights were deliberately attempting to "demonise and stigmatise" trans people.
He also claimed some campaign groups would set their sights on abortion and contraceptive rights if they succeed in blocking reforms which benefit trans people and added the debate was fuelled by misinformation and misled individuals.
The Greens co-leader said: "At the moment what we are seeing is a very deliberate attempt to demonise and stigmatise trans people, to pretend that they are a threat to others in society, which is absolutely the polar opposite of the truth.
"I know for a fact that many trans people themselves are just exhausted with dealing with this level of toxic hostility, but it is also a genuine threat to everyone else's equality and human rights.
"The kind of organisations that are behind this campaign, split the T from the LGB, this divisive agenda, they're not going to rest if they manage to attack trans people's human rights.
"There's a real danger of giving credence to this backlash to equalities and human rights and that is genuinely is where it is coming from.
"I genuinely hope the stuff the SNP have gone through in the last few months on this leaves them with a recognition that they have not been clear enough on equality issues and, as with Labour, the idea that you can have organised transphobic factions within what are calling themselves progressive political parties, that needs to end."
A message from the Editor:
Thank you for reading this article. We're more reliant on your support than ever as the shift in consumer habits brought about by coronavirus impacts our advertisers.
If you haven't already, please consider supporting our trusted, fact-checked journalism by taking out a digital subscription.
Comments
 0 comments
Want to join the conversation? Please or to comment on this article.