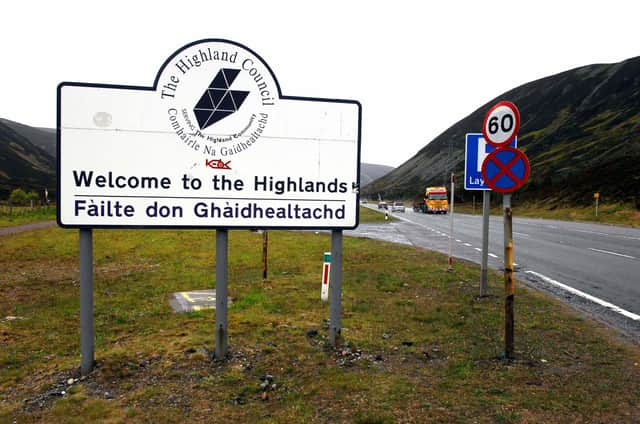 Highland Council is facing the largest budget shortfall in Scotland, alongside the highest per resident shortfall.
Local authorities are facing "devastating" financial black holes as they continue to battle against the impact of coronavirus with Highland Council the worst hit with a per resident shortfall of £411.
Two other councils, Aberdeen City Council and Perth and Kinross Council, are also seeing shortfalls equivalent to more than £300 per resident with the overall financial hole for local authorities across Scotland could hit more than £400 million.
The Capital is also suffering, with Edinburgh City Council predicting a shortfall of £83.8 million, or £159 per resident.
Overall, Highland Council are the hardest hit with a potential financial shortfall of £96.9 million, equal to a per resident shortfall of £411.
Aberdeen City Council and Perth and Kinross Council follow closely, with the councils predicting shortfalls of £82 million and £50 million respectively, equal to £358 and £329 per person.
The figures from the BBC Shared Data Unit paint a picture of struggling local authorities across Scotland in deep financial trouble as the monetary cost of lockdown and the Covid-19 pandemic bites down hard on council finances.
Of Scotland's 32 councils, 17 said they expected their budget to be hit by a shortfall due to the impact of coronavirus.
In a worst-case scenario where lockdown measures are extended or the economy does not recover quickly, councils said they expect to be short a total of £402 million. Even a best-case scenario sees a £280 million shortfall in council finances.
The losses have been described as "devastating by the Tory local government spokesman Graham Simpson, while his Labour counterpart Sarah Boyack said it was "critical" councils received more financial support from the Scottish Government.
A spokesman for the government said by the end of July, councils will have received £455 million in additional funding.
Scottish Conservative local government spokesman Graham Simpson said it was no surprise councils are "staring into the abyss".
He said: "Local government finances were in a desperate state even before coronavirus due to more than a decade of SNP cuts.
"The black hole in council finances started at £100m, it went up to £145m in days and now we have these figures which are devastating.
"It's no wonder so many local authorities are staring into the abyss. The SNP government needs to recognise the important role councils play and start properly resourcing them now before it's too late."
Scottish Labour's local government spokesman, Sarah Boyack, echoed the concerns and said councils face a financial "cliff edge".
She said: "These are deeply worrying financial shortfalls. Local authorities are facing a cliff edge in funding, something Scottish Labour has been warning about for months now. After over a decade of underfunding they have had to transform services to support local communities through the pandemic and keep staff safe.
"Over the coming months they will be critical to getting our schools open and getting local economies moving again, but they will need more financial support and flexibility from the Scottish Government."
Conservative councillor and convener of Aberdeen City Council's City Growth and Resources Committee, Douglas Lumsden, called for a fair funding model based on actual loss by councils.
He said: "The fact that Aberdeen City Council is facing the second worst per resident shortfall per person due to the coronavirus will not come as a shock to residents given that Aberdeen has been short changed by the Scottish Government on local government finance for the last 8 years.
"Kevin Stewart must step in and order COSLA to distribute any additional Scottish government funding based on coronavirus loss as the system adopted by COSLA has seen some councils financially gain from the virus whilst others like Aberdeen are severely disadvantaged."
Cammy Day, depute leader at Edinburgh City Council said the pandemic will mean some "very difficult decisions" will have to be made in the future.He said: "We have always been open and transparent about the position we're in – sharing details of the impact on our budget before many other Scottish local authorities.
"We have some very difficult decisions to make in the coming months and we need to have some honest conversations with our residents about what is now unsustainable for us to carry on providing.
"As we carry out this work, we'll examine all options to narrow the budget gap, but it's clear we'll also require further additional financial support.
"We're in a unique situation compared to some parts of the country because our challenges as a Capital city and because much of our revenue for funding council services comes from income generation – income which has been drastically reduced over the past three months."
A COSLA Spokesperson said efforts by local authorities had been "heroic", adding: "We are continuing discussions with the Scottish Government about a range of options that might be deployed to address the significant financial shortfall that we know our members are facing."
A Scottish Government spokesperson said: "We have taken exceptional measures in every area of government as we deal with the challenges of COVID-19 - and that is particularly clear in our support for local services. To date, Scotland's councils have received £405 million in advanced payments this financial year, and by the end of July this will have risen to £455 million.
"This funding, which included weekly advanced payments to councils until parliamentary approval was secured, will help prevent local authorities experiencing cash flow. councils received an additional £150 million in May, £255 million in June, and will receive £50 million in July.
"We will continue to work with COSLA and local authorities, as well as pressing the UK Government for urgent additional funding and flexibility for our partners in local government."
A Highland council spokesperson said "The Budget Leader will set out the financial position to council in their meeting tomorrow."