Scottish college graduations under threat as lecturers strike enters second month
College students may not be able to officially graduate this year after a strike by lecturers looks set to enter its second month.
Lecturers in Scotland's further education colleges are striking over plans to see them replaced by instructor-assessors, who are less qualified to teach and also paid less.
The strike began on March 25 and is set to continue after an agreement struck by negotiators in the Educational Institute for Scotland (EIS) and Colleges Scotland failed to be ratified by the latter's Employer's Association, consisting of FE College principals.
As a result, the action by lecturers – which means they are not marking, preparing classes, connecting to online teaching platforms or responding to students – is set to continue, with potential further action including a boycott of assessments, which could rule out graduations.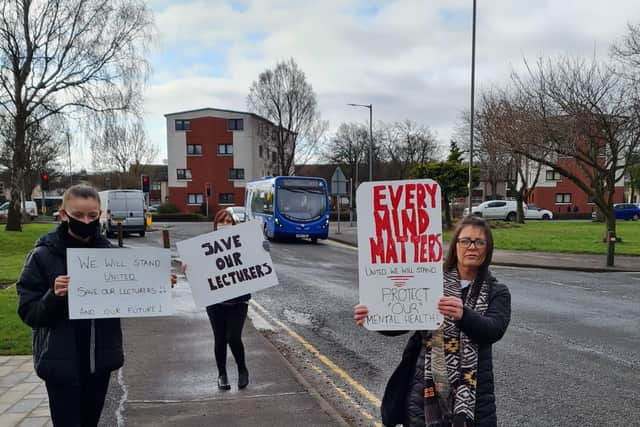 EIS general secretary Larry Flanagan said Colleges Scotland's "intransigence and unwillingness" left lecturer staff with "little option than to further escalate the dispute to include action short of strike action, alongside the ongoing campaign of strike action".
He said: "The goodwill of the lecturing profession simply cannot be taken for granted by their employers. Such an escalation would have been avoided, had the agreement made on March 12 been ratified.
"This escalation, following a successful ballot result, will lead to a results boycott, meaning that although all student assessments will be marked, the results will not be shared, entered or recorded with colleges as employers."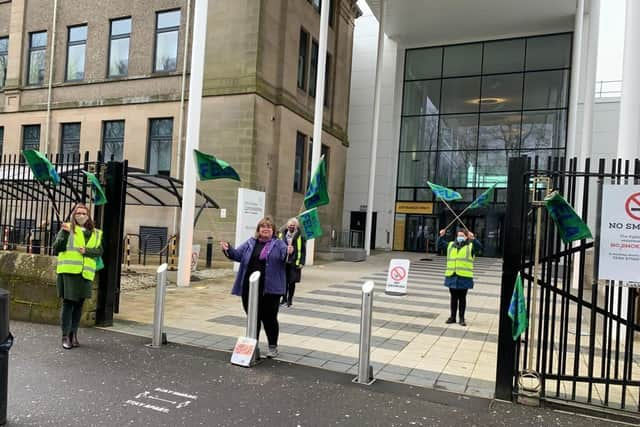 Mr Flanagan added: "Following a year of disruption, and given that this scenario could have been avoided, it is wholly regrettable that students may be impacted in this way. This scenario is clearly one that EIS-FELA hoped to avoid, as much for the students as for the lecturers themselves. We would call on the employers to ratify the deal and settle this dispute."
The strike has been backed by student union, NUS Scotland, whose president, Matt Crilly, said: "It is scandalous that the future of thousands of students hangs in the balance, after an already extremely challenging year for those studying at college.
"Politicians and college bosses can't keep ignoring this issue. We need an immediate resolution, so that students qualify without disruption and our education is protected."
The dispute stems from the substitution of college lecturer posts – which are subject to national pay and conditions – with support staff positions.
The change reportedly began in Fife College when retiring lecturers were replaced by instructor-assessors, but escalated at Forth Valley College where more than 20 lecturers were offered redundancy or a move to an instructor-assessor role at lower pay, which sparked local industrial action.
As a result, there was a move to have a national enshrined definition of the "unique aspects" of the lecturer role, and it was this which was voted down by college principals, despite agreement being reached by the negotiating teams from both sides.
According to EIS-FELA, the principals then sent their negotiators back to attempt to renegotiate the agreement, offering a form of wording that had already been rejected.
The union believes the principals are seeking to undermine the role of professionally qualified lecturers who have specific pedagogical skills to enable the delivery of a curriculum for all students, regardless of the subject they choose to study.
A source said it had become "abundantly clear that college managements do not share that vision and are willing to provoke an escalation of industrial action to proceed in preference to adopting that vision" and claimed this week a request to hold a meeting earlier than one scheduled for April 19 had been rejected by Colleges Scotland.
However, the Colleges Scotland Employers' Association said the claim lecturers were being substituted for assessors or instructors was "unfounded" and EIS-FELA "have accepted this".
A spokesperson said the "ongoing industrial action is completely unnecessary". They added: "Colleges are working extremely hard to ensure students can achieve their qualifications this year despite the pandemic and it is disappointing that the EIS-FELA is choosing to take its members out on strike during this unprecedented time."
The spokesperson said while the negotiated agreement had been ratified by EIS-FELA, the Employers' Association had "requested the management side go back into discussions to get further clarification on how the role profile would be used".
"This is an entirely normal part of the negotiation process," the spokesperson said. "It is not true that the Employers' Association didn't 'ratify the deal' as the discussions were still ongoing at that time. A consensus position is not a deal, until both sides reach a final agreement.
"There is only one outstanding issue still to be agreed. This is around the wording of a national role profile for lecturers, of which both sides are supportive.
"The employers' view is that this is a holistic role profile. However, the EIS-FELA view is that just some of the core responsibilities are necessary to deem someone a lecturer.
"Colleges value lecturers, they play a critical role in inspiring and enabling success for students and the sector is working in partnership with the trade union and the General Teaching Council Scotland to ensure that all lecturers can become professionally registered and developed.
"But colleges also need other roles too. Tutors, assessors, and instructors have worked alongside lecturers for decades.
"These staff are fully qualified to perform their jobs and complement the delivery of learning and assessment in relevant subject areas. We need to ensure that any agreement reached with the EIS-FELA doesn't negatively impact on these support staff."
A message from the Editor:Thank you for reading this article. We're more reliant on your support than ever as the shift in consumer habits brought about by Coronavirus impacts our advertisers.
If you haven't already, please consider supporting our trusted, fact-checked journalism by taking out a digital subscription.
Comments
 0 comments
Want to join the conversation? Please or to comment on this article.