Scottish businesses do more internal UK trade than other parts of country, survey finds
Scottish businesses do more internal UK trade than any other part of the country, figures indicate.
Over a 12-month period, 53.6 per cent of Scottish firms said they had sold goods or services to customers in other UK nations. That compares to the UK average of 35.7 per cent, and is higher than Wales, Northern Ireland and every region of England.
Pro-UK organisation Scotland in Union said the statistics emphasised the importance of seamless trade with the rest of the UK for Scottish jobs and the economy.
The figures were revealed in the Office for National Statistics' Business Insights and Conditions Survey. It asked 1,097 Scottish businesses about their trading practices for the last year to October.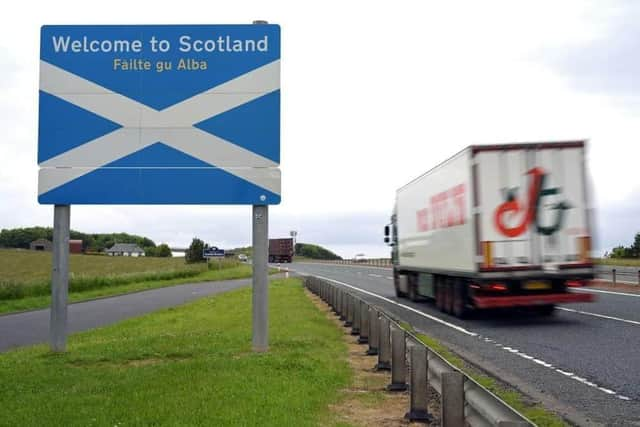 In total, 9,740 UK firms were surveyed throughout October. In all, 53.6 per cent of Scottish businesses said they "sold goods or services to customers in other UK nations". In comparison, 49.4 per cent of Northern Irish businesses did cross-UK trade, while the total for England was just 35 per cent.
Pamela Nash, chief executive of Scotland in Union, said: "These figures show just how important the market in the rest of the UK is to Scottish businesses. That free, seamless trade is vital to jobs, growth, prosperity and opportunity and must be protected.
"The statistics also reveal that huge numbers of businesses across the UK also benefit from this market.
"However, the SNP would rip Scotland out of that market, immediately putting up obstacles for trade. The nationalists have absolutely no answer to how they would address this, and that's something which concerns businesses of all sizes in Scotland.
"As these numbers show, Scotland is a central part of the UK and the benefits go both ways. The SNP-Green Government's selfish and dangerous plans would place our economy in serious jeopardy."
Richard Thomson, the SNP's international trade spokesman, said: "Independence is Scotland's only route back into the European Union and its single market - a market seven times the size of the UK - after both the Tories and Labour ruled out the UK ever re-joining. The people of Scotland were told in 2014 by the No campaign that voting against independence would ensure our EU membership continued. We were lied to.
"The group highlights that Northern Ireland has similar export levels to the rest of the UK as Scotland. However, Northern Ireland also had the added advantage of being within the EU single market – that's why only last month new figures showed their being part of that single market saw their exports to the rest of the UK, exports to Ireland, and exports to the rest of the UK increase substantially.
"It's tragic that Ms Nash's organisation would like people to believe that Scotland successfully exporting goods and services is somehow a problem. It shows the desperation of those who are opposing Scotland's right to choose its own future.
"And it's ridiculous that given their support of free and seamless trade, they are arguing for Scotland to remain in the very same union that ensured Scotland's trade was hampered both inside and outside of that union by red-tape and bureaucracy as a result of Brexit, which we didn't vote for."
Comments
 0 comments
Want to join the conversation? Please or to comment on this article.