Scottish Budget: Income tax to rise for higher earning Scots, confirms John Swinney
More than half a million Scots will have to pay more income tax next year, sparking fears the country's competitiveness with the rest of the UK will be damaged.
Deputy First Minister John Swinney said everyone earning more than £43,662 would pay more, as he unveiled the Scottish Budget, adding: "If we want to be able to depend on the NHS, we have to be prepared to pay for it."
The higher rate of tax will rise from 41p to 42p in the pound and the top rate will increase from 46p to 47p. Meanwhile, the top rate threshold will be lowered to £125,140 from £150,000, mirroring changes down south.
Business leaders raised concerns the changes would make Scotland a less attractive place to live and work, and pointed to a widening tax gap with the rest of the UK.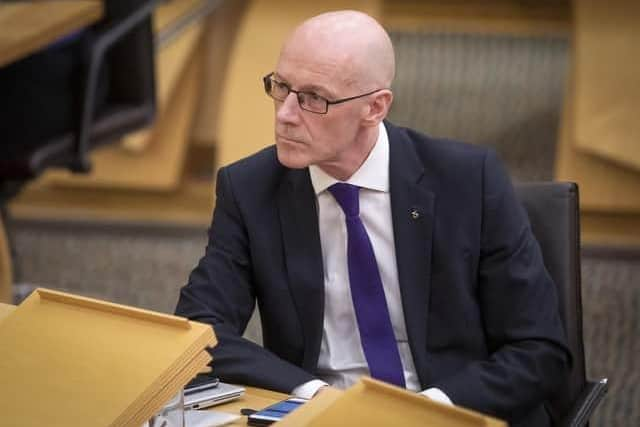 Someone earning £50,000 will pay an extra £63.38 in tax next year, and £1,552.48 more than they would down south, according to the Chartered Institute of Taxation (CIOT). Scots earning £150,000, meanwhile, will pay an additional £2,432.08, and £3,857.88 more than they would elsewhere in the UK.
The CIOT said those with earnings that fall between the Scottish and UK higher rate tax thresholds of £43,662 and £50,270 will be taxed at a marginal rate of 54 per cent on that slice of income, compared with 32 per cent in the rest of the UK. This is because national insurance rates are tied to the UK higher rate.
It came as the Scottish Government's official forecaster warned households are expected to see the biggest real-terms fall in their disposable income since records began in 1998. The independent Scottish Fiscal Commission said Scotland had likely already entered a recession.
Mr Swinney, who is also the acting finance secretary, said the Government's tax and spending plans for the next financial year were being delivered in the "most turbulent economic and financial context most people can remember". Setting out the Scottish Budget in Holyrood, he said most Scots would still pay less tax than they would elsewhere in the UK.
The income tax changes mean the SNP will break its 2021 election manifesto pledge to freeze rates and bands. Speaking to journalists, Mr Swinney said the world had changed "really very dramatically" since then. He did not rule out further income tax increases in this parliamentary term.
Earlier, he told MSPs these were "spectacularly difficult times in which to manage the public finances", with the turbulent economic context "compounded by the utterly catastrophic decisions of the UK Government".
He said his tax changes, which also include increasing the rate of the additional dwelling supplement part of the Land and Buildings Transaction Tax (LBTT) from 4 per cent to 6 per cent, will provide £553 million for public services.
Almost 500,000 Scots fall into the higher rate of income tax, according to the Government. More than 30,000 fall into the top rate bracket.
Local authorities will receive a funding boost of £550m in the Budget, while councils will be given the freedom to set their own rates of council tax, raising the prospect of substantial hikes. Mr Swinney called on councils to "consider carefully the cost pressures facing the public when setting future rates", and later told journalists double-digit hikes would not be justified.
Elsewhere, he said the £20m previously earmarked for a second independence referendum would now be used to help those at risk of fuel poverty. First Minister Nicola Sturgeon had wanted to hold a vote on October 19 next year, but the Supreme Court ruled last month the Scottish Parliament cannot legislate in this area.
Mr Swinney said the Scottish Child Payment would remain at the current rate of £25 a week, while other devolved benefits will be uprated by the September inflation rate of 10.1 per cent, at a cost of £428m. The basic rate of business rates will be frozen in a bid to help smaller firms.
The Deputy First Minister said spending on health and social care in Scotland would increase by £1 billion. He said: "When the UK Government set out its autumn statement, it gave rise to consequential funding for the NHS in Scotland of £291m. I intend to pass on that funding consequential, but I do not believe it is nearly enough for the critical task that we ask our staff in the NHS to do.
"As a result of the choices I have made on income tax, I am in a position, in one year, to increase the amount we spend on health and social care in Scotland by over £1bn."
David Phillips, an associate director at the Institute for Fiscal Studies, said funding for public services "is still set to be cut overall in real-terms, and by more than in England and Wales". This is because Scotland's growing range of devolved benefits is eating into a bigger share of its budget, he said.
Mr Phillips said the higher tax rates would cover Scottish NHS spending for only around 48 hours.
Dr Liz Cameron, chief executive of the Scottish Chambers of Commerce, said: "The Scottish Government's move to increase the top and higher rates of income tax will hit taxpayers in Scotland more than other parts of the UK.
"This is a clear disadvantage for Scotland's businesses and workers and could position Scotland as a less attractive place to live and work. With over 350,000 people alone in the higher rate bracket, questions remain on the impact this will have on talent attraction, retention, consumer confidence and indeed departure of workers to other parts of the UK."
Conservative MSP Liz Smith raised concerns Scotland's future growth would be stifled, adding: "The 42p rate increases the existing tax gap between Scotland and the rest of the UK. Although John Swinney justified this tax rise because the money raised will go to Scotland's crisis-ridden NHS, this is less than 1 per cent of health spending and he could have found this money elsewhere without damaging our competitiveness with the rest of the UK."
Labour's Daniel Johnson said his party supported progressive taxation, but added: "If you're going to take progressive tax measures, you must demonstrate clear improvements to public services. But the statement today with a manifesto-busting measure does not do this. People will not accept a rise in tax bills if all they see is further decline of their services after 15 years of the SNP's mismanagement of them."
Scottish Liberal Democrat leader Alex Cole Hamilton said there was "a lot of pain" in the Budget.
Mr Swinney's statement was delayed by around 40 minutes after some of the key tax measures were leaked to the BBC, causing fury among Holyrood's opposition parties. It is the first time a Budget statement has ever been pushed back due to a leak investigation.
Alison Johnstone, the Scottish Parliament's presiding officer, said she could not "express strongly enough" her disappointment.
Mr Swinney said: "I give you my categorical assurance as a member of this Parliament since its foundation in 1999 that no individual was authorised on my behalf to disclose any information." He added: "I unreservedly apologise to you for the situation you find yourself, Presiding Officer, in protecting the integrity of Parliament."
Comments
 0 comments
Want to join the conversation? Please or to comment on this article.