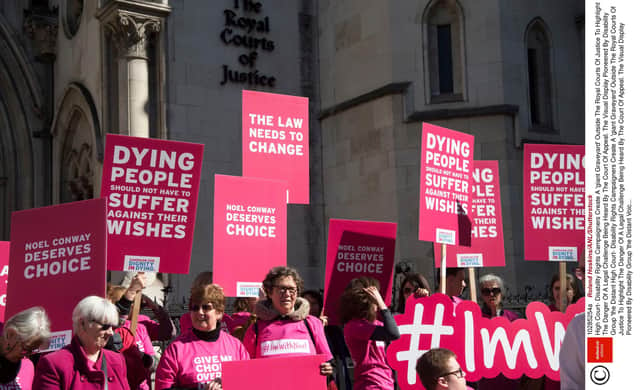 Liberal Democrat Alex Cole-Hamilton said he believed the election of just a "few more" progressive MSPs in next May's Holyrood election is likely to secure majority support for change.
But the Edinburgh Western MSP has called for "sensitivity and understanding" on the issue.
Campaigners have said that a fresh attempt to change the law is likely to be made at some point in the next Parliament with a majority of the public backing change.
But opponents have hit out at the move and say it could see vulnerable Scots pressured into ending their lives "prematurely".
Two previous attempt to bring in the measure have been rejected by MSPs - although support more than doubled the second time.
Mr Cole-Hamilton, who sits on cross-party group on End of Life Choices at Holyrood, said the prospect of change will depend on the make-up of the next Parliament in 2021.
"A lot of this is about quiet discussions held between MSPs to sound people out on this intensely personal issue," he said.
"We wouldn't want to launch a bill unless we were confident that we had the numbers.
"But every successive Parliament has a seen a shift towards this to the point that we are at the tipping point into majority. We just need a few more like-minded progressive MSPs to join our ranks.
"This is a dignity that we should be affording to Scots at the end of their lives."
The change comes after New Zealand became the latest country to press ahead with assisted dying after a referendum in the country in October saw two-thirds vote in favour of change. Laws are also going through the Irish Parliament to introduce the measure.
Terminally-ill Scots have travelled to the Swiss clinic Dignitas in recent years to end their own lives.
A recent poll of doctors in the UK also suggests a shift in opposition among medics.
But the Scottish Parliament has already rejected two attempts to introduce assisted dying. The first proposal, initiated by the late Margo MacDonald, was voted down by 82-16 in 2010. Although another decisive defeat followed in 2015, the 82-36 vote marked a doubling in support among MSPs.
"We know the direction of travel here because we've seen since we last debated this in Scotland a range of different countries bring in policy of this kind and in each and every case, the concerns expressed by those opposed to change have been unfounded," Mr Cole-Hamilton said.
"We also know from detailed polling that assisted dying and the right to a good death carries the overwhelming support of the general public."
He added: "This is the kind of legislation, given the strongly-held personal beliefs that people have, where you have to give an airing to both sides of the argument.
"But I think we have confidence in the side that advocates assisted dying that we already have the public with us and it's just a case of treating those who oppose it with sensitivity and understanding and reflecting on their concerns to make the change in legislation as robust as possible."
MSPs have previously considered a system of self-administered assisted dying for Scots who are terminally ill, although a designated "friend at the end" could assist. A cocktail of drugs would be provided by pharmacists to enable this.
A key obstacle has been opposition among doctors, but a recent British Medical Association (BMA) vote hinted at a shift in the organisation's opposition, with 61 per cent either supportive (40 per cent) or neutral (21 per cent) on self-administered end-of-life drugs.
But the prospect of new laws being introduced are likely to meet with strong opposition from religious leaders, as well as disabled and older peoples' representatives, who fear that it would put pressure on more vulnerable adults to end their lives.
Gordon MacDonald, chief executive of Care Not Killing, said: "Abandoning the protections provided by the law would be hugely controversial at a time when we have already seen the way elderly people have been let down during the Covid-19 pandemic and unprecedented pressure has been applied on health and social care."
He added: "The current laws in Scotland protect the most vulnerable in our society, the elderly, the sick and disabled from feeling pressured into ending their lives.
"That occurs in the handful of places around the world that allow assisted suicide or euthanasia."
Opponents say that in the US State of Oregon, six in ten (59 per cent) of those ending their lives last year cited the fear of being "a burden on their families, friends and caregivers" and a further 7.4 per cent cited financial worries as reasons for seeking death.
Dr MacDonald also pointed to a major study that noted legalising physician assisted suicide was associated with a significant increase in the numbers of suicides, once all other factors had been controlled, especially among the over-65s.
"This is why when MSPs from all parties look at these facts, they quickly realise there is nothing progressive about ripping up the current laws and they recognise the dangers that legalising assisted suicide and euthanasia would create," he said.
"At a time when we have seen how fragile our NHS is, how underfunding puts pressure on services and with up to one in four Scots who would benefit from it, not receiving adequate palliative care, to be pushing this ideological policy seems out of touch, dangerous and desperate."
A message from the Editor:Thank you for reading this article. We're more reliant on your support than ever as the shift in consumer habits brought about by Coronavirus impacts our advertisers.
If you haven't already, please consider supporting our trusted, fact-checked journalism by taking out a digital subscription.