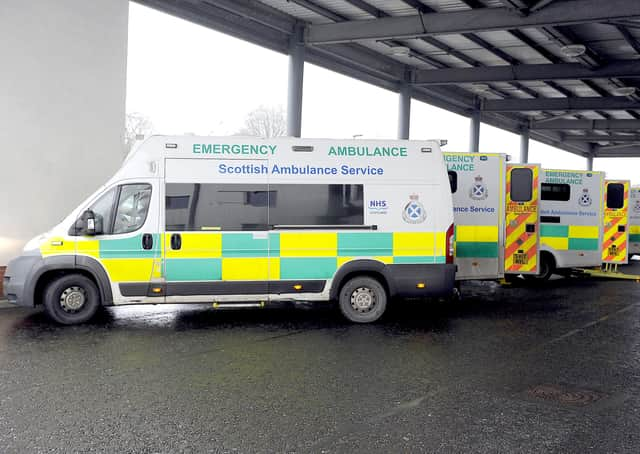 Public attendance at A&E units across Scotland has plummetted during lockdown. Picture: Michael Gillen
The pandemic has seen a dramatic fall in the number of patients going to emergency departments, despite seeking medical help being listed as one of the four reasons that people are allowed to leave home during lockdown.
In Scotland, A&E departments have seen patient numbers drop by 57 per cent in the four weeks to April 19, compared with the same period last year.
NHS Western Isles saw the sharpest drop north of the Border, with A&E attendance down 69 per cent on 2019, followed by NHS Greater Glasgow where the drop was 64 per cent.
In England, attendances at A&Es fell by nearly a third in March, compared with March 2019. NHS England expects there to be one million fewer patients this April than last - a drop of about half.
Dr Sonya Babu-Narayan, Associate Medical Director at the British Heart Foundation, warned that delaying treatment in an emergency could leave people with far more serious health problems.
"Heart attacks and strokes are medical emergencies and treating them remains a top priority for the NHS," she said.
"Research has led to several effective treatments for heart attacks, but if you delay, you are more likely to suffer serious heart damage and more likely to need intensive care and to spend longer in hospital."
Dr Babu-Narayan added that delaying treatment for a stroke "could leave you with a disability that could have been avoided".
"People should not let fear of the coronavirus, or of being a burden to a hospital, deter them calling 999 when they suffer heart attack or stroke symptoms."
A Scottish Government spokesperson said: "The NHS is open. GPs are available for non-Covid problems and they should be called if they are needed.
"Community pharmacies are also available for all minor ailments. The NHS helpline 111 is available for deteriorating Covid symptoms and out-of-hours for anything else urgent.
"Emergency departments remain open for accidents and emergencies. We continue to stress that the NHS is there for those who need it.
"As always we need people to use the NHS carefully but it is there for those who need it. We urge anyone with concerns about their health, or that of their children, to seek help."
Scotland's interim chief medical officer voiced fears last week that people with cancer symptoms are not coming forward due to the coronavirus crisis.
Dr Gregor Smith said there had been a 72 per cent reduction in urgent suspected cancer referrals by doctors.
Marion O'Neill, Cancer Research UK's head of external affairs in Scotland, said: "We're yet to uncover the full impact of the pandemic on people affected by cancer and on NHS services but these figures are deeply concerning.
"What is certain is that coronavirus has left cancer diagnosis and treatment in a precarious position.
"It's important that everyone working to manage and deliver cancer services works in partnership to minimise the impact of Covid-19 to ensure lives are not needlessly lost to cancer.
"Essential and urgent cancer diagnosis, treatment and care must continue."