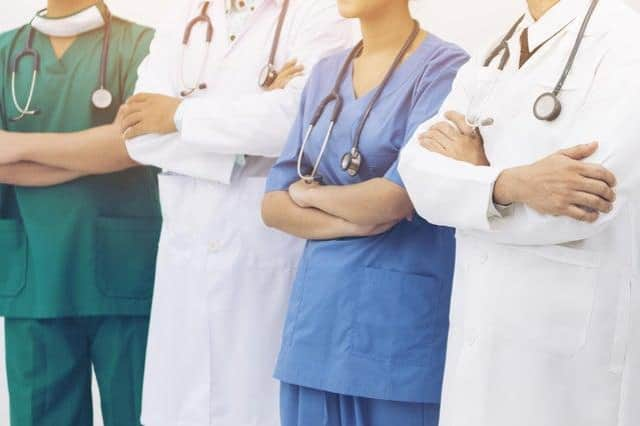 The petition launched by NHS and care staff raises concerns that the personal protective equipment (PPE) which is currently used by staff in hospitals and care homes is not robust enough to protect them from the virus.
"At present, with current PPE we believe that the risk of becoming infected and/or passing infection between patients as a consequence of inadequate protection is simply too great," it states.
Entitled "Healthcare workers in Scotland must be given the correct PPE", it has been posted on the ipetitions website.
It states that the equipment which has currently been provided includes "thin plastic aprons which cover very little of the wearers body, surgical masks which have been shown only to be protective against large droplet spread but not to smaller droplets or anything airborne and flimsy eye cover which does not provide enough protection."
It adds: "Here in Scotland we should be doing so much better for our dedicated health care workers who are risking their wellbeing daily to help combat this potentially fatal virus."
The petition was launched on Easter Sunday and invites signatures from NHS and care workers but has so far gathered more than 330 signatures.
The petition comes days after the publication of an open letter signed by more than 100 medical professionals raising frontline concerns about PPE provision. A recent BMA survey showed only 2% of GPs and 13% of hospital doctors agreed that they had adequate PPE.
Labour health spokeswoman Monica Lennon said: "Frontline health care workers are under unprecedented pressure and their basic right to protective equipment should be guaranteed.
She added: "Scottish Labour is strongly in favour of the virtual recall of the Scottish Parliament so that the Scottish Government's pandemic plan, including PPE provision, can be robustly scrutinised."
But a Scottish Government spokeswoman said ministers are "absolutely determined" that healthcare staff get the right personal protective equipment to keep them safe.
"That is why we have set up an email where anyone with concerns can contact us," a spokesman said.
"There are also established routes for health boards to make direct contact with our partners in National Procurement to place urgent requests if they need specific products.
"While we currently have adequate supplies for the level of demand, we are working constantly to ensure this continues to be the case. This includes pressing current suppliers to increase production levels and identifying new suppliers.
"Over the last few weeks, over 60 million items of PPE have been delivered to hospitals in Scotland providing care for coronavirus (COVID-19) cases and other conditions. We have recently provided eight weeks' supply of PPE to GPs in Scotland containing facemasks, aprons, gloves and goggles in line with the UK guidance, and more than 13 million items of PPE have been distributed to social care since the triage helpline for that sector launched on 19 March."