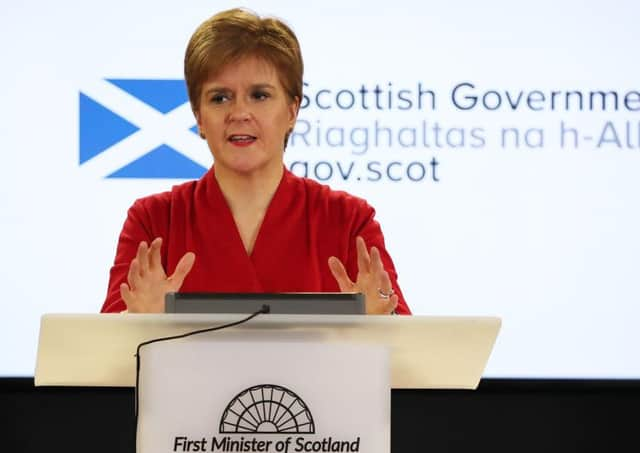 First Minister Nicola Sturgeon was speaking at her daily media conference
Speaking at her daily media briefing, Nicola Sturgeon said the tragic news was a reminder of the dedication, expertise and courage of those working in health and social care sector north of the Border.
The First Minister confirmed that 3,961 people had now tested positive for coronavirus in Scotland, up 255 from yesterday, while a further two people with coronavirus had died, taking the total to 222.
A total of 199 people are in intensive care with suspected or confirmed cases of Covid-19, while 1,599 patients are in hospital.
She stressed this would not be a "true figure" and would be "artificially low" as officials change the way deaths are reported.
Work is currently being done to make the National Registers of Scotland (NRS) death reporting service one that works seven days a week, so Ms Sturgeon said more deaths were expected to be confirmed in the coming days.
Ms Sturgeon said the figures would be "reconciled" on Tuesday and Wednesday this week, along with an NRS report on Covid-19 deaths in the community.
Speaking at a briefing at the Scottish Government headquarters in Edinburgh, the First Minister acknowledged it had been a "difficult 24 hours for the Government" after the resignation of former chief medical officer Catherine Calderwood over two trips she made to her second home in Fife - flouting her own guidance aimed at tackling Covid-19.
Ms Sturgeon said the issues facing the Scottish Government over the weekend were nothing compared to the hardship faced by those who had contracted coronavirus. and those treating them.
She said Dr Gregor Smith, who acted as Dr Calderwood's deputy, would be taking over as interim chief medical officer for the foreseeable future.
The First Minister also warned that the peak of the virus was still in the future, admitting that "there is almost certainly worse to come before we turn the corner of this virus".
Speaking for the first time in his new role, Dr Smith looked to reassure people that the NHS is still caring for people, both with and without coronavirus.
He said: "If you have symptoms you're concerned about, I don't want you to sit at home worrying about them.
"Your NHS will remain here at all times."
The First Minister also wished Prime Minister Boris Johnson well after he was admitted to hospital on Sunday night with coronavirus symptoms.